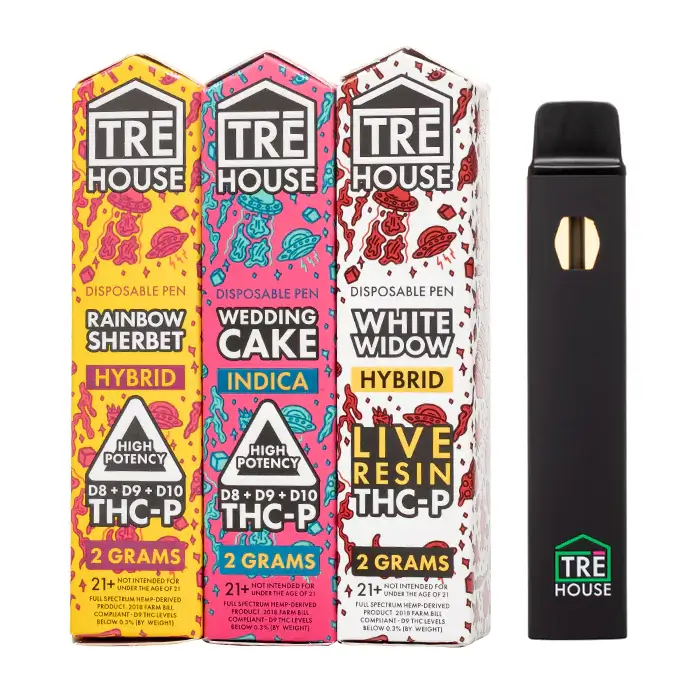 Welcome to an in-depth review of the Tre House THC-P Disposable Vape, a device that is redefining the boundaries of vaping technology and user experience. In today's bustling vape market, standing out is an achievement in itself, and Tre House Vape does it with flair. Engineered to perfection, this device packs a punch in every aspect—be it design, performance, or battery life. Created with a live resin process that captures the full essence of cannabinoids and terpenes, it offers an unprecedented vaping experience. This review aims to provide a comprehensive look at this game-changing product, dissecting its features and functionalities to give you a clearer idea of what to expect. So, if you're looking for a vape that offers more than just puffs of vapor, the Tre House Vape might just be what you've been waiting for.
Features
• Capacity: 2g (2000mg)
• Battery: Internal
• Cannabinoid: Delta-8, Delta-9, Delta-10, THC-P
• Concentrate: Live Resin, Terpenes
• < 0.3% Delta-9 THC
• Draw-Activated Firing Mechanism
• 2018 Farm Bill Compliant
• 3rd Party Lab Tested
• Zero Additives
• Made in USA
• Bottom Type-C Port
Strains
• Lemon Jack (Sativa)
• Rainbow Sherbet (Hybrid)
• Wedding Cake (Indica)
• White Widow (Hybrid)
Design and Build Quality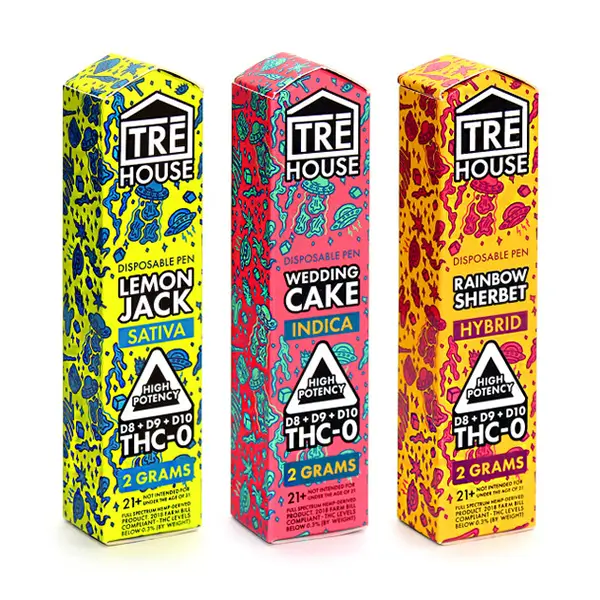 When you first lay eyes on the Tre House THC-P Disposable Vape, you're instantly struck by its sheer craftsmanship. Engineered with precision, it marries form and function in a manner that sets it apart from competitors. Every edge, every surface screams quality, and you can't help but appreciate the attention to detail that has gone into creating this masterpiece.
The vape's sleek, minimalist design is a feast for the eyes. It's a gadget that you would be proud to show off, owing to its modern and sophisticated aesthetic. The glossy finish adds a touch of elegance that complements the overall look.
Despite its sturdy construction, the device is surprisingly lightweight. It's as if it's made to be your daily companion. Its resilient exterior is engineered to withstand the rigors of everyday use, which makes it an ideal choice for those who are always on the move.
Adding a touch of personalization, the device comes in strain-specific colors. This allows users to pick a device that aligns with their mood or even their outfit, making each vape session a truly unique experience.
Ergonomics are a big deal when you plan on using a device frequently. Thankfully, the Tre House vape is designed for extended periods of use. Its shape naturally fits the palm, making it comfortable to hold for long sessions.
Battery Life
When it comes to battery life, Tre House THC-P Disposable Vape is engineered to impress. The internal battery is designed to last until you've vaped the last drop of the 2g concentrate, making battery woes a thing of the past.
Inclusion of a Type-C port ensures that you can easily recharge the device in case you ever run low. This feature adds a layer of convenience that's hard to ignore.
An efficient battery management system ensures that every bit of power is utilized optimally. You won't find yourself constantly checking the battery status, freeing you to enjoy your vaping session to the fullest.
Robust battery life rounds off a stellar offering from Tre House, ensuring that you get to enjoy an uninterrupted, satisfying vaping experience.
Performance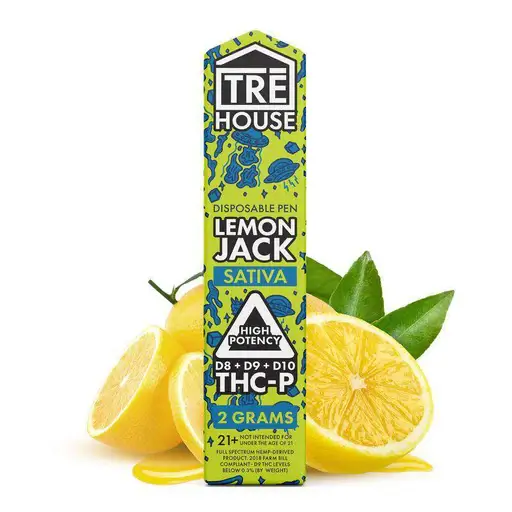 One of the most significant features is the unique blend of cannabinoids, meticulously formulated to provide a wide range of effects. This makes each puff not just a taste experience but an olfactory and mental journey as well.Offering a diverse range of cannabinoids including Delta-8, Delta-9, Delta-10, and THC-P, this vape pen brings the benefits of the whole cannabis plant. The unique blend provides an array of effects from euphoria to relaxation, heightening both body and mind.
Live resin extraction process preserves the full spectrum of flavors, ensuring each draw is as close to the original plant as possible. It's not just vaping; it's an experience that takes you closer to nature.
The draw-activated mechanism eliminates the need for any buttons or switches, simplifying the user experience. It's all about pure, unadulterated vaping.
Thanks to its intricate blend of cannabinoids, this device can serve various moods and settings. Whether you are looking for an energetic start to your day or a calm evening, this device has got you covered.
With approximately 800 puffs available in a single device, it promises long-lasting performance. You can go through your day without worrying about running out.
In Conclusion
The Tre House THC-P Disposable Vape sets a new standard in the vaping industry. With its top-notch design, unparalleled performance, and lasting battery life, it provides an all-encompassing vaping experience that's hard to beat. Whether you're a novice or a seasoned vaper, Tre House Vape offers something for everyone. Its unique blend of cannabinoids and live resin technology guarantees not just a buzz, but a full-spectrum experience that takes vaping to the next level. Don't just take our word for it—experience the revolutionary Tre House Vape for yourself and prepare to be amazed.