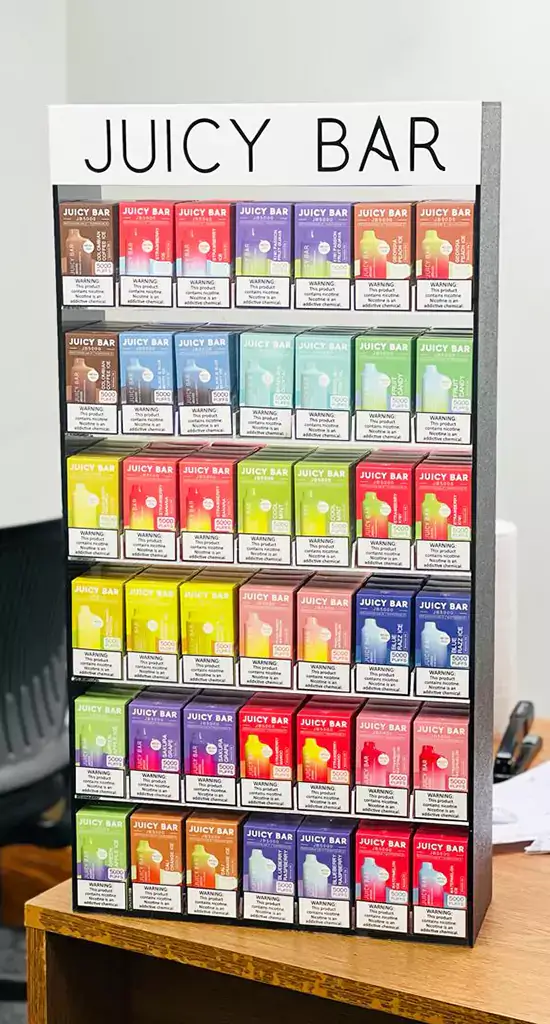 The Juicy Bar Vape exemplifies meticulous craftsmanship, proudly American-made for unrivaled quality and endurance. Its precision-engineered design guarantees steadfast performance, catering to the desires of vaping aficionados. With meticulous attention to detail evident in every aspect, this device stands as a beacon of reliability and consistency. The Juicy Bar JB5000 encapsulates the essence of durability and performance, showcasing an unwavering commitment to delivering an exceptional vaping experience. Crafted with care, this disposable vape is a testament to the fusion of artistry and functionality in the realm of vaping products.
Juicy Bar Disposable Vape 5000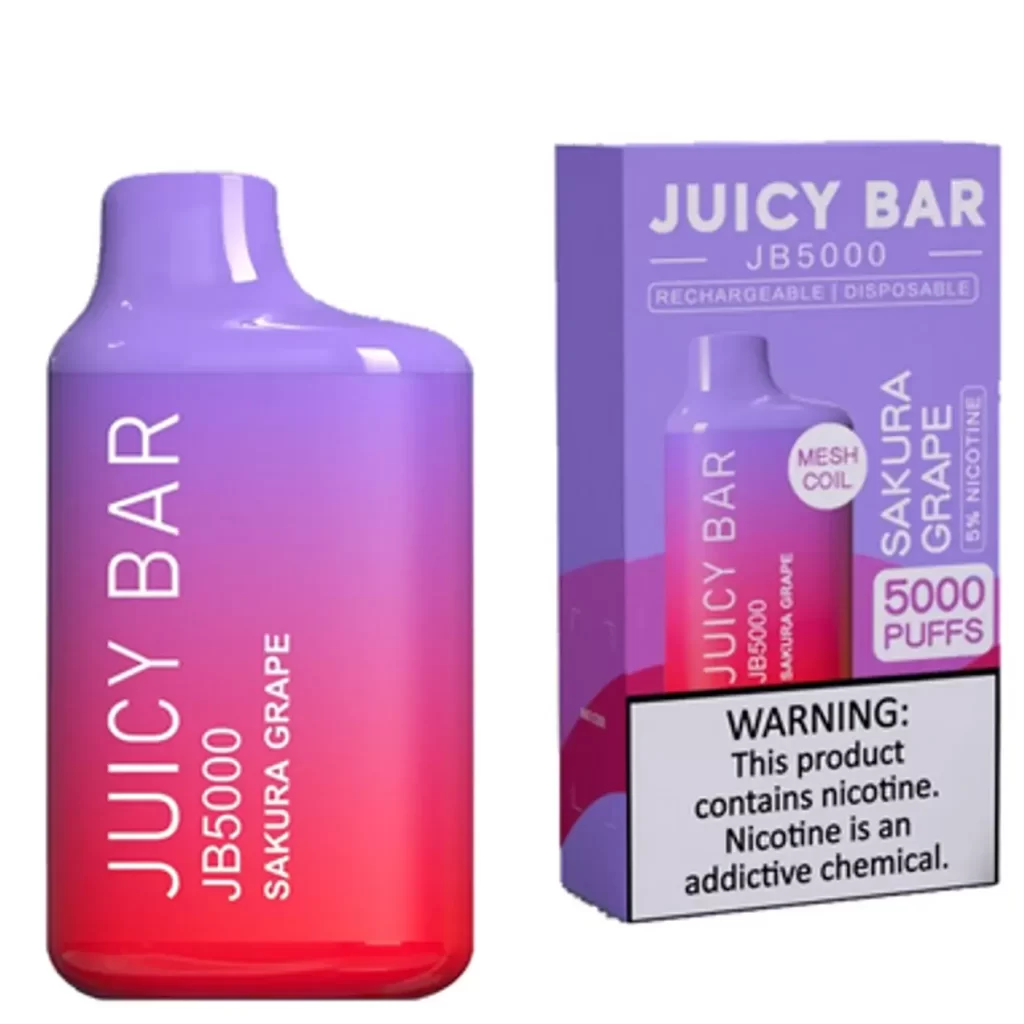 The Juicy Bar JB5000 Disposable vape distinguishes itself with its robust 650mAh built-in battery, prioritizing efficient and consistent power delivery. Another notable aspect of the Juicy Bar JB5000 Disposable Vape is its array of juicy and distinctive flavors that add to its appeal.
With its enduring battery, the Juicy Bar Vape guarantees prolonged usage without the hassle of frequent recharging.
FEATURES
E-liquid Capacity: 13ml
5000 Puffs Approx.
Integrated 650mAh Rechargeable Battery (Type C)
1.2 Ohms Mesh Coil Heating
Draw Activated Firing Mechanism
Salt Nic Formulation (5%) 50mg Strength
A Proud American Product
DETAILS
Size: 13ml
Coil: Mesh Coil
USB-C Rechargeable
Puff Count: 5000+ Puffs
Nicotine Strength: 5.0%
Battery Capacity: 650mAh
Flavors: 41 Available Flavors
Top 10 Best Flavors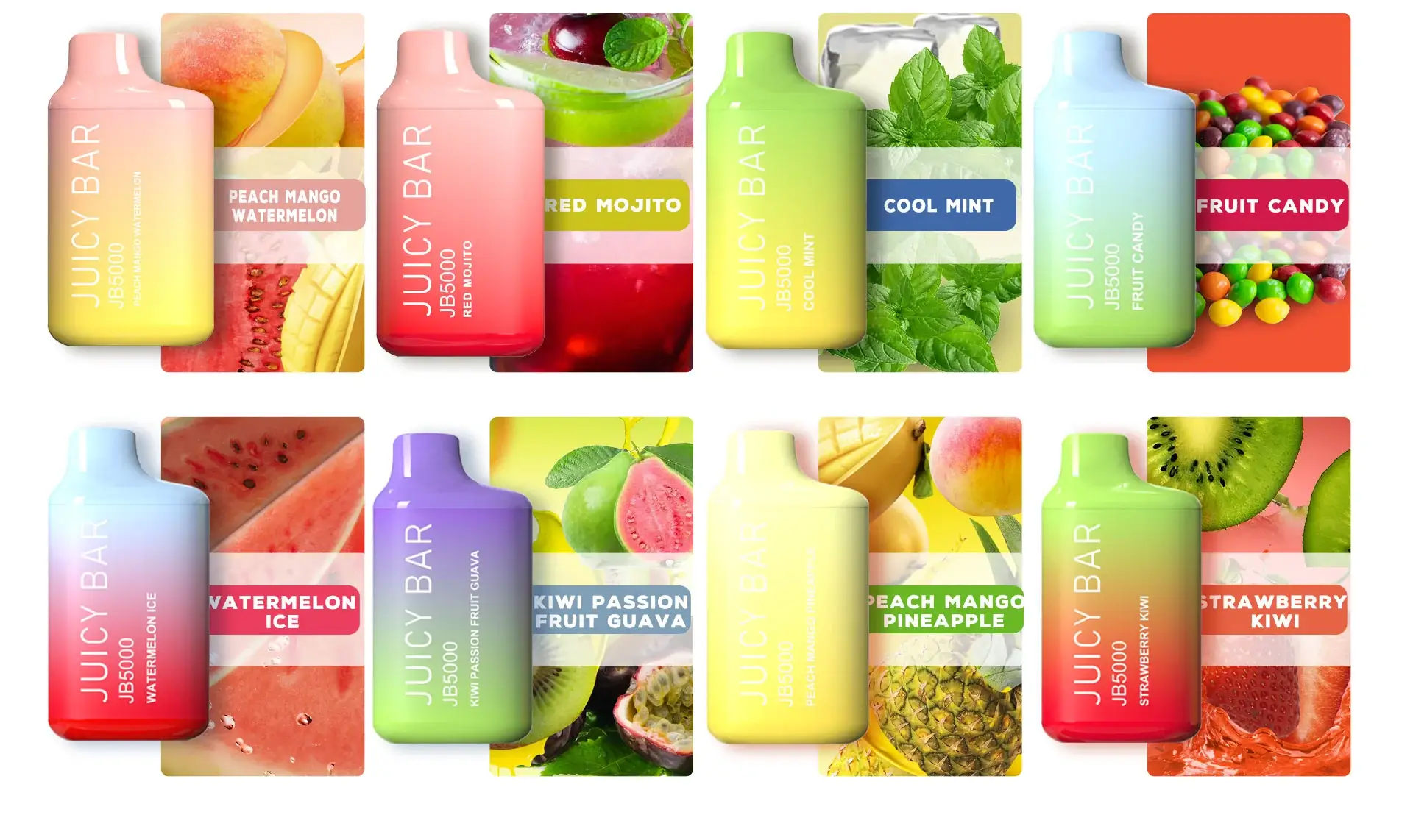 Minty Fresh: Experience a refreshing burst of cool mint that invigorates your senses with every puff.
Watermelon Splash: Indulge in the juicy and sweet notes of ripe watermelon, perfect for a summery vaping experience.
Blueberry Bliss: Immerse yourself in the delightful taste of plump blueberries, offering a balance of tartness and sweetness.
Strawberry Fields: Enjoy the lusciousness of sun-ripened strawberries, delivering a taste of the countryside in every puff.
Mango Tango: Embark on a tropical journey with the tropical flavor of ripe mangoes, invoking thoughts of sunny beaches.
Lush Grape: Revel in the rich and succulent essence of grapes, offering a bold and fruity vaping sensation.
Peach Paradise: Delight in the velvety flavor of fresh peaches, delivering a subtle sweetness that's simply heavenly.
Cool Berry Fusion: Experience the synergy of mixed berries with a cooling menthol twist, offering a unique and invigorating flavor.
Tropical Punch: Savor the medley of exotic fruits in a single vape, transporting you to a paradise of flavors.
Vanilla Custard Dream: Indulge in the smooth and creamy taste of vanilla custard, a classic flavor that's both comforting and delectable.
Each of these flavors adds a unique dimension to your vaping experience, catering to different preferences and moods. Whether you're a fan of fruity, refreshing, or indulgent tastes, the Juicy Bar JB5000 disposable vapes have something to satisfy every palate.
What Can We Expect From Juicy Bar JB5000?
The Juicy Bar JB5000 Disposable vape stands out due to its remarkable features.
It is equipped with a 650mAh built-in battery that ensures efficient and consistent power delivery, resulting in a highly satisfying vaping experience.
The device features a generous 13ml pre-filled e-juice reservoir, containing 5% nicotine, which offers a tantalizing experience for the taste buds and delivers a satisfying throat hit.
This configuration allows for nearly 5000 puffs, making it a long-lasting option for vaping enthusiasts.
Despite its compact dimensions of 79mm by 41mm by 19mm, the device maintains its performance and flavor integrity.
The Juicy Bar JB5000's ergonomic mouthpiece, stylish gradual pattern, sleek appearance, and durable construction collectively contribute to an exceptional vaping experience.
Its design appeals to both the visual and taste senses, enhancing the overall enjoyment.
In essence, the Juicy Bar JB5000 Disposable vape seamlessly combines power, flavor, and design elements to offer the ultimate vaping journey.
Customer Reviews
They are amazing. Full of flavor a more vapor production than elf bars, but I still love elf bars.
I've tried the Mexican Pina Colada. It is delicious! Sweet and cool. I have to be careful because it's kind of strong and the first hit had me coughing.
Now I just take little sips. I love it.
Juicy bars are a very good alternative if you can't find elf bars
Green apple ice juicy bar is my favorite. My most disliked so far is the Michigan cherry ice
I have the green apple ice juicy bar. It's good but I had bought the blue razz ice one and it stayed on after I quit hitting it
juicy bars are so much better than elfs, the hits are so smooth and the flavors are bomb
As i type this comment i just bought mine with same flavor Mexican mango ice it has a great taste i gotta agree
I bought the Colombian coffee from smoke shop. It is really awesome
Final Thoughts
The Juicy Bar Disposable Vape 5000 series represents a pinnacle of vaping innovation. Its meticulously crafted design, rooted in American quality, ensures an enduring and reliable performance that caters to vaping enthusiasts' desires. With a substantial 650mAh battery and a generous 13ml e-liquid capacity, the device delivers approximately 5000 puffs of robust flavor and satisfying nicotine hit. The array of 41 juicy and distinctive flavors, from Minty Fresh to Vanilla Custard Dream, caters to diverse preferences. This ergonomic and stylish vape amalgamates power, flavor, and design, epitomizing a superior vaping journey that outshines its peers.