Novo Vape by SMOK: Redefining Convenience, Style, and Performance
Designed for both newcomers to vaping and experienced enthusiasts, the Novo Vape offers a seamless vaping experience through its user-friendly design and advanced technology. Let's dive into the features that make the Novo Vape a standout choice in the vaping market.
Sleek and Modern Design: The Novo Vape boasts a sleek and modern design that exudes elegance. Its streamlined contours, smooth finish, and compact size make it a stylish accessory that complements your personal sense of fashion.
Variety of Color Options: With a range of vibrant and eye-catching color options, the Novo Vape allows you to express your personality and preferences. Whether you're drawn to classic black, vibrant red, or subtle silver, there's a shade to suit every taste.
Pocket-Friendly Portability: The Novo Vape's compact dimensions ensure it slips effortlessly into your pocket, purse, or bag. Its portable nature means you can carry it with you wherever you go, adding a touch of sophistication to your on-the-go lifestyle.
Ergonomic Comfort: Designed with ergonomic considerations in mind, the Novo Vape fits comfortably in your hand. Its smooth contours and tactile materials offer a comfortable grip, ensuring that both style and comfort are at the forefront of your vaping experience.
Chic Accents: The Novo Vape features subtle accents and detailing that contribute to its overall aesthetic appeal. These accents add a touch of sophistication to the device, making it an accessory that enhances your look.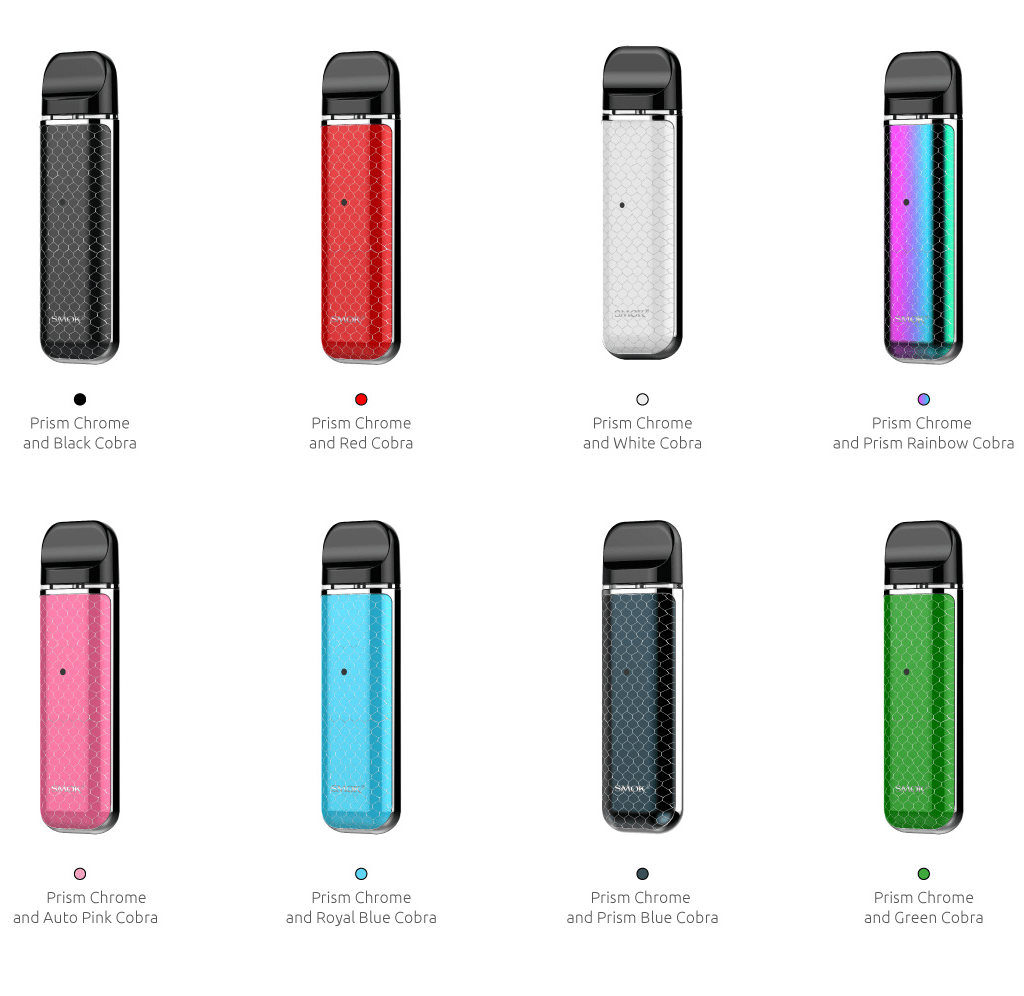 Product Face-Off: A Comprehensive Comparison of Two Leading Choices
1.Smok Novo X Pod
The Novo X, is a stylish and ergonomic pod system powered by an 800mAh battery. It has an adjustable power range of 1-25 watts and uses two 2ml 0.8-ohm MTL pods, allowing you to enjoy top-level MTL vaping with a satisfying throat hit. The Novo X adopts a small power button and an OLED display to present a fresh look and offers more possibilities worth exploring. Innovation keeps changing the vaping experience.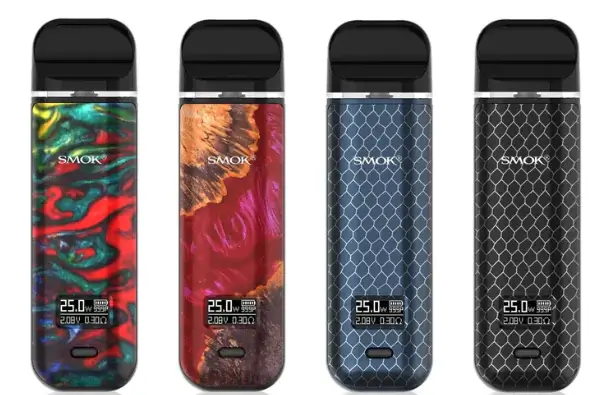 Specifications
Size: 92 x 26.5 x 16.5 mm
Weight: 50.2 g
Battery Capacity: 800 mAh
Pod Capacity: 2 mL
Power Range: 1W – 25W
Output Voltage: 0.5V – 4V
2.Smok Novo 4 Open Pod Kit
SMOK NOVO 4 POD KIT [CRC] is the latest in one of the most loved series of vapes in vaping history. It's slightly bigger than its previous version but that's for a good reason, the introduction of a new airflow control ring, means that the SMOK NOVO 4 POD KIT [CRC] is the first to have any kind of airflow adjustability. Another new feature is that it has replaceable coils, each coil has 3 silicone rings which SMOK claims, provide a leakproof experience.
The NOVO 4 uses a new LP1 coil family, SMOK NOVO 4 REPLACEMENT COIL (5 PACK), with a 0.8 Ohm LP1 Meshed coil (best at 12W) included in the kit, for a soft and mellow flavor.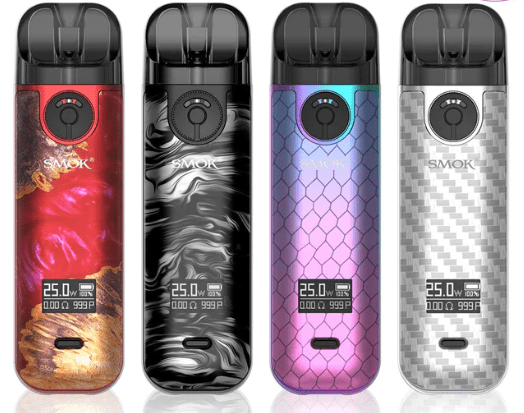 Specifications
Size: 93.5 x 26.5 x 17.7 mm
Weight: 54g
Output Voltage: 0.5 – 4V
Power Range: 5W – 25W
Battery Capacity: 800 mAh
Finally
The Smoke Novo X Pod offers a blend of modern design, convenience, and performance. As of [current date], the Smok Novo X Pod is priced at [price]. This competitive price point positions it as an attractive option for vapers seeking a balance between affordability and quality. Despite its accessible cost, the Smok Novo X Pod doesn't compromise on essential features, ensuring that you get value for your money.
On the other hand. The Smok Novo 4 Open Pod Kit introduces advanced technology and versatility to the vaping experience. As of [current date], the Smok Novo 4 Open Pod Kit is priced at [price]. While this may be slightly higher than the Smok Novo X Pod, it reflects the added features and capabilities that the Novo 4 Open Pod Kit brings to the table.
In Closing
The Novo Vape by SMOK offers more than just an exceptional vaping experience—it brings a range of cosmetic benefits that elevate your personal style. From its sleek design and color options to its ergonomic comfort and subtle accents, the Novo Vape allows you to enjoy vaping while embracing your sense of aesthetics. Whether you're a fashion-conscious vaper or someone who appreciates the finer details, the Novo Vape is a testament to how technology and style can seamlessly intertwine.