Candy King Vape Juice is a paradise for anyone with a sweet tooth, offering a diverse array of irresistible flavors that will satisfy your cravings. As part of the renowned brand DripMore, Candy King has made its mark in the vaping world with its candy-inspired e-liquids. With flavors like Batch, Swedish, Sour Worms, and Candy King Strawberry Watermelon, these e-liquids take you on a nostalgic journey down memory lane, evoking the delightful taste of your favorite candies.
What Can We Expect From Candy King Vape Juice?
Quality and Innovation: What sets Candy King Vape Juice apart is its commitment to quality and innovation. Crafted by DripMore, a brand known for excellence, Candy King adheres to rigorous standards of research, development, and testing. This dedication shines through in every bottle, ensuring that each puff is a flavorful and consistent experience. The use of high-quality ingredients is evident in the authentic taste of each flavor.
Bottle Sizes and Nicotine Options: Candy King caters to the diverse preferences of vapers by offering its flavors in various bottle sizes, including 30ml, 60ml, and 100ml. Additionally, for those who prefer higher nicotine concentrations, Candy King offers nicotine salt versions of their e-liquids. This range of options ensures that every vaper can find their ideal match.
Convenience and Flavor Portability: The 100ml unicorn bottle is a standout feature of Candy King Vape Juice. This convenient packaging allows you to carry your favorite flavor with ease, making it a practical choice for on-the-go vapers. The flavor portability ensures that you can enjoy your preferred candy-inspired taste wherever you are.
Candy King E-Liquid Features
100ml Shortfill Bottles
0mg Nicotine Strength
80VG Ratio making it perfect for Sub Ohm use
Comes in a chubby gorilla style bottle
Made in the USA
Best 10 Candy King Vape Juice Review
1. Batch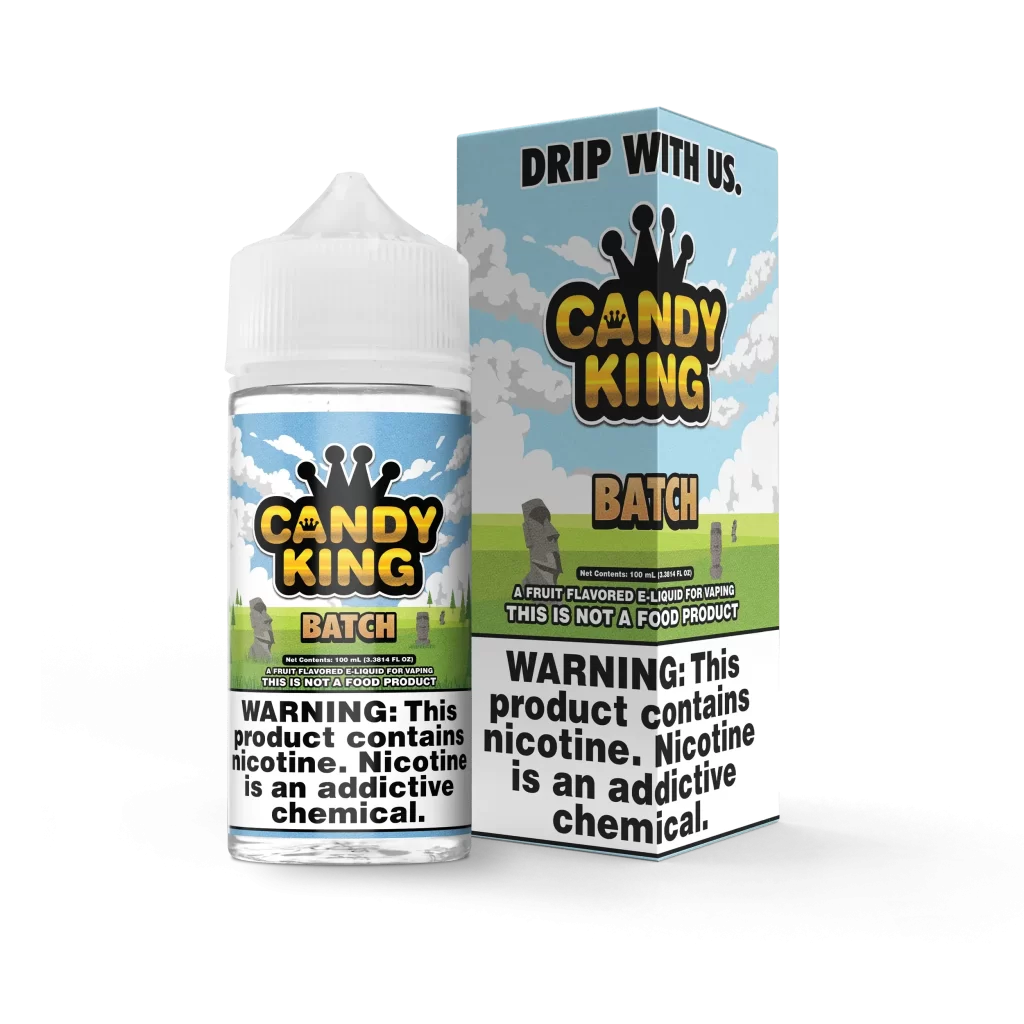 The journey begins with Batch, a masterful rendition of sour gummy candies. With its tangy and sweet balance, each puff delivers a burst of mouth-puckering sourness followed by a comforting sweetness. This flavor captures the essence of your favorite childhood treats and transforms it into a vaping experience that's hard to resist.
2. Swedish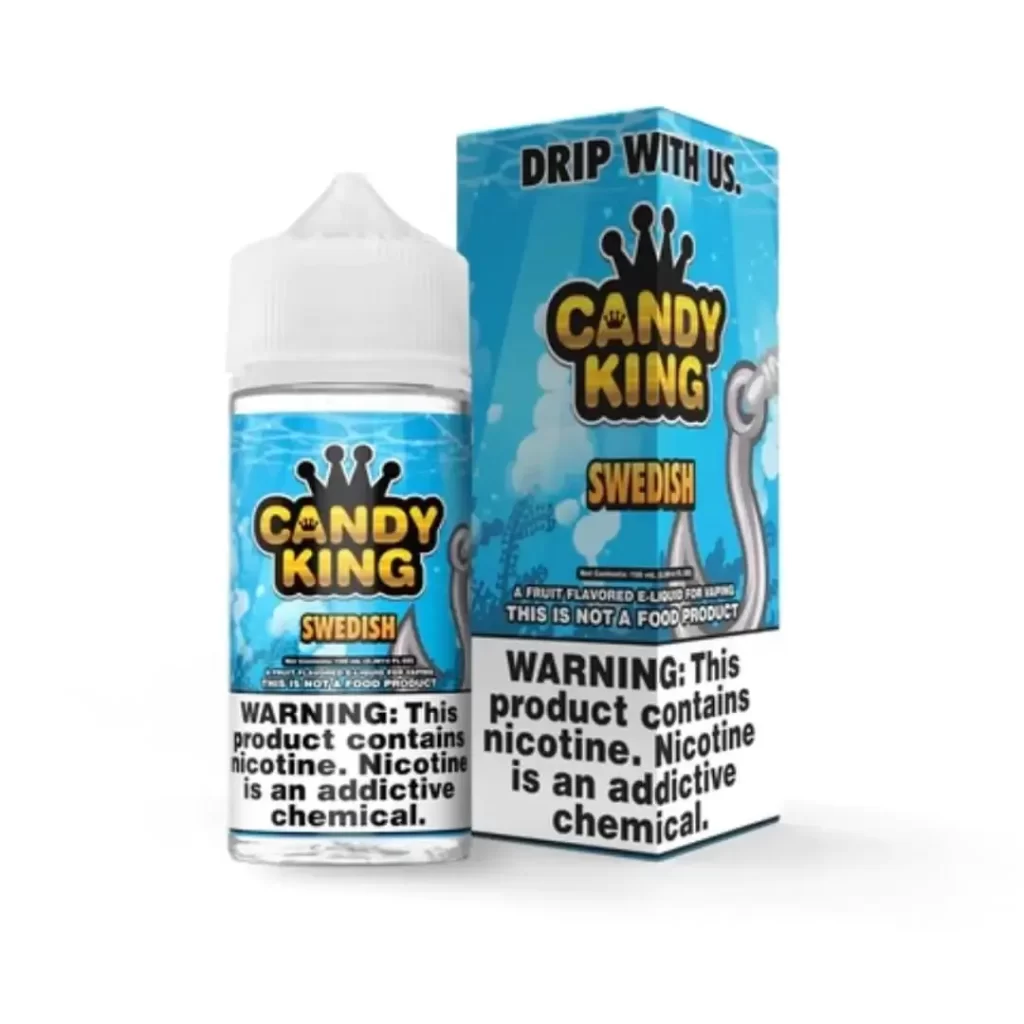 Swedish, inspired by those iconic red fish-shaped gummies, offers a medley of mixed berries that dance on your taste buds. The sweetness is perfectly balanced, giving you a taste that's both familiar and unique. If you're a fan of fruit-flavored vapes with a candy twist, Swedish is a must-try.
3. Sour Worms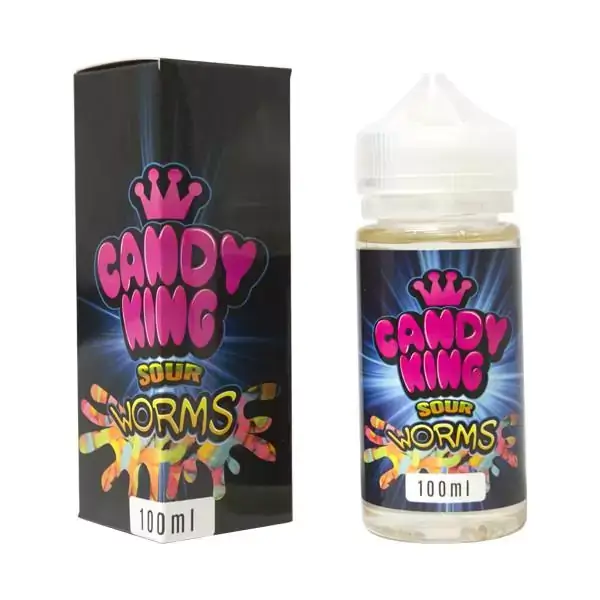 For those who crave the exhilarating combination of sour and sweet, Sour Worms is a standout choice. This flavor pays homage to gummy worm candies, delivering a symphony of tangy sourness and delightful sweetness. With each inhale, you'll be transported back to the joy of munching on these chewy treats.
4. Candy King Strawberry Watermelon
Strawberry and watermelon are a classic pairing, and Candy King's version captures the essence of summer. Juicy strawberries intertwine with refreshing watermelon notes, creating a vape that's both refreshing and satisfying. It's the perfect companion for those seeking a burst of fruity goodness.
5. Pink Squares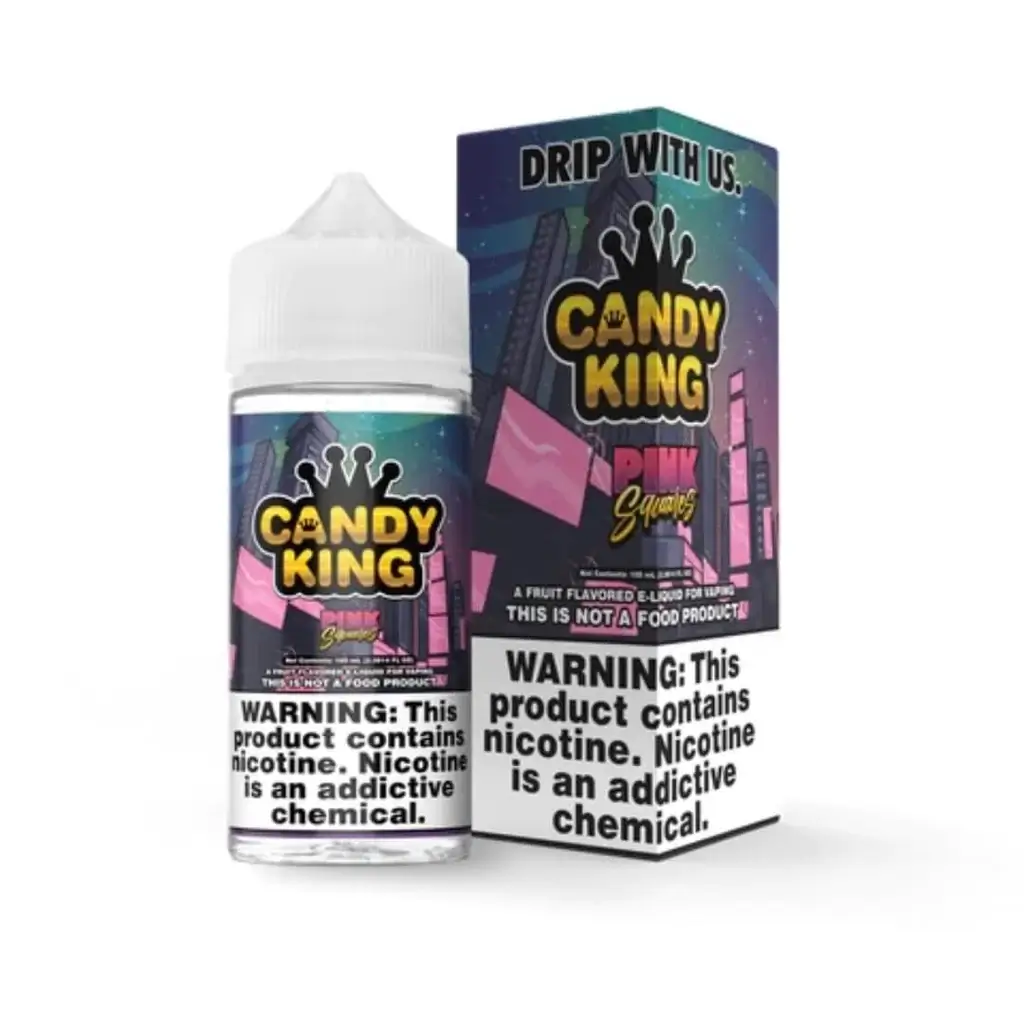 Pink Squares takes you down memory lane with the taste of pink square candies. This flavor expertly balances the tangy and sweet essence of strawberry candies, offering a vape that's as nostalgic as it is delicious. Each puff is a reminder of the joy of indulging in your favorite childhood treat.
6. Lemon Drops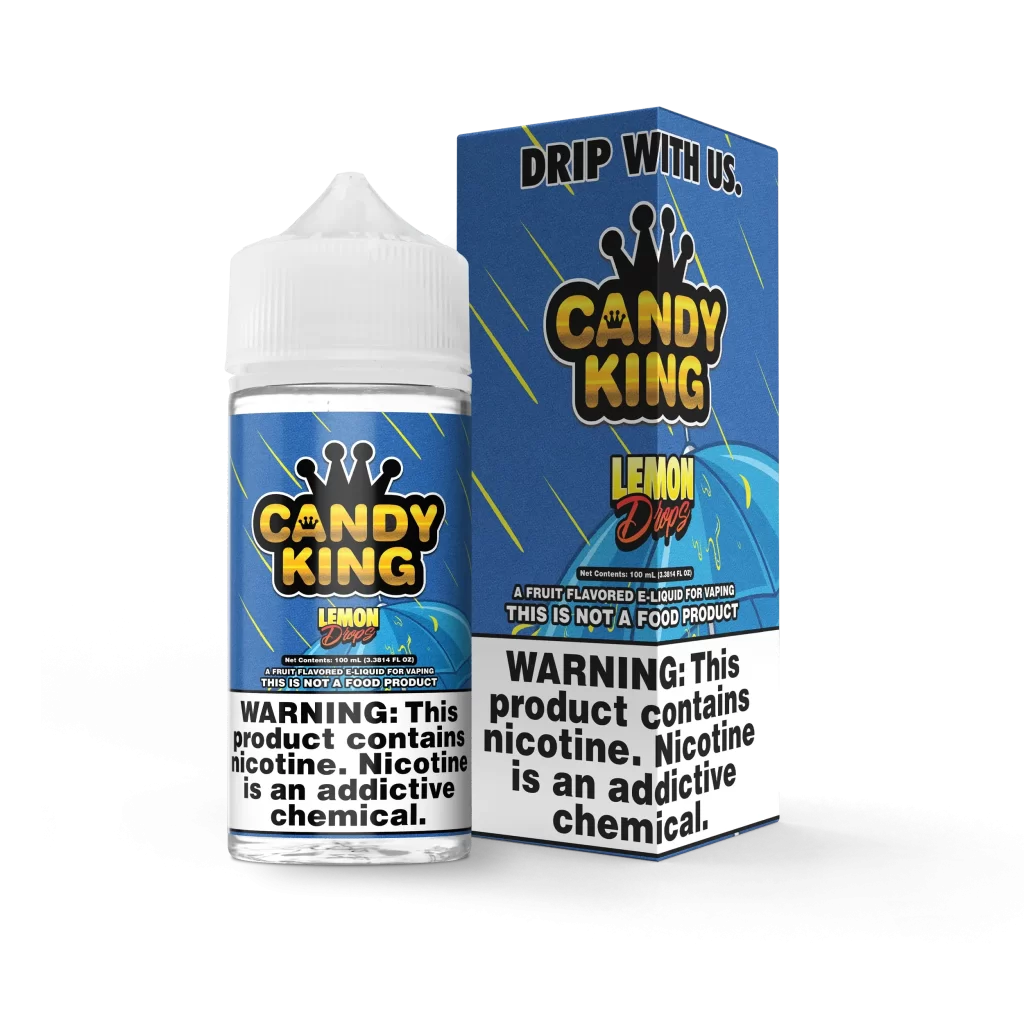 For vapers who adore citrusy delights, Lemon Drops is a must-experience flavor. Capturing the zesty and sweet essence of lemon candies, this vape offers a burst of invigorating lemon flavor with just the right amount of sweetness. It's a citrus lover's dream come true.
7. Peachy Rings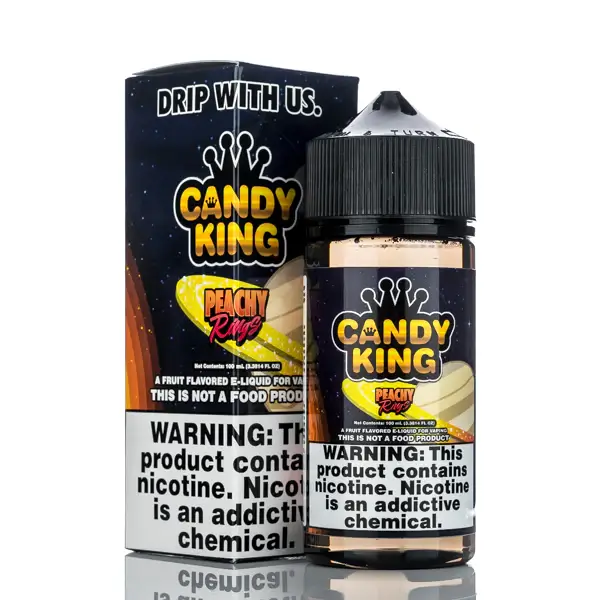 Peachy Rings encapsulates the taste of peach-flavored gummy rings. The flavor profile is a balance of succulent peach and sugary goodness, creating a vape that's both fruity and satisfying. With every puff, you'll experience the sensation of biting into those chewy peach rings.
8. Strawberry Rolls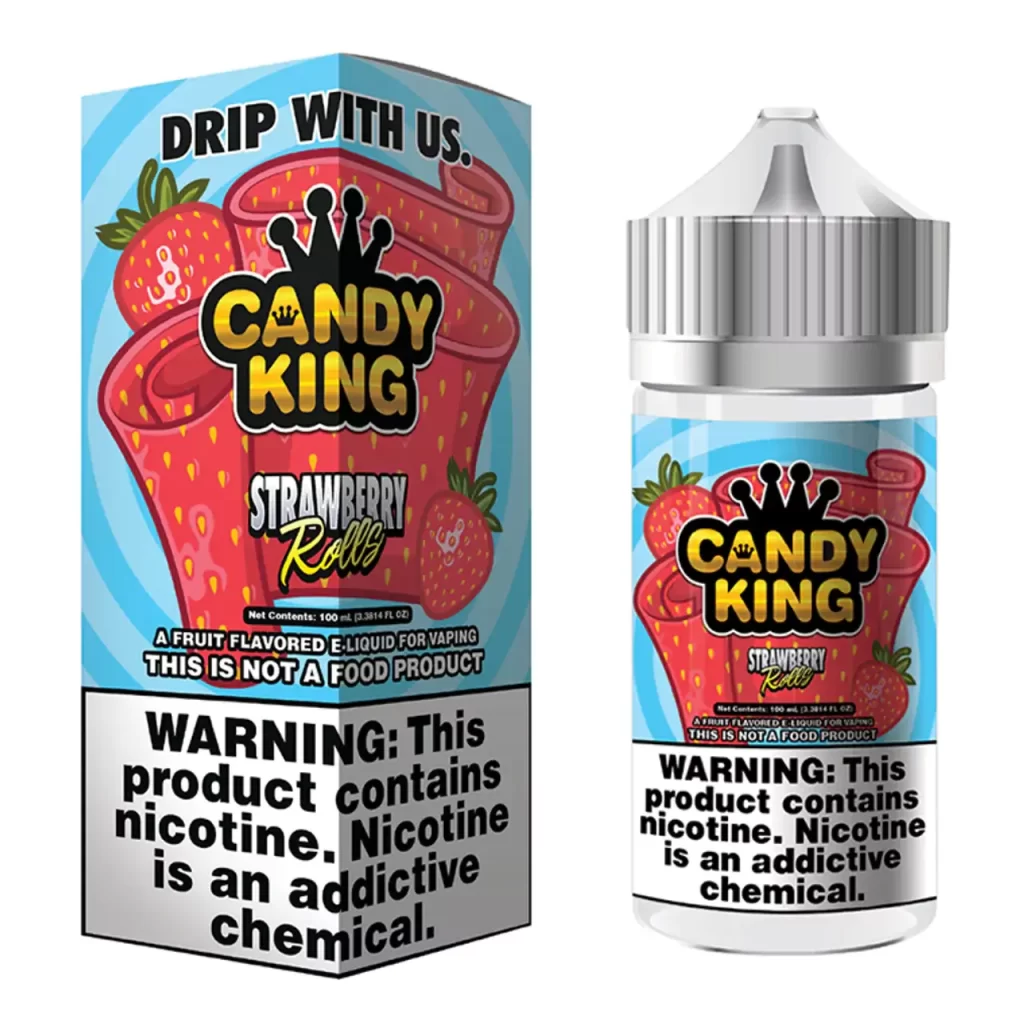 Strawberry Rolls is a delightful tribute to strawberry-flavored fruit snacks. The taste of ripe strawberries is complemented by a chewy candy undertone, creating a vape that's reminiscent of your favorite fruity snacks. It's a flavor that captures the essence of childhood nostalgia.
9. Hard Apple
Hard Apple offers a departure from the gummy candy lineup with its crisp and refreshing apple flavor. This vape captures the taste of biting into a juicy green apple, making it a perfect choice for vapers who enjoy fruit-forward flavors that provide a hint of tartness.
10. Belts Strawberry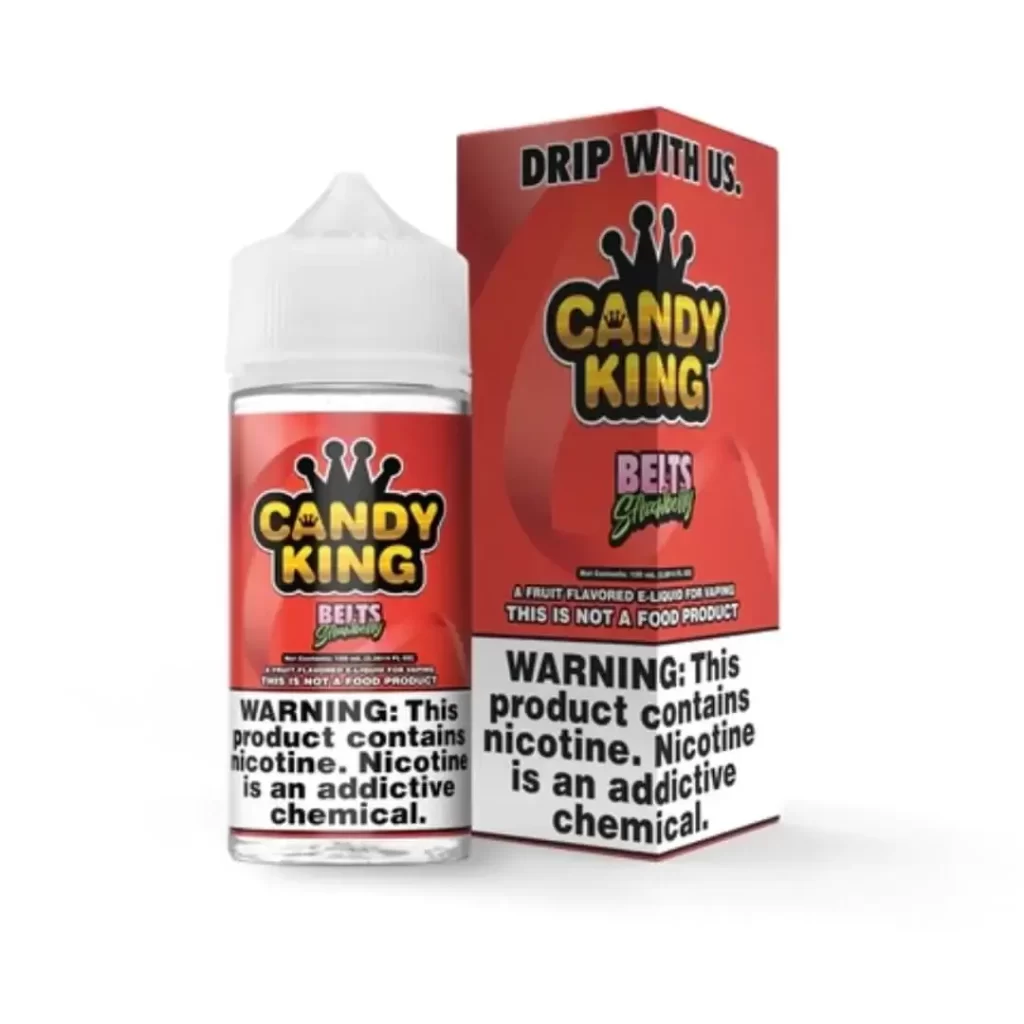 Last but certainly not least, Belts Strawberry wraps up the top 10 with a celebration of strawberry candy belts. The combination of sweet strawberry and chewy candy notes creates a vape that's both indulgent and irresistible. Each puff is a reminder of the joy of savoring your favorite candy.
Conclusion
Candy King Vape Juice delivers a delightful journey through the world of candy-inspired flavors. With a range of options that capture the essence of beloved candies, Candy King brings nostalgia and innovation together in every bottle. The dedication to quality, diverse bottle sizes, and nicotine options make Candy King a brand that caters to all types of vapers. Whether you're a candy aficionado or simply looking for an exciting flavor experience, Candy King Vape Juice is a must-try collection that promises to satisfy your sweet cravings while delivering an exceptional vaping adventure.