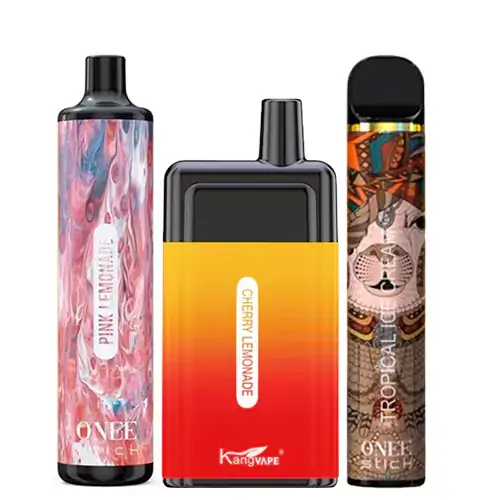 Kangvape stands as a trusted and esteemed vape brand, celebrated for its commitment to quality, innovation, and customer satisfaction. Its renowned Kangvape Onee Stick, a dependable and favored disposable vape stick, attests to its excellence in the vaping realm.
Kangvape's selection is not only impressive but also ensures safety and high standards. The array of enticing Kangvape flavors caters to diverse preferences, leaving vapers satisfied. Notably, industry-leading vape review platforms like Vaping Daily and Hempercamp endorse Kangvape, cementing its credibility.
The brand's distinct focus on blending innovation and reliability sets it apart. Kangvape is a beacon for those seeking top-tier vaping experiences, whether it's through cutting-edge devices or adventurous flavors like the Musky Guava Ice Flavor. Reliability and ingenuity converge under the Kangvape banner.
The Kangvape Onee Stick Disposable Vape has established itself as a global leader in the realm of disposable vapes, gaining prominence over the past few years. Renowned for its recognition in convenience stores, this collection of disposables is now available online, offering affordability and convenience. With three variants providing puff counts of 2000, 3000, and 5000, the Kangvape Onee Stick caters to diverse vaping preferences.
Kangvape Onee Stick Vape- 2000 Puffs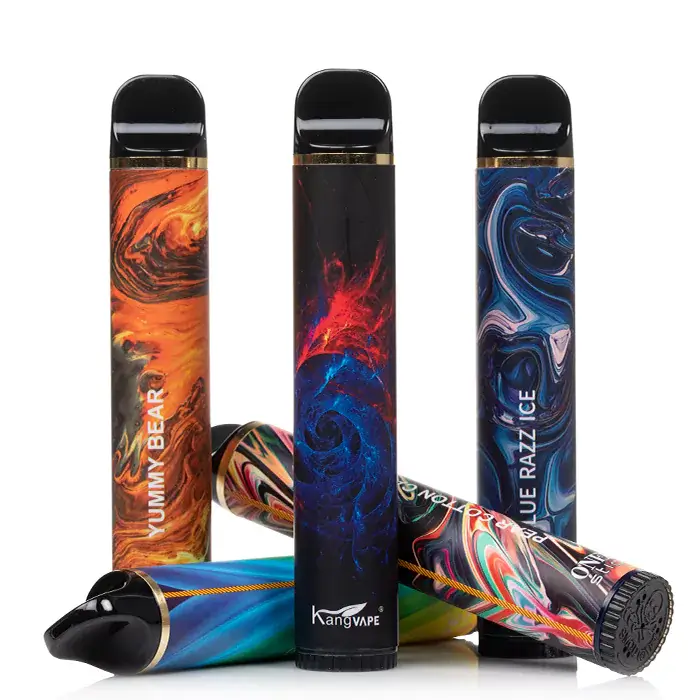 With its compact design, appealing wrap, and comfortable mouthpiece, this device is sure to become a favorite. It's portable, comfortable to use, and is as simple as it gets, despite its adjustable airflow control feature. It comes pre-filled, pre-charged, and is ready to use from the moment you receive it. It features an integrated 1200mAh battery, a 7.5mL vape juice capacity, and provides up to 2000 flavorsome puffs.
Designed with simplicity in mind, the device is an excellent choice for those seeking an easy-to-use disposable vape. Featuring a 2000mAh battery and a pack of 10 disposable vape cartridges, the device is effortlessly rechargeable via USB. Its lightweight and compact build ensures it's perfect for on-the-go vaping.
Price
Priced at $10.99.
Not the cheapest disposable, but offers value for the quality and performance.
Highly rated and well-regarded for its impressive flavors and vapor production.
Flavors
Banberry – Banana | Strawberry | Menthol
Blue Cloud – Blueberry | Lemon
Blue Razz Ice – Blue Raspberry | Menthol
Classic Custard – Banana | Menthol
Cola Ice – Cola | Menthol
Cool Mint – Mint | Menthol
Devine – Energy Drink
Lush Ice – Watermelon | Menthol
Melontime – Melon | Menthol
Musky – Guava | Menthol
Orange Soda – Orange
Pear Cotton Candy – Pear | Cotton Candy
Pitchy Delight – Peach | Menthol
Red Ice – Strawberry | Menthol
Strawberry Kiwi – Strawberry | Kiwi
Tropical Ice Cream – Mango | Menthol
Tutti Fruitti – Assorted Fruit Mix
Vintage – Grape | Menthol
Yellow Breeze – Pineapple | Menthol
Yummy Bear – Gummy Bear Candy
Features
5% Nicotine
Liquid – 7.5mL
2000 Puffs Per Device
The Kangvape Onee Stick is a disposable vape device that is rechargeable and provides 2000 hits. It is available in a pack of 10. The device is easy to use and does not require any maintenance. It is a great option for those who are looking for an alternative to smoking.
Dosage
The New Kangvape Onee Stick is a disposable vape device that contains 2000 hits. It is available in a pack of 10. Each stick contains 0.5ml of e-liquid and has a nicotine concentration of 50mg/ml. The device is rechargeable and can be used for up to one week before it needs to be disposed of. To use the device, simply inhale from the mouthpiece. The device will automatically activate and produce vapor. Inhale for 3-5 seconds and then exhale. Repeat as needed. When you are finished using the device, dispose of it in the trash. Do not attempt to recharge it.
Ingredients
The New Kangvape |Onee Stick | Rechargeable Disposable Vape Device | 2000 Hits |Pack Of 10| contains propylene glycol, vegetable glycerin, flavorings, and nicotine. Propylene glycol and vegetable glycerin are used as base liquids for the flavorings and nicotine to be dissolved in. The flavorings give the e-liquid its taste and smell, while the nicotine provides the "kick" or sensation of smoking a traditional cigarette.
Design & Quality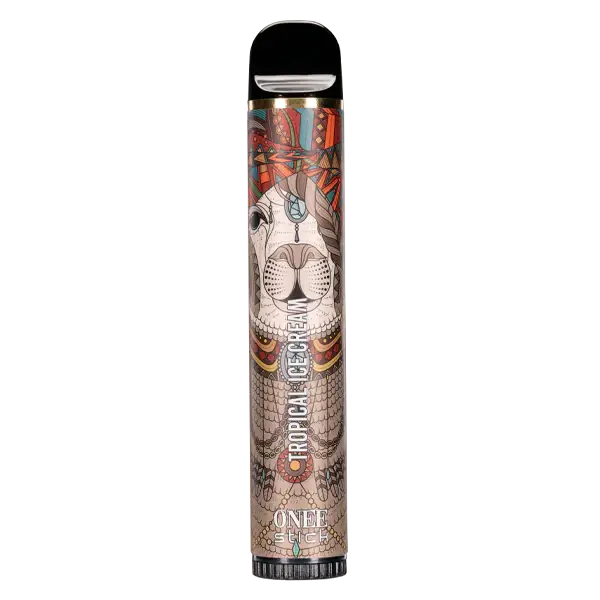 Surprisingly good build quality for a disposable vape.
Attractive elongated, round shape that's comfortable to hold and transport.
Compact size, fits easily into pockets or bags for on-the-go vaping.
Circular mouthpiece design allows for more potent vapor hits.
Flavorful designs for each flavor option, though not indicative of taste.
Performance
Smooth and powerful pull, ideal for vaping newcomers.
Rich, flavorful hits without harshness, suitable for beginners.
Lacks customizable features like airflow adjustment.
Produces satisfactory vapor clouds, especially for beginners.
Battery
Integrated 1200mAh battery, non-rechargeable.
Provides around 1900 puffs, equivalent to about a week of regular vaping.
Pre-charged, ready for use right out of the packaging.
FAQs
Q: How long does the New Kangvape Onee Stick last?
A: Each New Kangvape Onee Stick is designed for up to 2000 hits.

Q: How do I know when the New Kangvape Onee Stick needs to be recharged?
A: A LED light on the device will indicate when it needs to be recharged.

Q: Can I use the New Kangvape Onee Stick while it's charging?
A: No, we recommend that you do not use the device while it is charging.

Q: What is the warranty for the New Kangvape Onee Stick?
A: The New Kangvape Onee Stick comes with a one-year warranty. For more information, please contact our customer service team.
Final Thoughts
The Kangvape Onee Stick Vape is a remarkable testament to Kangvape's commitment to quality and innovation. With its durable build, sleek design, and circular mouthpiece for enhanced vapor hits, this disposable vape stands out. The 1200mAh battery ensures around 1900 puffs, making it perfect for on-the-go use. While lacking customization, it excels in delivering rich, flavorful hits with satisfying vapor clouds. Despite its $10.99 price, its value shines through top-tier performance and impressive flavors.Whether you're new or experienced, the Kangvape Onee Stick offers a reliable, flavorful, and hassle-free vaping experience that sets it apart in the disposable vape market.