The Wulf Yocan UNI Pro is an absolute game-changer that builds upon the success of its predecessor, the Wulf UNI Adjustable Vaporizer. If you were already impressed by the original, be prepared to be utterly amazed by the UNI Pro's exceptional advancements. Created through the collaboration of Wulf Mods and Yocan's cutting-edge technology, this device raises the bar and redefines the vaping xperience.
Product Details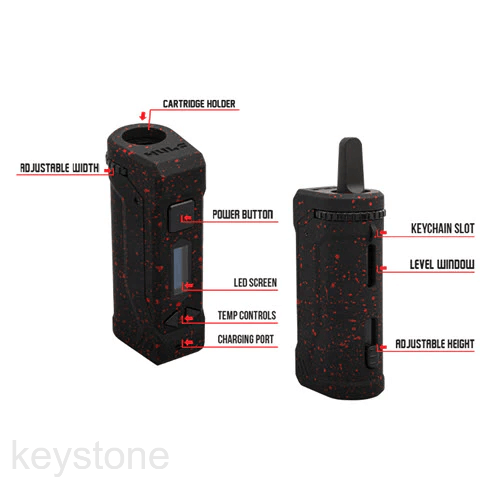 Features
Variable Voltage
Variable Diameter Adjustment
Cartridge Height Adjustment
Specifications
Variable Voltage
Variable Diameter Adjustment
Cartridge Height Adjustment
Battery Capacity: 650mAh
Battery Charge Type: Micro-USB
Display Type: OLED
Adjustable Voltage Levels: 2.0V to 4.2V
Preheat Duration: 10 Seconds
What's it's Upgrade?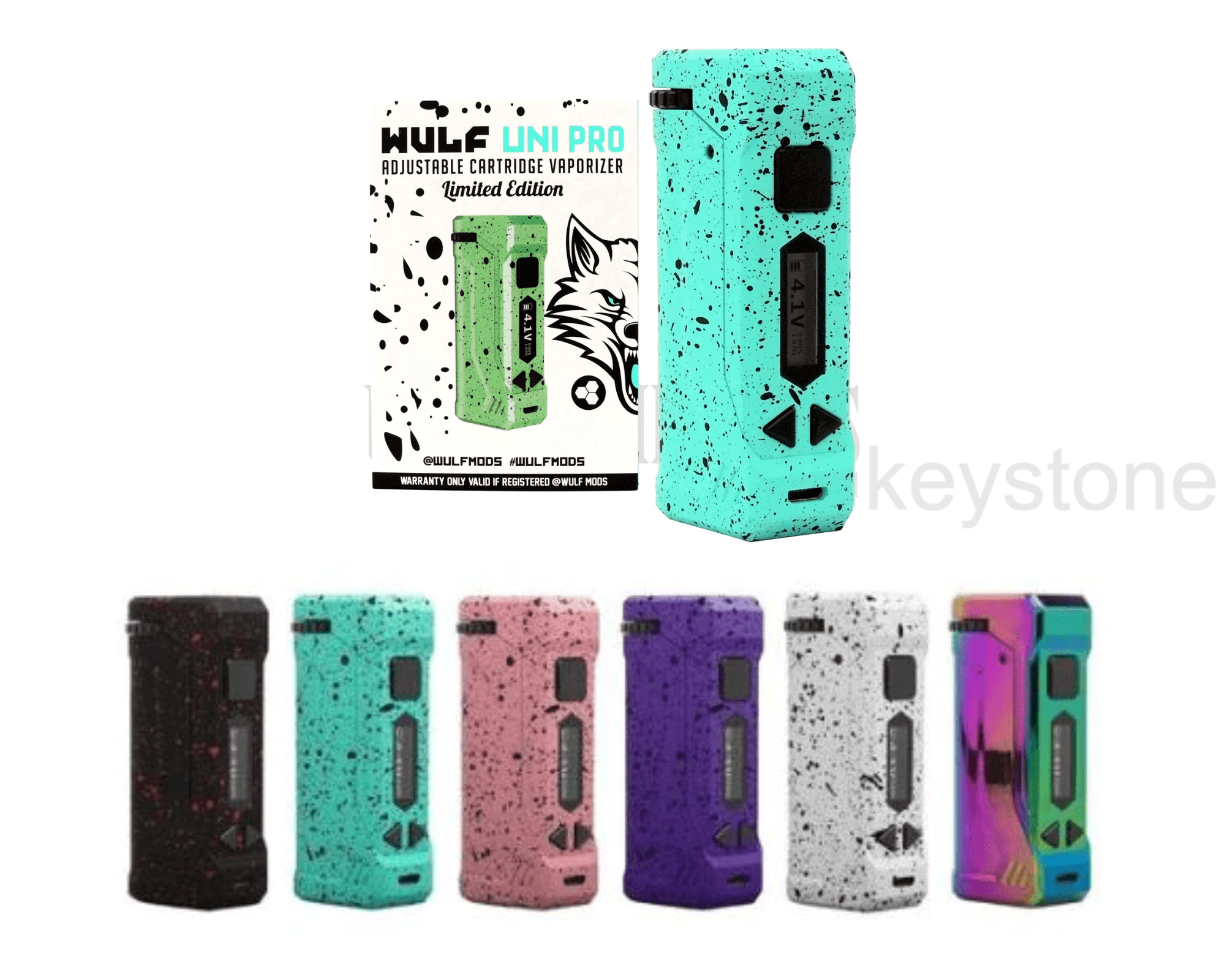 One of the standout aspects of the UNI Pro is its exceptional compatibility with all cartridges, thanks to its adjustable size and height settings. This thoughtful design ensures that no matter your preferred cartridge, the UNI Pro can accommodate it seamlessly. The device's adjustable voltage-based output and 10-second preheating functionality provide a personalized vaping experience, allowing you to fine-tune your draws to perfection.
What caught my attention was the robust construction of the UNI Pro, housed in a durable zinc alloy chassis. This handheld vaporizer is not only visually appealing but also built to withstand the rigors of daily use, making it a reliable companion for any vaper.
Incorporating a 510 threaded connection further enhances its versatility, allowing you to effortlessly pair the UNI Pro with a wide range of cartridges. Whether you're seeking intense flavor or robust clouds, this vaporizer has you covered.
However, the impressive features of this device extend far beyond these aspects. Notably, it surpasses expectations by incorporating an instinctive firing button that's easily accessible, along with dual adjustment buttons that allow for precise control over your vaping experience. The vibrant OLED display further enhances usability, offering comprehensive information essential to your vaping journey.
Adding to its allure, the device integrates a magnetic 510 threaded adapter which simplifies the process of attaching cartridges, while the inclusion of LED indicators dedicated to displaying battery life ensures that you're constantly informed about your power levels. Furthermore, the ingenious juice viewing window offers a real-time glimpse into your e-liquid levels, eliminating any guesswork and guaranteeing that you're always prepared for your next session. This amalgamation of features transforms the Wulf Yocan UNI Pro into a device that not only excels in performance but also prioritizes user convenience in every aspect imaginable. From its ergonomic design to its array of practical features, this vaporizer is an embodiment of innovation and user-centric engineering, setting a new standard for versatile and user-friendly vaping devices.
Wulf UNI Pro VS Wulf UNI Adjustable Vaporizer
Comparing the WULF MODS UNI and the Wulf Yocan UNI Pro, it's clear that both devices have taken significant strides in improving the vaping experience. One notable enhancement in the Wulf UNI Pro is its remarkable ability to accommodate a variety of cartridge sizes and lengths. By eliminating the need for multiple vape batteries, the UNI Pro introduces an innovative slider on the exterior of the battery that grants users complete control over the extension of the cartridge. This feature ensures that regardless of the dimensions, the cartridge aligns perfectly with the device. Moreover, the device incorporates a feature that adjusts the diameter to suit different tank widths, allowing for seamless compatibility.
On the other hand, the WULF MODS UNI boasts a simplified design that focuses on reliability and ease of use. While it may not possess the same adaptable features as the UNI Pro, its straightforward nature appeals to vapers seeking a straightforward and reliable vaping experience.
The Wulf Yocan UNI Pro stands out with its advanced customization options, allowing users to precisely tailor the device to their preferred cartridges. In contrast, the WULF MODS UNI excels with its user-friendly approach, catering to those who value simplicity.
Both the WULF MODS UNI and the Wulf Yocan UNI Pro have their unique strengths. The UNI Pro's cartridge adaptability showcases innovation and customization, while the WULF MODS UNI excels in simplicity and reliability. Whether you're drawn to advanced features or straightforward functionality, both devices offer something exceptional to enhance your vape experience.
Customer Review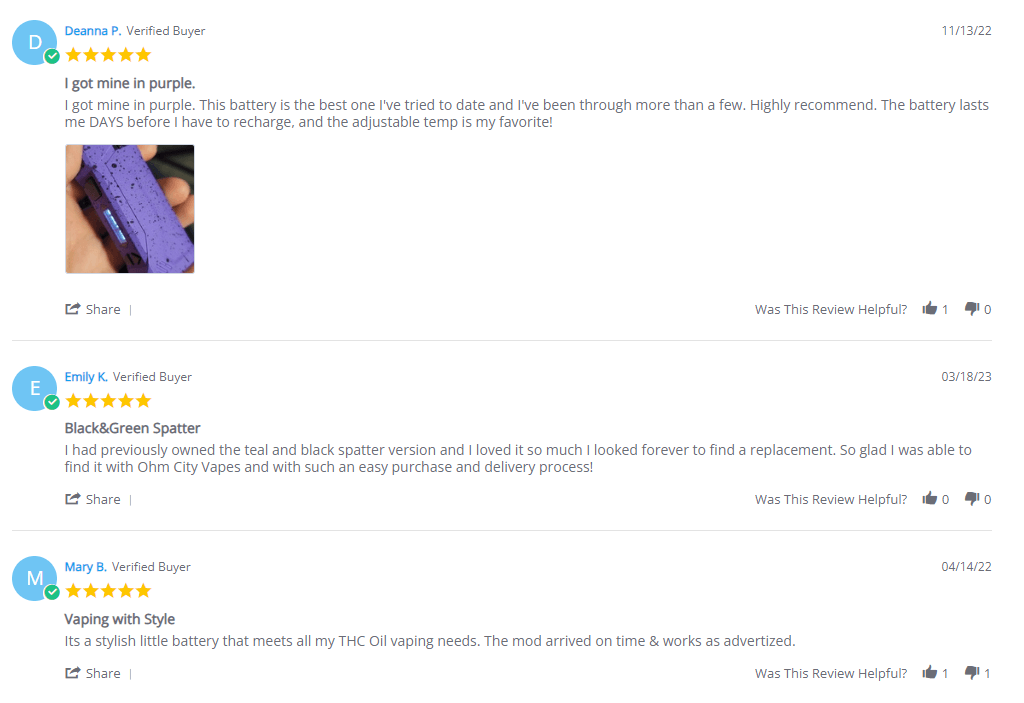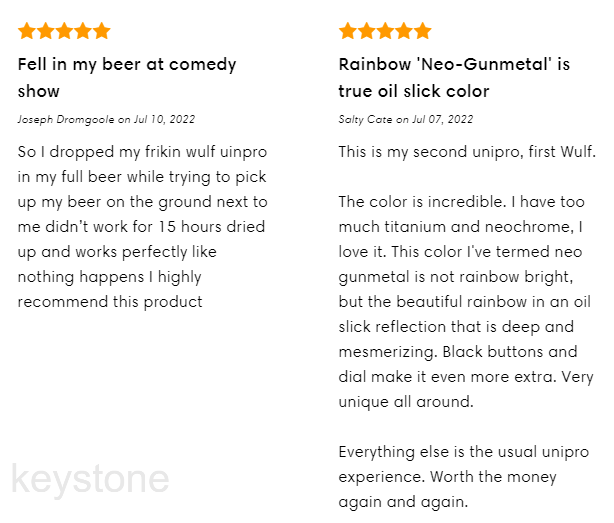 Verdict
The WULF MODS UNI of WULF Vape is a versatile gem that stands out with its range of options, offering a total of 9 captivating colors, including the vibrant Full Color, the chic Pink, and the edgy Black Spatter, among others. Powered by Yocan, the UNI Pro Adjustable Cartridge Vaporizer is nothing short of a necessity in your vaping arsenal.
This version builds upon the foundation of the original, showcasing significant enhancements that elevate your vaping experience to new heights. With a promise of delivering exceptional flavor and unparalleled performance, the UNI Pro is a testament to innovation and quality craftsmanship.
The extensive color palette ensures that you can find a design that matches your style, making a fashion statement while enjoying your favorite e-liquids or oils. This device transcends being just a vaporizer; it becomes an extension of your personality.
In conclusion, the WULF MODS UNI captures the essence of customization, innovation, and impeccable design. From its spectrum of colors to its unwavering performance, this device is a must-have for any vaping enthusiast. If you're in search of an upgrade that promises enhanced flavor and performance, the UNI Pro Adjustable Cartridge Vaporizer is an investment you won't regret.