The Ignite Vape V15 Disposable Pen offers a hassle-free transition from cigarettes to vaping. With its lightweight and compact design, it's ready to use straight out of the box, making it ideal for beginners and those looking for simplicity. Drawing on the mouthpiece activates the device, eliminating the need for buttons or settings. When the device reaches the end of its impressive 1,500 puff life, simply dispose of it and start anew.
Engineered with an integrated battery, atomizer coil, and premium e-juice, the Ignite V15 Disposable Vape Pen delivers a seamless vaping experience with no adjustments required. The nicotine salts in the e-liquid provide elevated nicotine concentrations and a smooth draw, catering to both satisfaction and flavor.
The variety of available flavors, such as Banana Ice, Blue Raspberry Ice, and Menthol, ensures there's something for every palate. The Ignite V15 Disposable Vape Pen, along with its sibling, the Ignite V25 Disposable Vape Pen, stands out as a reliable and performance-oriented choice among disposable vape pens on the market. Its combination of battery capacity, vape juice capacity, and 50mg synthetic salt nicotine content addresses cravings and delivers an enjoyable experience.
Features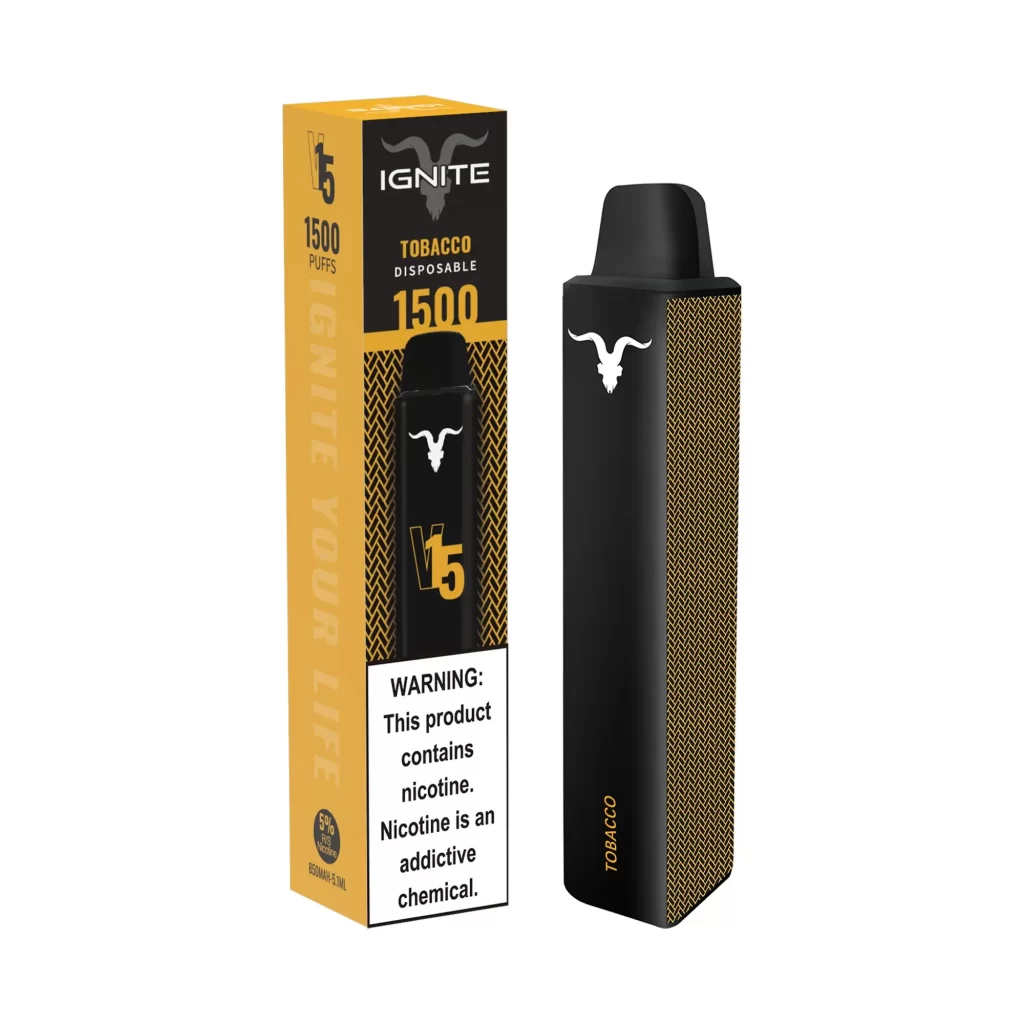 Disposable device requires no maintenance, charging or refilling
Pre-Filled: 5.1mL
Internal Battery: 850mAh
Pre-charged, simply puff on the device to activate
5% (50mg/mL) synthetic nicotine inside for an accurate cigarette style nic experience
Up to 1500+ puffs per disposable, approximately equivalent to 3 packs of cigarettes (20 cigarettes per pack)
Compact, light, portable, and discreet
Dispose pen when battery is dead (no longer lights up during puffs) or when flavor is gone
Ingredients
5% Synthetic Nicotine
Vegetable Glycerin
Propylene Glycol
Natural Flavors & Artificial Flavors
Design and Build Quality
The Ignite V15 Disposable Vape by Puff Ignite presents a premium disposable vaping option that's designed for convenience and comfort. Its auto draw technology, 850mAh battery, and pre-filled 5.1mL of synthetic salt nicotine vape juice translate to over 1500 puffs per disposable. Its compact square shape and comfortable mouthpiece enhance usability, while the variety of flavors cater to diverse preferences. The Ignite V15 Disposable Vape Pen stands out for its performance, simplicity, and affordability, making it a noteworthy addition to any vaper's collection.
The Ignite V15 Disposable Vape Pen is a versatile option for vapers seeking a convenient and sustainable solution. Unlike traditional single-use devices, this vape pen is rechargeable, allowing you to purchase replacement pods instead of discarding the entire device. Weighing a mere 22g, its matte black ceramic coating not only adds a sleek touch but also ensures a comfortable grip, measuring 100mm x 15mm x 8mm.
Pros & Cons
Pros
Compact and Portable: The Ignite V15 Disposable Vape boasts a compact and lightweight design, making it an excellent choice for on-the-go vaping. Its pocket-friendly size ensures easy portability, catering to individuals who are frequently on the move.
Maintenance-Free: As a disposable device, the Ignite V15 eliminates the need for maintenance tasks such as cleaning, coil replacements, or e-liquid refills. Once the e-liquid is used up, there's no need to worry about upkeep – simply dispose of the device and switch to a new one.
Diverse Flavor Options: A standout feature of the Ignite V15 Disposable Vape is its extensive range of flavors. Users have the freedom to enjoy their preferred flavors or explore new ones, all without committing to a larger e-liquid bottle.
Natural Flavor Variety: Ignite takes pride in offering a diverse selection of natural flavors, including apple berry, blood orange, and tangerine. This range caters to different taste preferences, enhancing the overall vaping experience.
Cost-Effective CBD Vape Pens: Ignite is committed to providing cost-effective CBD vape pens, which is appealing for enthusiasts seeking quality options without breaking the bank.
Stylish and Durable Design: Beyond affordability, Ignite's CBD vape pens feature a stylish and durable design, combining aesthetics with functionality to offer an attractive vaping solution.
Cons
Limited Nicotine Strengths: While the Ignite V15 offers various flavors, its range of nicotine strengths might not be suitable for heavy smokers aiming to quit. Those seeking higher nicotine levels for a smoother transition may find the options limited.
Environmental Concerns: Unfortunately, the Ignite V15 Disposable Vape is not recyclable, which raises environmental concerns as it contributes to landfills. This aspect might concern eco-conscious consumers who are mindful of the environmental impact.
10 Flavors of Ignite Vape  Review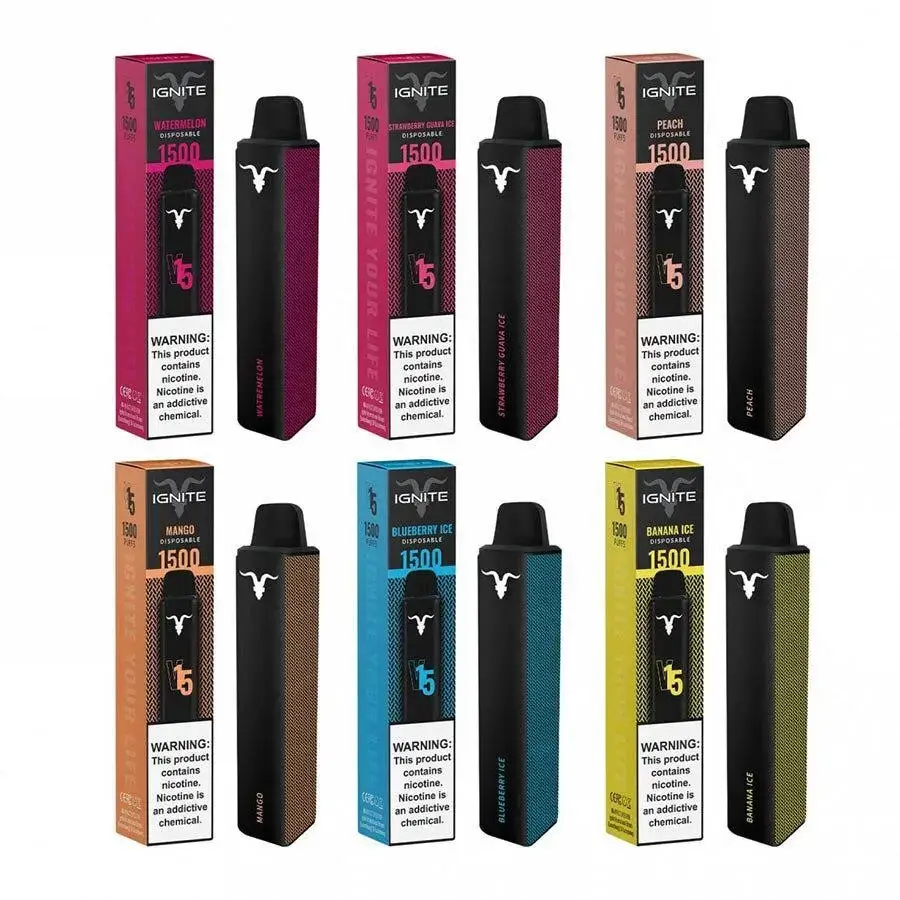 Banana Ice
If you're looking for a flawlessly balanced flavor that will never bore the taste buds, then Banana Ice will knock your socks off! Refreshingly cool and perfectly sweet, the moment you first try this delightful flavor, you will understand why it is among the most popular blends within the assortment.
Blueberry Ice:
Nothing satisfies quite like the refreshing combination of fresh fruits and cool menthol. This popular grouping always delivers an enlivening experience, making for an enjoyable vape. Blueberry Ice takes this flavor twosome to a whole new level with the flawless marriage between mountain-fresh blueberries and an invigorating blast of menthol, for a gratifying vape like no other.
Blue Raspberry Ice:
For those who relish the enticingly sweet taste of confectionary flavors, Blue Raspberry Ice is definitely the one for you. Every draw of this intoxicating blend saturates the taste buds with an explosion of delicious blue raspberry flavor that you will never let you down. The flavor is balanced with a kick of cool menthol, for a crisp and refreshing exhale you will love.
Cherry Ice:
Cherry Ice is the perfect choice for any enthusiast who fancies that magnificent balance between fresh fruits and cool menthol. On the inhale, your taste buds will spring to life with the taste of plump, juicy cherries, while the exhale is balanced with a kick of brisk menthol for a truly refreshing finish.
Cranberry Lemonade:
Stimulate the senses and tantalize the taste buds with this bright and refreshing flavor. Cranberry Lemonade blends the taste of fresh lemonade with crisp cranberries, resulting in a truly uplifting pink lemonade flavor that is a pure joy to vape.
Cucumber Ice:
If you are looking for a clean, crisp, and refreshing blend, it doesn't get much better than Cucumber Ice. This masterpiece combines the taste of fresh, cool cucumbers with the perfect amount of bracing menthol, resulting is an enlivening experience that will always satisfy.
Fruit Splash:
For those that desire flavor profiles that go above and beyond the beaten path, Fruit Splash is the one for you! This mouthwatering flavor floods the taste buds with the sweet taste of mixed fruit candy, making it a joy to vape throughout the day.
Green Apple Peach Kiwi:
For enthusiasts who are looking for the perfect fruit flavor, then Green Apple Peach Kiwi is one you must try. This refreshing flavor drenches the taste buds with a combination of crisp green apple, orchard-fresh peach, and juicy kiwi, making it a wonderful candidate as an all-day-vape.
Icy Mint:
Icy Mint is one of those rare flavors that seems to get more enjoyable with every draw. This revitalizing blend combines fresh mint with a blast of refreshing menthol, for a rejuvenating experience like nothing you have tried. With subtle sweet undertones to balance the taste, this is one flavor you definitely want to try.
Orange Ice:
If you like sweet, smooth, and rejuvenating flavors, then Orange Ice should be at the top of your list. This intoxicating blend very precisely delivers the taste of fresh, juicy oranges, coupled with the ideal amount of cool menthol, for a truly uplifting experience.
FAQs
1.What is aignite vape?
An Ignite Disposable Vape is a vaping device that has been designed to be disposable, meaning once you've used all of the vape juice that comes pre-filled in the device or the battery is fully depleted, you can toss the device in the trash. The Ignite Disposable Vape comes pre-filled, pre-charged, and requires no learning process. You simply take a puff, enjoy, and throw it away when you're finished.
2.How long does ignite vape last?
Disposable and discreet, IGNITE's disposable vapes come in an assortment of flavors and feature brand new hardware and auto-draw technology. Each pen comes pre-filled with 5% synthetic nicotine for 1500+ puffs and a premium vaping experience.
3.How much nicotine is in ignite?
50mg/mL
5% (50mg/mL) synthetic nicotine inside for an accurate cigarette style nic experience.