Voopoo is a game-changer in the vaping scene, fusing technology and creativity. Their latest innovation promises to reshape vaping in 2023. The 10 Top Voopoo Vapes of the year deliver an unmatched journey that blends innovation and satisfaction. With every inhale, a world of flavors and contentment unfolds, redefining the essence of vaping.
These vaporizers merge creativity, aesthetics, and joy, turning vaping into an art. Voopoo invites you to immerse yourself in this symphony, where each puff carries you closer to vaping paradise.
As a leading vape brand, Vaping 101 presents a guide to VooPoo's finest vape kits. Whether you're a beginner or an expert, VooPoo caters to all levels with their advanced devices.
Since 2017, VooPoo has left a mark on the vape market with cutting-edge technology. With the GENE chip, rapid firing and precise temperature control make VooPoo devices a top choice. Experience the future of vaping with VooPoo.
1. VooPoo Argus GT II Kit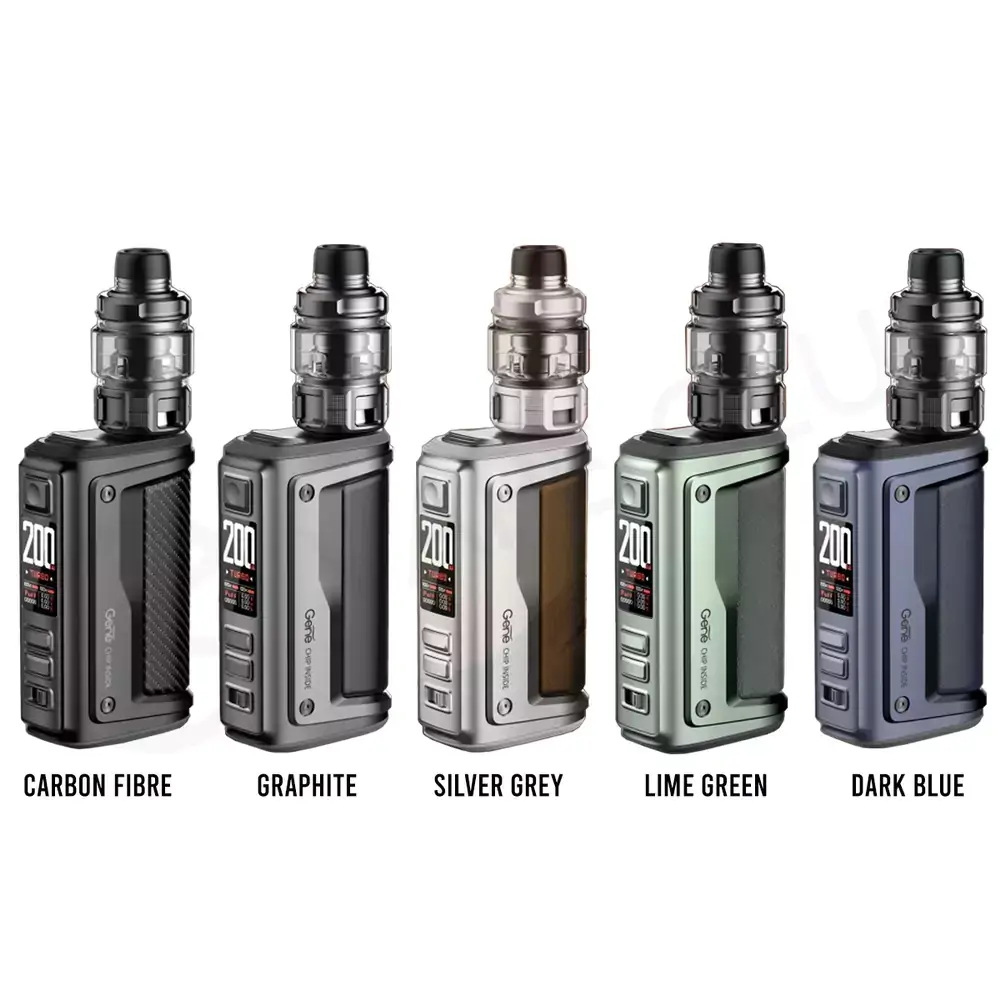 The VooPoo Argus GT II Kit sets a new standard for sub-ohm vaping. With a powerful 200W output, this kit is perfect for intermediate to advanced users seeking a tailored experience. The GENE.TT 2.0 chipset offers various modes, including Smart, RBA, and Turbo, allowing precise customization. The 0.96″ TFT color display delivers essential data at a glance. The kit's durability shines through its IP68 rating, ensuring protection against Dust, Water, and Shock. The MAAT Vape Tank, featuring a unique design to minimize condensation, pairs seamlessly with the TPP coil system, offering exceptional flavor and vapor production. With adjustable airflow and USB-C charging, the Argus GT II is a versatile and resilient vaping companion.
Dual 18650 batteries (sold separately)
2ml e-liquid capacity
Compatible with VooPoo Maat Tank
Compatible with TPP mesh coils
5-200W range
2.VooPoo Vinci X2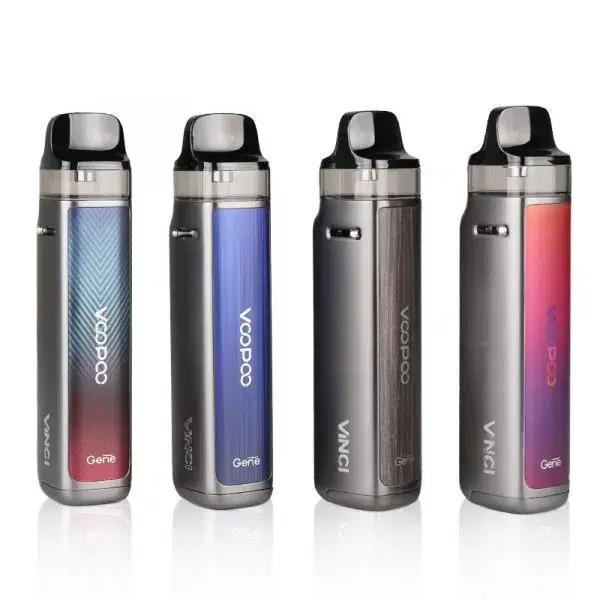 The VooPoo Vinci X2 is a compact powerhouse that revolutionizes vaping. Its intelligent features and stylish design enhance every puff, promising a delightful experience. With a substantial 6.5mL juice capacity, powered by a single 18650 battery, the Vinci X2 delivers 80W of satisfying vapor. The Smart Mode ensures coil wattage alignment, preventing coil burns and saving costs. This successor to the VooPoo Vinci 2 maintains excellence while offering versatility, making it a must-have for those seeking convenience and exceptional flavor.
Pod capacity – 2ml
Coil resistance – 0.3ohm / 0.15ohm
Output wattage – 5-80W
Resistance range – 0.15-3.0ohm
Battery compatibility – 1 x 18650 (sold separately)
Dimensions – 121mm x 29mm x 27mm
3.Drag S Pro Kit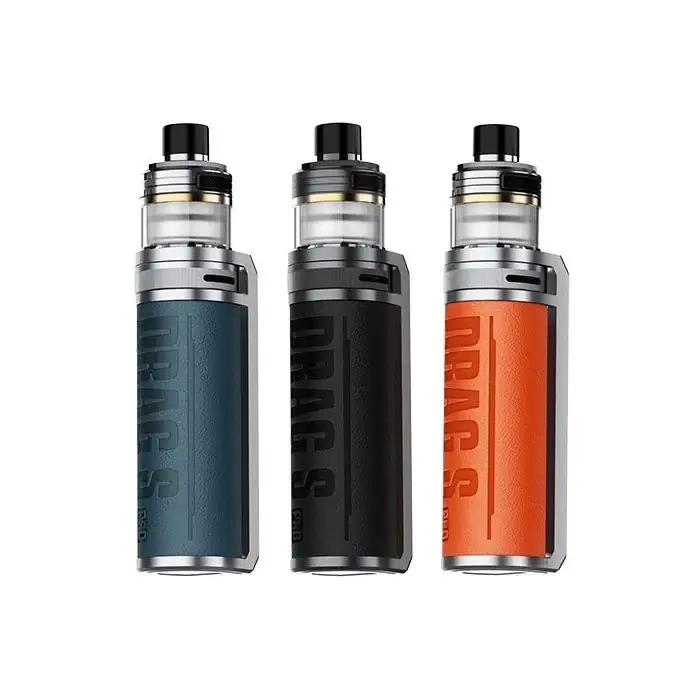 The Voopoo Drag S Pro is a masterpiece, blending portability and potency flawlessly. Its sleek design and enhanced features create a vaping sensation that's hard to match. With an 80W Mod and a 3000mAh battery, combined with the 5.5ml TPP X Pod, it's a performance powerhouse. The innovative toggle switch adds a modern touch to the traditional on/off function, while the GENE.FAN 3.0 chip ensures powerful clouds and stability. Offering various modes including SMART/RBA/TC, and compatible with TPP/PnP coils, the Drag S Pro caters to all preferences. Whether chasing clouds or savoring flavors, the Drag S Pro guarantees an extraordinary experience.
Mod Material:Alloy+Leather
Output Power:5-80W
Output Voltage:0-8.5V
Mod Resistance:0.1-3.0ohm
Battery Capacity:3000mAh built-in battery
Pod Capacity:5.5ml(standard)/2ml(TPD)
Pod Material:Stainless Steel+PCTG
Pod Resistance:TPP-DM1 0.15ohm, TPP-DM4 0.3ohm(included)
Screen:0.96 inch TFT screen
4.Argus P1 Pod Kit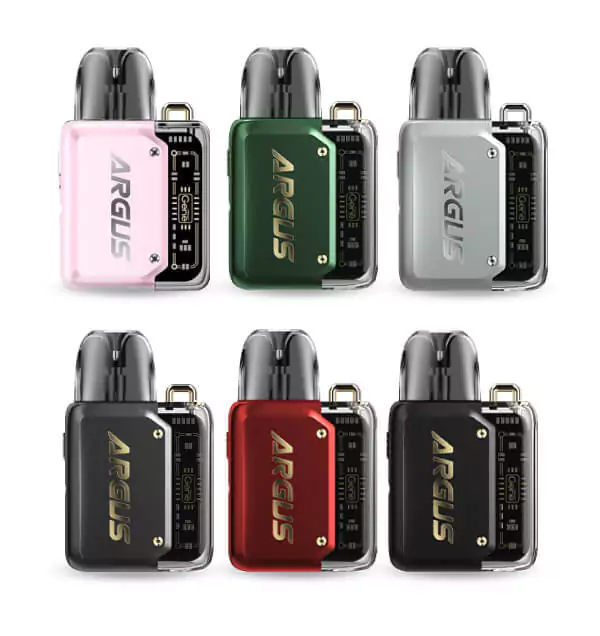 The VOOPOO ARGUS P1 is a visionary marvel, blending futuristic mechanics with artful design. Boasting an 800mAh battery and the Argus pod cartridge featuring 0.7ohm and 1.2ohm integrated coils, it holds 2ml of e-liquid and produces impeccable vapor and flavor. The DNA. AI 1.2 Chip intuitively adjusts power levels with each puff, ensuring an unparalleled experience. Thanks to ITO atomization technology, taste and flavor are maximized. The PD rapid charge accelerates battery replenishment, taking it from 0% to 100% in just 18 minutes. The ARGUS P1 Kit is a harmonious fusion of innovation and performance.
Chassis Material: Zinc Alloy + PC
Wattage Range: 5-20W
Voltage Range: 3.2-4.2V
Resistance Range: 0.5-3.0ohm
Battery Capacity: 800mAh
Charging Port: USB Type-C
Output: Direct Voltage Based
Operation: Draw-Activation
Fill System: Side-Fill – Silicone Stopper
Pod Material: PCTG
Pod Capacity: 2mL
Pod Connection: Magnetic
Adjustable Airflow Control Switch
5.VooPoo Drag Max Vape Kit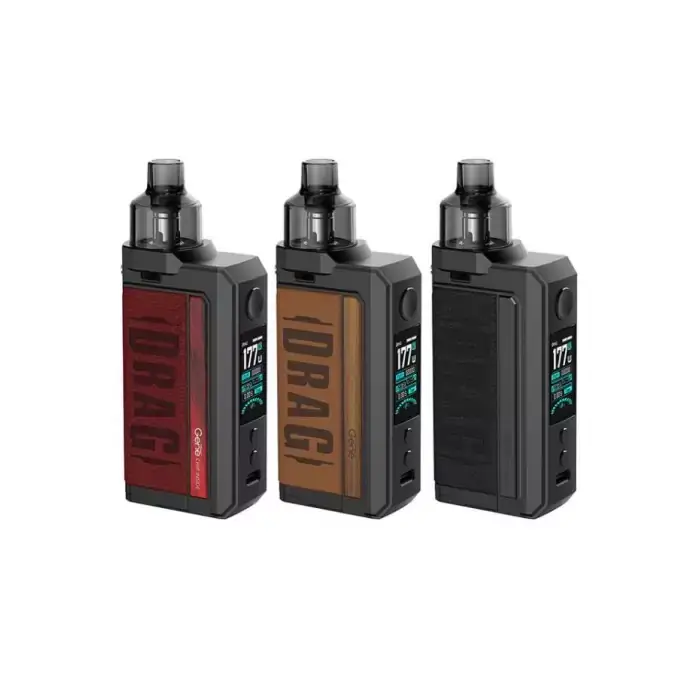 The VOOPOO Drag Max Vape Kit redefines the pod mod experience with its impressive power, sleek design, and advanced chip system. With up to 177W output using twin 18650 batteries, this kit offers outstanding performance. The GENE.FAN 2.0 chipset ensures rapid coil firing in just 0.001s and features a smart mode that recommends optimal power levels based on your coil. The 4.5ml PnP Pod Tank with "infinite" airflow and included mesh coils produces abundant vapor and rich flavor. Its USB-C charging, vibrant 1.08-inch color screen, and leather and steel build make the Drag Max a versatile choice for vapers seeking ultimate satisfaction.
Battery capacity: 2 x 18650 (sold separately)
Wattage Output Range: 5-177W
Dimensions: 122mm by 50mm by 25mm
Fast charge capable (battery dependant)
200w max power – driven by 2x 18650 batteries
SMART MODE self selecting wattage
Replaceable 'press in' coils (very easy)
1.08″ TFT colour display
2 amp fast charge
Zinc-Alloy Construction
In Conclusion
In the dynamic realm of vaping, Voopoo stands as a transformative force, seamlessly melding technology and ingenuity. Their latest innovation pledges to redefine the vaping landscape in 2023. The 5 Top Voopoo Vapes of the year present an unparalleled voyage, marrying innovation and contentment. With each inhale, a realm of flavors and delight unfolds, reshaping the core of vaping.