In the ever-expanding world of vaping, nothing is as refreshing as a well-crafted strawberry vape. The sweet, juicy notes combined with the invigorating vapor create an experience that's hard to resist. Whether you're a seasoned vaper or a newcomer looking to explore flavors, the allure of strawberry e-liquids is universal. But with an abundance of options in the market, finding the perfect strawberry blend can be a daunting task. That's why we've taken it upon ourselves to scour the industry's offerings and compile a definitive list of the Top 10 strawberry vapes you absolutely must try. From succulent strawberry-cream combinations to frosty strawberry menthol blends, our list is a curated selection of the crème de la crème. So sit back, read on, and get ready to discover your next all-day vape in this delicious and ever-popular flavor category.
Top 10 Strawberry Vapes
1.Strawberry Raspberry Cherry Ice Disposable Vape by Elf Bar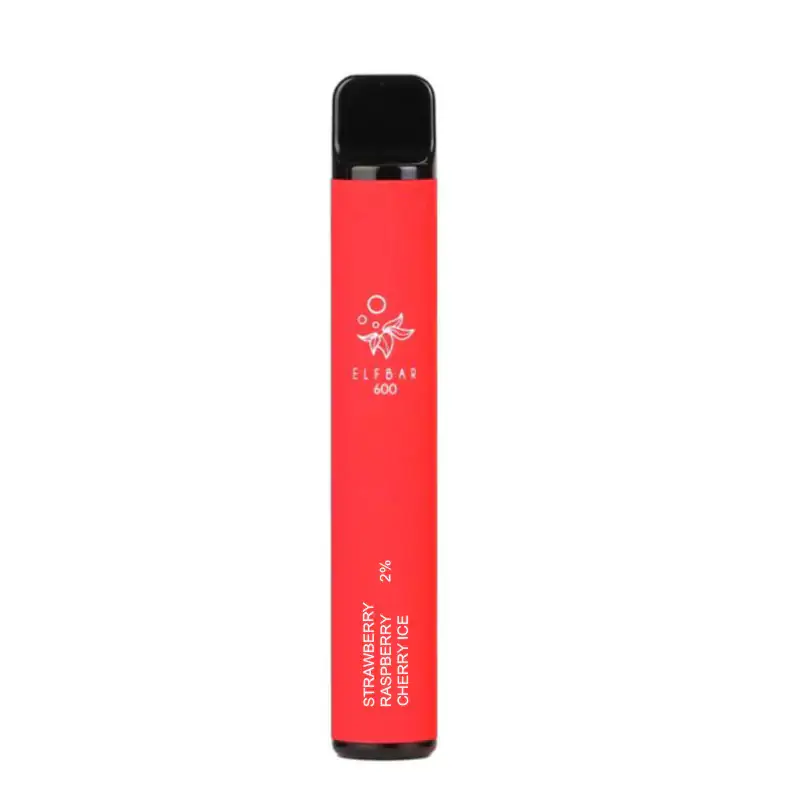 Features
Compact Disposable Kit
Beginner-Friendly
600 Puffs Per Bar
Inhale Activated
20mg Nic Salt / Elf Bar Nicotine Free
Smooth Throat Hit
Venturing into the world of Elf Bar's Strawberry Raspberry Cherry Ice disposable vape is a journey that any fruit flavor enthusiast must take. Imagine walking through a sun-dappled orchard in peak berry season—the atmosphere is as vivid as the flavor profile of this vape.
From the first inhale, the leading note of strawberry envelops your taste buds with its sumptuously sweet essence. This is soon joined by the tart vibrancy of raspberry, creating a complex yet harmonious melody of flavors. But Elf Bar doesn't stop there. Cherry adds a layer of depth, bringing in a robust richness that further amplifies the fruitiness of the vape. Just when you think the experience couldn't get any better, an icy gust sweeps in, making each puff refreshingly crisp.
Beyond its outstanding flavor profile, what makes this Elf Bar disposable vape truly remarkable is its convenience. Pre-filled with 2ml of e-liquid and equipped with a battery designed to outlast 20 cigarettes, this is a hassle-free option for vapers. No need for refills or recharges—it's ready to use straight out of the box.
Features such as its compact design, 600-puff lifespan, and inhale activation make it especially beginner-friendly. It's designed for a Mouth To Lung (MTL) experience, closely mimicking the sensation of smoking a traditional cigarette. For those concerned about nicotine levels, this flavor comes in a 20mg nic salt variant, providing a smoother throat hit without sacrificing flavor intensity.
2.Elf Bar 600 Strawberry Kiwi Disposable Vape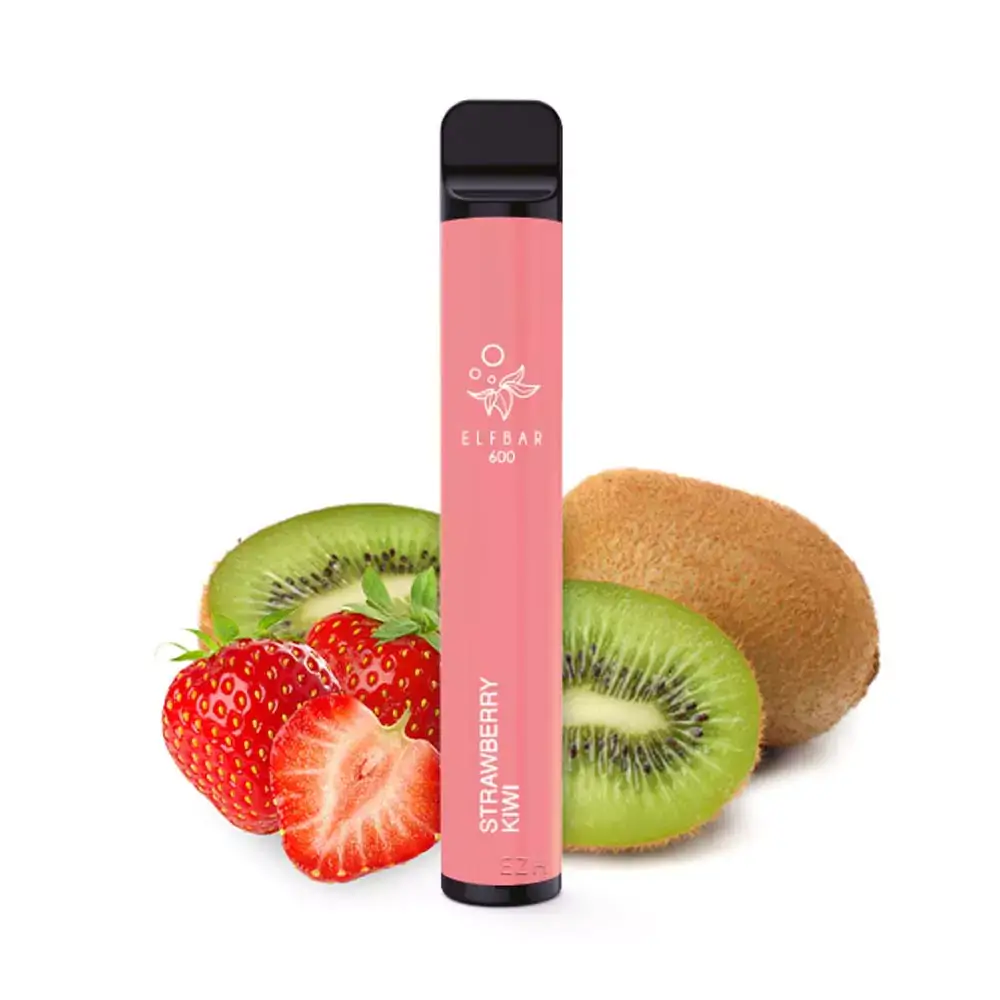 Features
MTL Disposable Vape
Beginner-Friendly
Inhale Activated
600 Puffs / Outlasts 20 Cigarettes
10mg Or 20mg Nic Salt
Range Of Flavours
Smooth Throat Hit
The Strawberry Kiwi Elf Bar disposable vape offers a seamless blend of convenience and flavor, perfect for those who are new to vaping or those who desire a fuss-free experience. With no need for prior vaping knowledge, the Elf Bar is remarkably user-friendly. Just inhale to activate, and you're good to go. This little device packs a punch despite its small stature; with up to 600 puffs available, it comfortably outlasts 20 cigarettes, making it not just practical but also cost-efficient.
Flavor-wise, the combination of strawberry and kiwi offers a mouthwatering experience that hits all the right notes. Sweet, tart, and perfectly balanced, each puff delivers an enjoyable taste that doesn't overwhelm the senses. The Elf Bar also offers flexibility when it comes to nicotine content. You can opt for either 10mg or 20mg salt nicotine, guaranteeing a smooth throat hit regardless of the strength you choose.
What sets this device apart is its maintenance-free design. Forget about messy coil changes or complicated settings; the Elf Bar is made to be used and then disposed of, embodying the very essence of convenience. This is an ideal pick for those on-the-go moments or for those who want to test the vaping waters without a significant commitment. Overall, the Strawberry Kiwi Elf Bar disposable vape stands as an excellent choice for anyone looking for an effortless yet gratifying vaping experience.
3.Strawberry Ice Lost Mary BM600
Features
Beginner-Friendly Disposable Vape
600 Puffs – Outlasts 20 Cigarettes
Inhale Activated
Range Of Flavours
20mg Nic Salt or 0mg Nicotine-Free
2ml E-Liquid
Strawberry Ice by Lost Mary BM600 captures the essence of what it means to do simplicity extraordinarily well. Envision the sensory delight of plucking a dew-kissed, sun-warmed strawberry at its peak ripeness and then pairing its puree with a shard of icy coolness. The outcome is a flavor that's both authentically sweet and coolly refreshing.
Built for convenience and designed to be effortlessly portable, this disposable vape doesn't sacrifice quality for ease of use. Aimed at vapers of all experience levels, it eliminates the need for coil replacements or e-liquid refills. Just enjoy its 600-puff lifespan—which exceeds that of 20 traditional cigarettes—and then replace it.
What enhances its user-friendliness further is the inhale activation technology, sparing you the need to fiddle with buttons or menus. A simple inhale is all it takes to activate the device, delivering an MTL vaping experience that closely mimics smoking a cigarette.
Inside each device, you'll find 2ml of 20mg salt nicotine e-liquid that not only satisfies cravings faster but also offers a smoother throat hit. If nicotine isn't your thing, a 0mg option is available as well. Overall, with its authentic strawberry flavor, accented by a cool menthol kick, the Strawberry Ice Lost Mary BM600 is an embodiment of vaping satisfaction, from taste to technology.
4.Watermelon Strawberry Bubblegum Disposable Vape by SKE Crystal Bar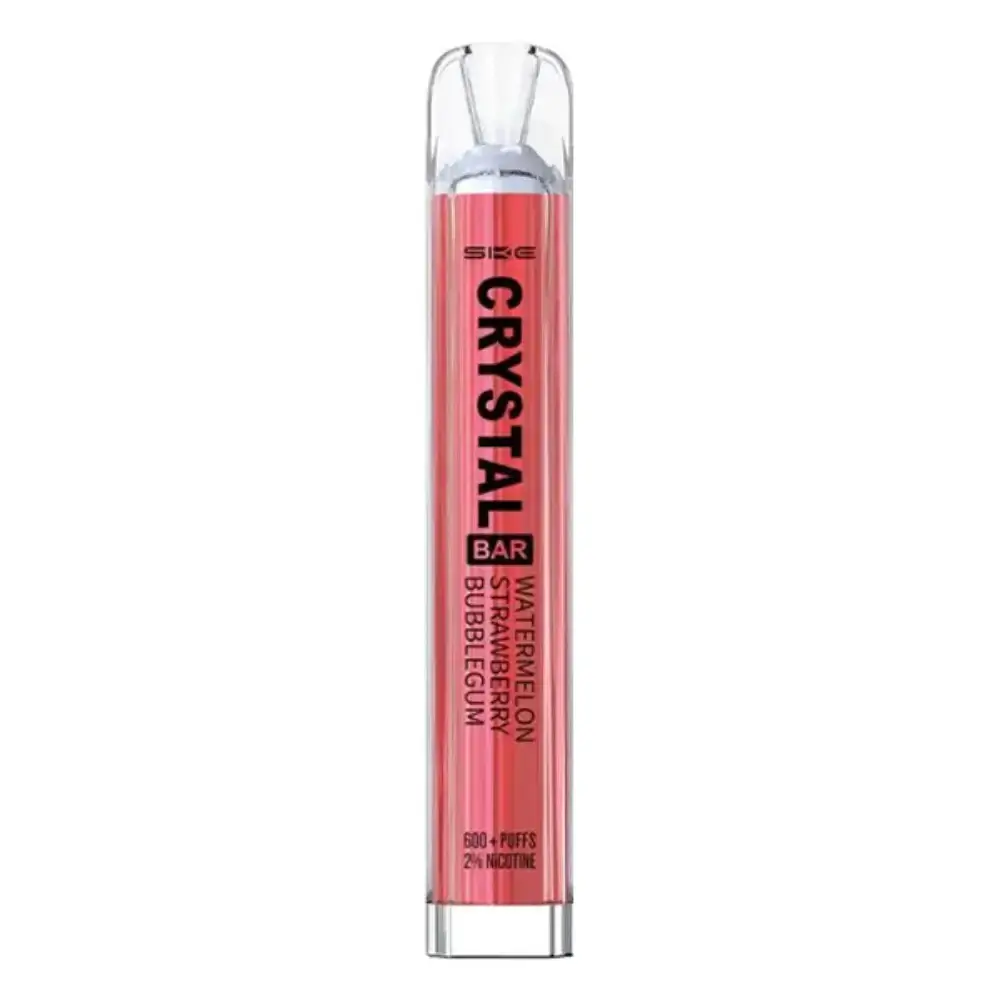 Features
Beginner-Friendly Disposable Vape
600 Puffs – Outlasts 20 Cigarettes
Inhale Activated
20mg Nic Salt
2ml E-Liquid
Watermelon Strawberry Bubblegum by SKE Crystal Bar is like taking a trip down memory lane to those carefree summer days of your youth. The initial taste is of juicy strawberries at the peak of their ripeness, swiftly complemented by the refreshing qualities of watermelon. But the vape doesn't stop there; it introduces a whimsical twist with the sweet, chewy charm of bubblegum. Each puff is a merry-go-round of flavors, evoking nostalgia and joy.
When it comes to convenience, this disposable vape is as user-friendly as they come. Its compact size and lightweight design make it a perfect pocket companion. Sporting 2ml of e-liquid and up to 600 puffs, it not only matches but outlasts 20 traditional cigarettes.
The device uses inhale-activation technology, eradicating the need for any buttons or intricate menu systems. Simply draw on the mouthpiece, and you'll get a mouth-to-lung vape experience similar to that of a cigarette. Moreover, the 20mg salt nicotine ensures a smoother throat hit and faster absorption, effectively quenching your cravings. Available in a variety of blends, Watermelon Strawberry Bubblegum stands out for its flavorful ingenuity and playfulness, all packed into one beginner-friendly device.
5.Strawberry Ice Cream Disposable Vape by SKE Crystal Bar

Features
Beginner-Friendly Disposable Vape
600 Puffs – Outlasts 20 Cigarettes
Inhale Activated
20mg Nic Salt
Nicotine-Free Option
2ml E-Liquid
Indulging in Crystal Bar's Strawberry Ice Cream disposable vape truly feels like a lavish experience for the senses. From the moment you take that first puff, you are enveloped in the sumptuous taste of ripe strawberries seamlessly blended with rich cream. Every inhalation is a foray into a creamy, fruity universe that not only satiates your cravings but also provides a delightful respite from everyday life.
Designed with utter simplicity, this disposable vape is a dream come true for beginners. Forget the hassle of buttons or navigating through complicated menus; this little masterpiece is all about inhale activation. Drawing in through the mouthpiece, you'll experience a discreet, yet satisfying cloud of vapor that mimics the sensation you'd get from a traditional cigarette, thanks to its MTL (Mouth To Lung) technology.
But what about the nicotine, you ask? This vape comes pre-loaded with 20mg salt nicotine for a smoother, more satisfying throat hit. The nicotine is absorbed quickly, ensuring faster craving satisfaction. But if you're inclined to skip nicotine, there's a 0mg option as well.
6.Geek Bar Strawberry Ice Cream Disposable Vape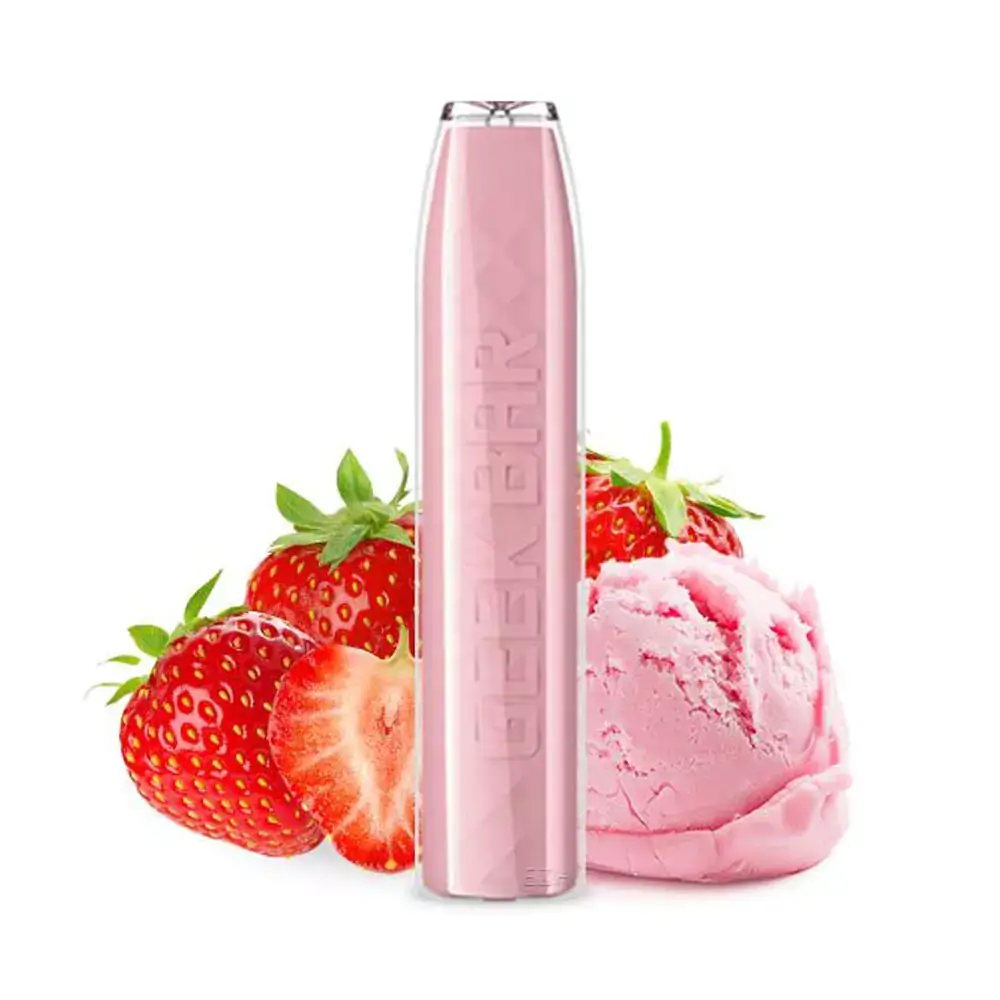 Features
Beginner-Friendly Disposable Vape
575 Puffs – Outlasts 20 Cigarettes
Inhale Activated
Range Of Flavours
10mg & 20mg Nic Salt
2ml E-Liquid
The Geek Bar Strawberry Ice Cream disposable vape by Geekvape is simplicity personified, making it an ideal choice for vaping novices and seasoned users alike. Forget about buttons, settings, or any kind of hassle; operating this device is as straightforward as taking a puff. With its autodraw feature, it beautifully simulates the act of smoking a cigarette, thereby serving as a perfect transitional device for those new to vaping or looking for a lighter, more portable option.
What's noteworthy is its powerful 500mAh battery, ensuring that the device lasts as long as its 2ml e-liquid supply does. Despite this impressive battery capacity, the Geek Bar maintains a super-compact form, allowing it to slide effortlessly into your pocket, making it your ideal travel companion.
Flavor-wise, the Strawberry Ice Cream e-liquid is a winner, delivering the lush, creamy essence of a premium strawberry milkshake. Each puff brings a delightful mix of sweetness and creaminess that's neither overpowering nor underwhelming. You also get the flexibility of choosing between 10mg and 20mg nicotine strengths, allowing you to customize your vaping experience based on your needs.
7.Geek Bar Sweet Strawberry Disposable Vape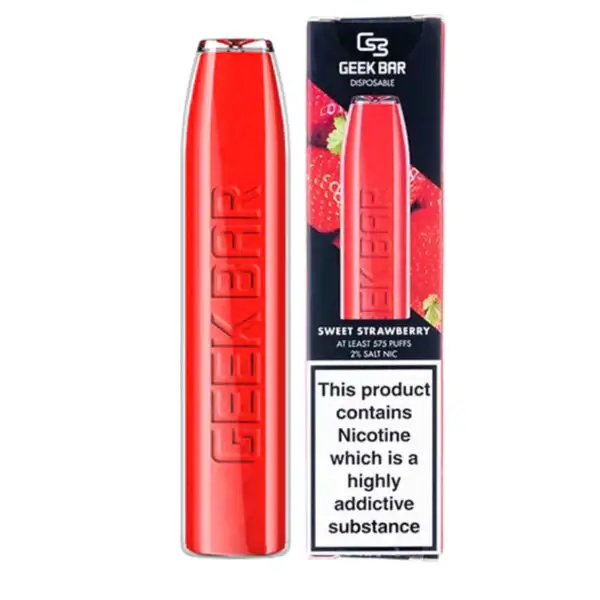 Features
Beginner-Friendly Disposable Vape
575 Puffs – Outlasts 20 Cigarettes
Inhale Activated
Range Of Flavours
10mg & 20mg Nic Salt
2ml E-Liquid
The Geek Bar Sweet Strawberry disposable vape by Geekvape is an epitome of convenience and ease, ideal for those seeking a no-fuss vaping experience. With a battery life of 500mAh and a 2ml e-liquid capacity, this petite powerhouse equates to about 30 cigarettes or 575 puffs, offering an impressive lifespan for its small size. And when it's all used up? Simply dispose of it; there's no need for recharging or refilling.
Where the Geek Bar truly excels is in its automatic inhalation system. Simply take a puff, and it instantly delivers a smooth, satisfying vapor, thanks to the 20mg nic salt e-liquid. Nic salts are known for their smoothness and rapid absorption, satiating your nicotine cravings faster and without any harsh throat hits.
Flavor-wise, the Sweet Strawberry variant is a delight for the senses. Imagine the taste of ripe, juicy strawberries filling your mouth with each puff. It's a straightforward yet satisfying flavor, perfect for all-day vaping. And if you ever want to switch it up, the Geek Bar is also available in other flavors like fruit, tobacco, and menthol.
8.Aroma King Classic Strawberry Ice Disposable Vape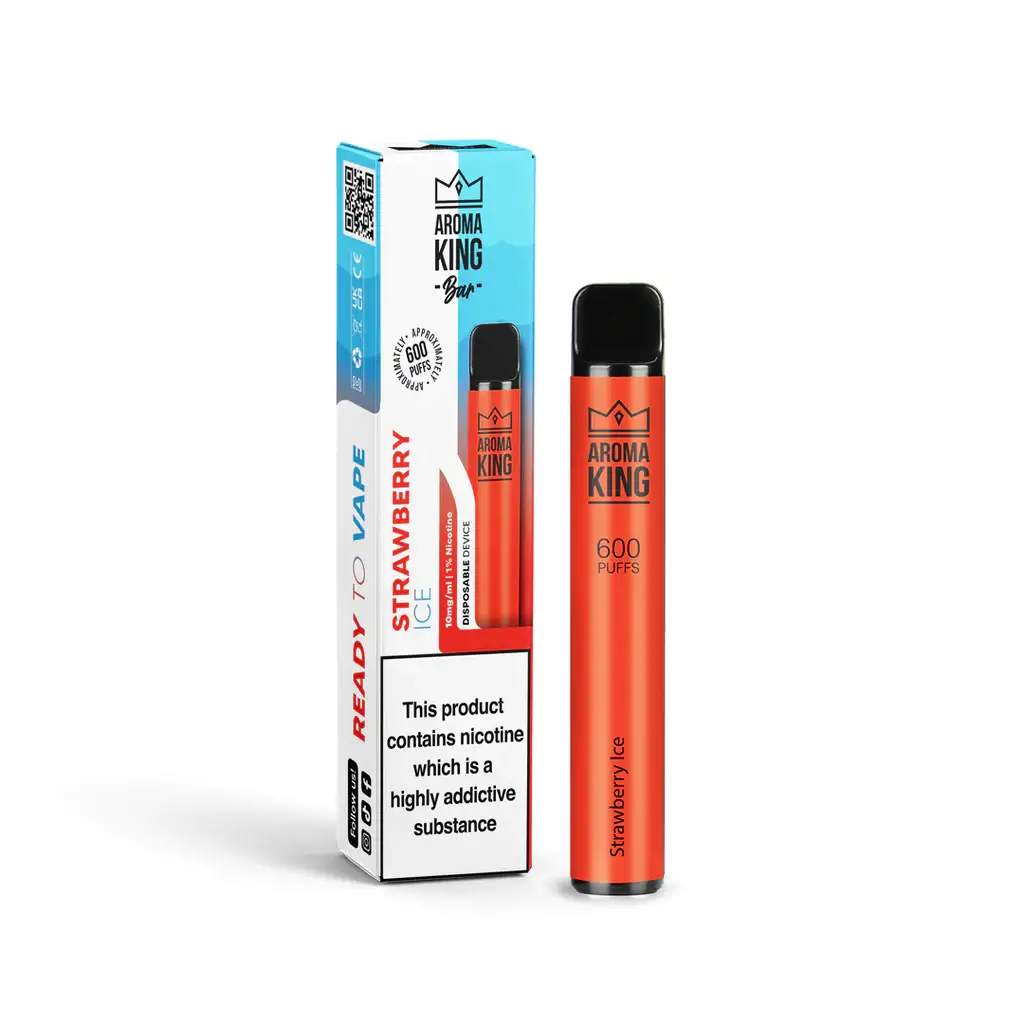 Features
600 Puffs
550mah Battery Capacity
Pre-filled with 2ml Salt Nicotine E-Liquid
Available in Nicotine Strengths of 0mg, 10mg and 20mg
50VG/50PG
Perfect for Beginners
Draw Activated
Light and Compact
The Aroma King Classic Strawberry Ice disposable vape is a harmonious blend of convenience, performance, and exquisite flavor. Boasting an impressive 550mAh battery and 2ml of premium salt nicotine e-liquid, this device can deliver up to 700 puffs—equivalent to a staggering 40 cigarettes. Whether you're looking to transition from traditional smoking or seeking an effortless vaping experience, this Vape Pen offers a smooth and satisfying ride.
Flavor is where the Aroma King Classic truly shines. Each puff greets you with the natural sweetness of ripe strawberries, only to be rounded off by an invigorating icy finish. This sweet and cool blend leaves a lasting impression, making every draw a memorable one. Notably, the e-liquid flavors have been meticulously formulated to match the device's battery, output wattage, and coil resistance, ensuring a consistent and delightful vaping experience.
As for nicotine options, Aroma King offers a range of choices from 0mg to 20mg salt nicotine, catering to both newcomers and seasoned vapers alike. The use of salt nicotine ensures a smoother hit and quicker nicotine absorption, adding to the device's overall appeal.
9.Lost Mary BM600 Strawberry Kiwi Disposable Vape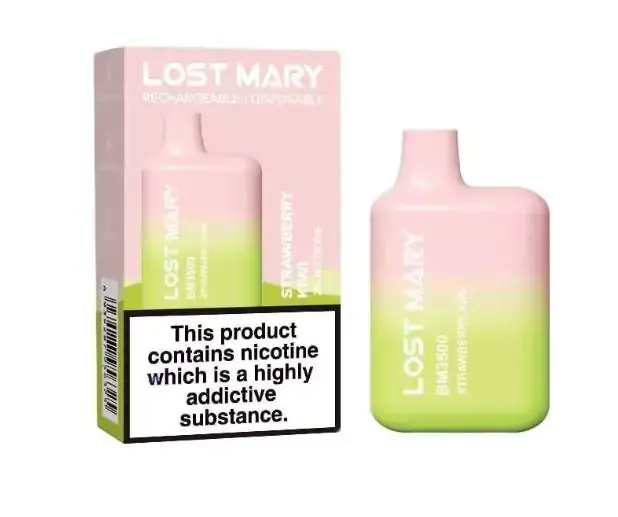 Features
Beginner-Friendly Disposable Vape
600 Puffs – Outlasts 20 Cigarettes
Inhale Activated
Range Of Flavours
20mg Nic Salt or 0mg Nicotine-Free
2ml E-Liquid
The Lost Mary BM600 Strawberry Kiwi Disposable Vape is a pocket-sized powerhouse that delivers a tropical blend of flavors with an impressive hit of 20mg nicotine salt. In a market flooded with disposable vape options, this product stands out for its fine-tuned balance of convenience and performance, all housed in an eye-catching, ergonomically designed shell.
One puff and you're instantly transported to a tropical paradise, thanks to the sublime mix of juicy strawberries and exotic kiwi. It's a lush, fruity concoction with a slight tang that tingles the taste buds, making each of the 600 puffs an absolute delight.
The device's simplicity is another one of its strong suits. With no buttons to fiddle with or coils to replace, this is vaping made easy. Just drag to activate, and you're good to go. Whether you're a seasoned vaper or an absolute beginner, this device is designed to please.
Beyond ease of use, the Lost Mary BM600 boasts a durable 550mAh battery, ensuring you won't be left high and dry. The device comes pre-charged and pre-filled, so you can start vaping right out of the box. Furthermore, its compact, square-shaped design allows for easy portability, fitting effortlessly into pockets and purses.
10.Lost Mary QM600 Peach Strawberry Watermelon Ice Disposable Vape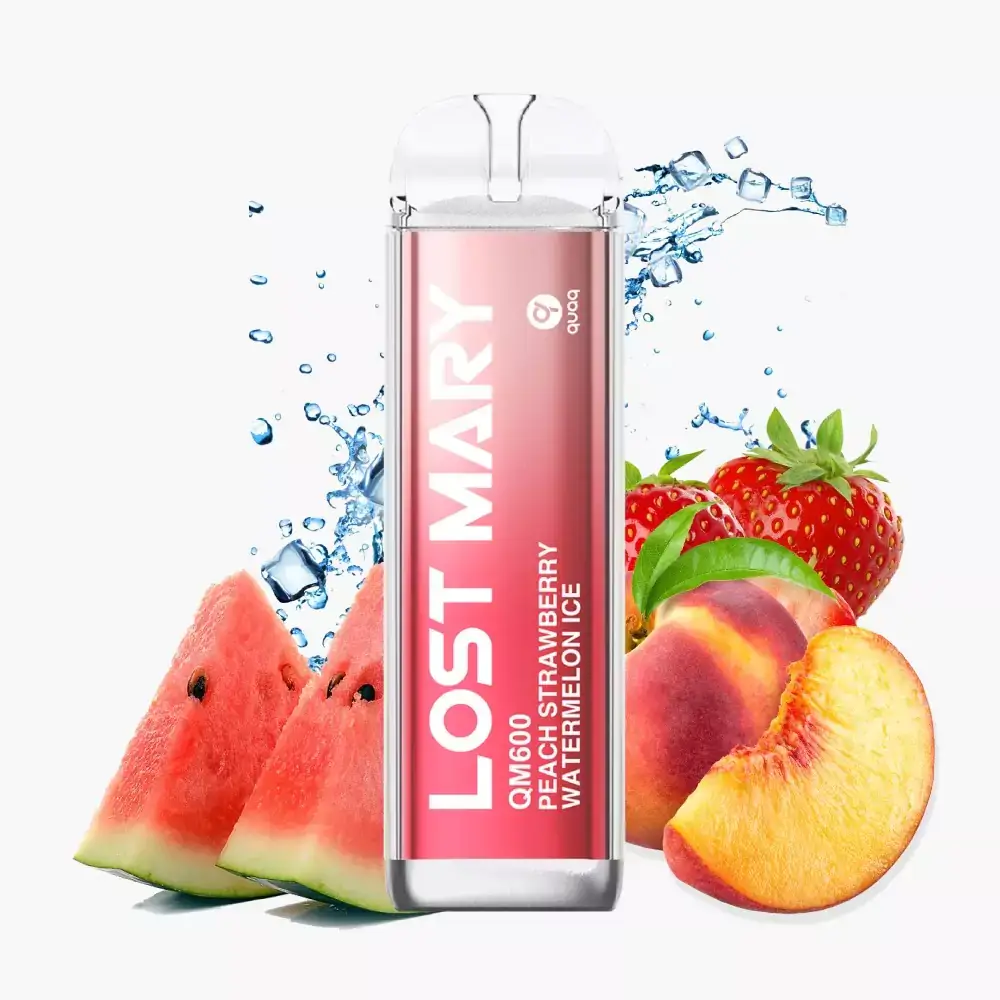 Features
Easy To Use Disposable Vape
Up To 600 Puffs
Inhale Activated
2ml E-Liquid
Range Of Flavours
20mg Nic Salt
The Lost Mary QM600 Peach Strawberry Watermelon Ice Disposable Vape is like holding a summer fruit cocktail in the palm of your hand. Right from the first puff, the medley of strawberry and peach dazzles your taste buds. The strawberry's natural sweetness pairs exquisitely with the lush, velvety essence of peach. But just when you think you've grasped the full spectrum of flavors, a splash of watermelon's crispness joins the party, adding a layer of complexity and refreshment. Topping it off, the icy undertone offers a revitalizing kick that leaves you wanting more.
What makes the Lost Mary QM600 even more appealing is its user-friendliness. Designed with convenience in mind, the device is inhale-activated, meaning there are no complicated buttons to navigate. Simply take a drag, and the vaping experience begins. Delivering up to 600 satisfying puffs from its 2ml e-liquid reservoir, this device is a perfect pick for both vaping newcomers and seasoned pros alike.
Equipped with mesh coils, the QM600 promises rapid e-liquid heating and enhanced flavor. With 20mg of nic salt, it's potent enough to satisfy your nicotine cravings while still providing a smooth throat hit. So, if you're looking for a vaping experience that combines ease of use with an explosion of flavors, look no further than Lost Mary QM600 Peach Strawberry Watermelon Ice.