Menthol vape juice holds an irresistible allure that vapers yearn for, offering a delightful minty rush that refreshes the senses. Whether enjoyed on its own or expertly blended with various flavors like tobacco, custard, or fruits, menthol adds a cooling undertone that elevates the vaping experience to new heights.
The shift from menthol cigarettes to menthol vapes, triggered by the UK ban on menthol cigarettes in 2016, has been nothing short of transformative. But what makes menthol so captivating? The answer lies in its unique sensation. The inclusion of menthol in e-liquids not only results in a smoother throat hit but can also counteract coughing and irritation, making it a sought-after choice. Additionally, it offers a novel alternative to traditional tobacco flavors while enhancing the richness of fruity blends.
Disposable vapes, particularly those infused with menthol, have gained immense popularity due to their user-friendly nature and minimal hassle. As the trend continues to evolve in 2023, the demand for menthol disposable vapes remains strong. This transition, prompted by regulations like the Tobacco Product Directive EU legislation, has not only impacted vapers but also traditional smokers.
Top 5 Menthol Disposable Vapes
1. Black Note Solo–Menthol E-Liquidz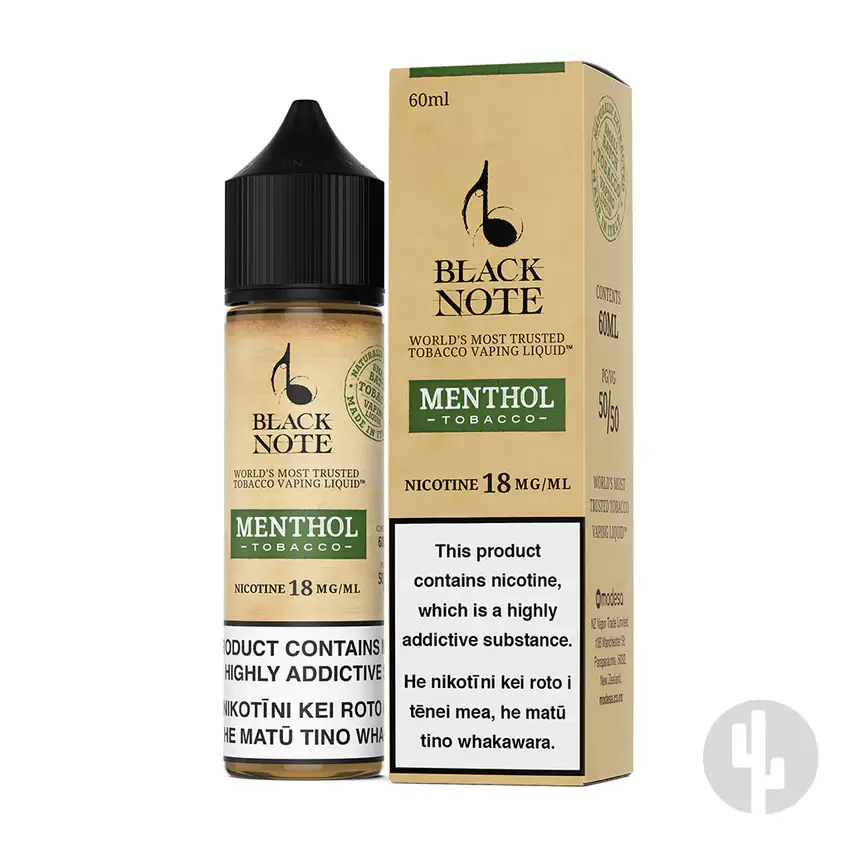 Features
10ml (1x 10ml bottle) or 60ml (6x 10ml bottles)
50% PG 50% VG
USA brand Made in Italy
New Chubby Gorilla bottle
Naturally extracted, naturally cultivated
No artificial flavours, colours, sweeteners, or chemical additives
Lab tested No Diacetyl, Acetyl Propionyl, Ethylene Glycol, Diethylene Glycol, Acrolein & Acetoin
The Black Note Solo Menthol Vape is a breath of fresh air for vapers seeking a minty twist with a hint of mellow tobacco. Crafted with precision, this vape juice offers a crisp and invigorating blend that stands as a compelling alternative to traditional cigarettes. Black Note's commitment to using naturally-extracted flavorings shines through in this Menthol Blend, where the infusion of fresh peppermint and sun-cured tobacco leaves creates an authentic layering of flavors.
Layered with different menthol oils, the vape offers a smoky yet powerful hit that culminates in an icy exhale, perfect for those craving a satisfying throat hit. While it falls under the premium Black Note range, its value far exceeds that of a pack of menthol cigarettes. A worthy addition to the finest menthol e-liquids available.
2. IVG 2400 Disposable Vape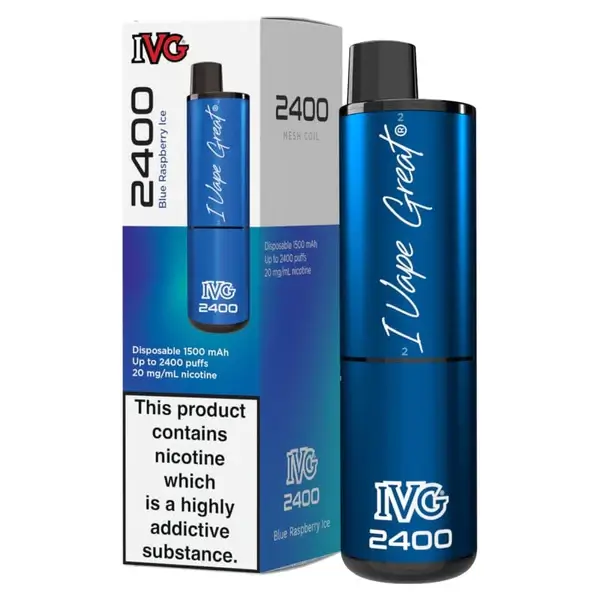 Features
Up to 2400 total puffs per device
4 x 2ml capacity
1500mAh Battery
Nic salt for smoother delivery
Auto-draw
15 flavour choices with multiple variants possible
Introducing the IVG 2400, a game-changing addition to the disposable vape scene that's a must-try for menthol enthusiasts. This innovative disposable vape offers a unique selection of exhilarating flavors like blackcurrant menthol, strawberry ice, minty mojito, blue raspberry, and berry lemonade, along with the classic menthol option. What sets these disposables apart is the remarkable 2400 puffs they provide, fueled by a robust 1500mAh battery.
A pioneer in compliance, the IVG 2400 features a TPD-compliant all-in-one design with four pre-installed pods, each delivering 600 puffs for a sustained cooling sensation that outlasts traditional disposables. IVG's range of flavors caters to diverse preferences, offering a satisfying 20mg salt nicotine hit that balances strength with smoothness. The IVG Bar Plus is compact, ensuring around 600 puffs per disposable, while the IVG 2400 takes it up a notch for extended vaping on the go. With no need for recharging, this disposable vape simplifies your vaping journey—just swap out the bar and continue where you left off.
3.SKE Crystal Bar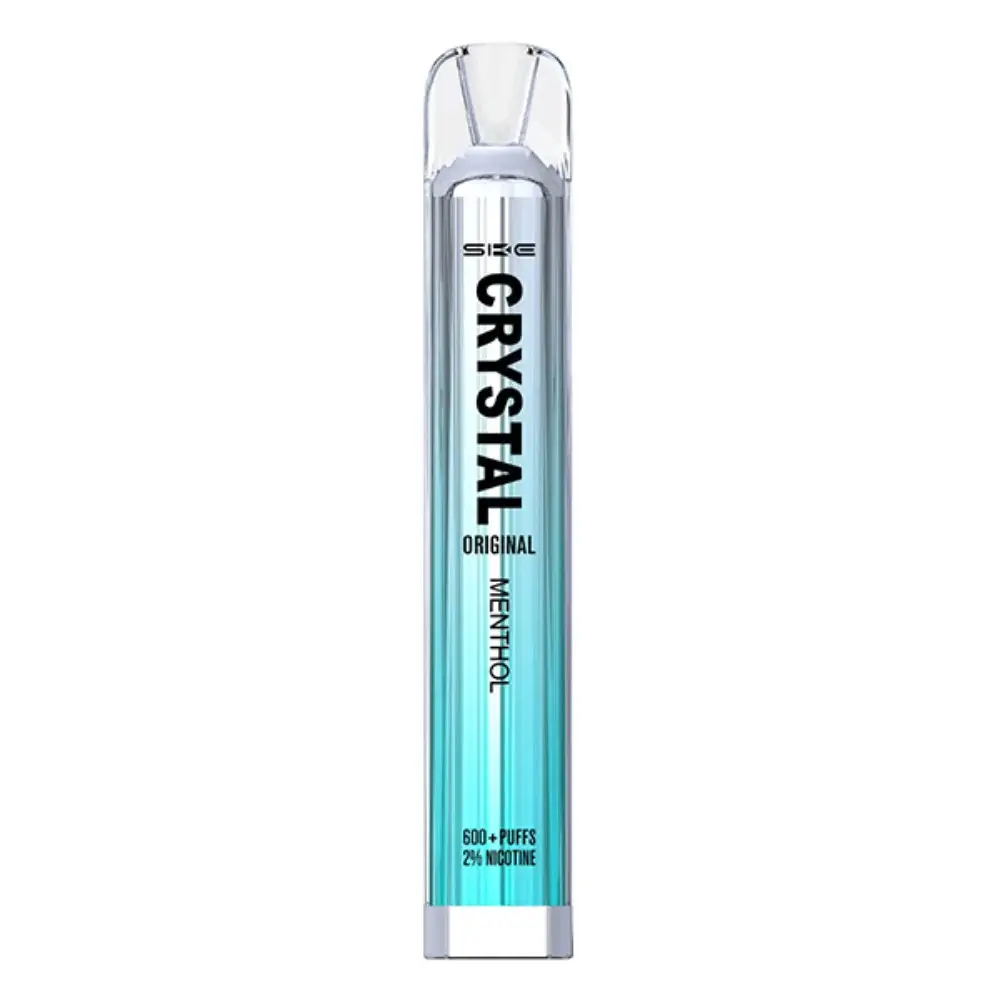 Features
20mg nicotine salt
600 puffs
2ml capacity
500mAh battery
Auto-draw activation
The SKE Crystal Bar emerges as a rising star in disposable vaping, showcasing SKE's growing popularity. Packed with flavor and offering satisfying cloud production, these bars provide an enjoyable experience.With a 500mAh battery, Crystal Bars cater to mouth-to-lung vapers, lasting a full day without excessive use. The range of flavors includes menthol's cooling allure and a variety of fruity options like watermelon ice and strawberry blast.Each exhale delivers a refreshing icy sensation, enhancing the overall enjoyment. Crafted from food-grade PCTG material and stainless steel, Crystal Bars boast reliability and an attractive design.Delivering up to 600 puffs, a 500mAh battery, and up to 11W of power, they consistently offer great flavor and discreet clouds. With 20mg nicotine strength, Crystal Bars replicate heavy smoking habits without the harm of traditional cigarettes.
4.Geek Bar Menthol Disposable Vape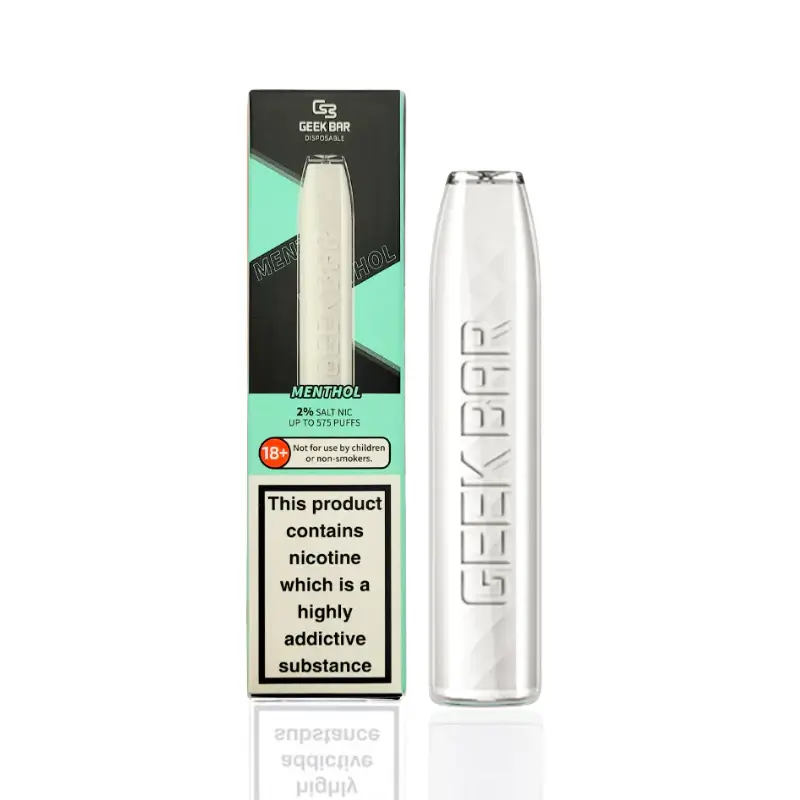 Features
Beginner-Friendly Disposable Vape
575 Puffs – Outlasts 20 Cigarettes
Inhale Activated
Range Of Flavours
20mg Nic Salt
2ml E-Liquid
The Menthol GeekVape Geek Bar disposable offers an easy vaping experience, perfect for beginners. Equivalent to 20 cigarettes, this disposable requires no prior vaping knowledge. With a 500mAh battery and 2ml e-liquid capacity, it's a compact companion for on-the-go use.
Inhale activation and a lightweight build provide a cigarette-like sensation. No buttons or menus, just inhale to vape. The device generates moderate vapor for Mouth To Lung vaping, mimicking smoking. Salt nicotine ensures a smooth vape despite its 20mg strength. Fast-absorbing nicotine satisfies cravings swiftly without harsh throat hits. The menthol flavor provides a cool, subtly sweet vape. Available in various flavors, Geek Bar Menthol's unique blend of cooling mint and candied sweetness is a must-try for enthusiasts. The flagship product offers 575 puffs of enjoyment.
5.Dinner Lady Blue Menthol Disposable Vape Pen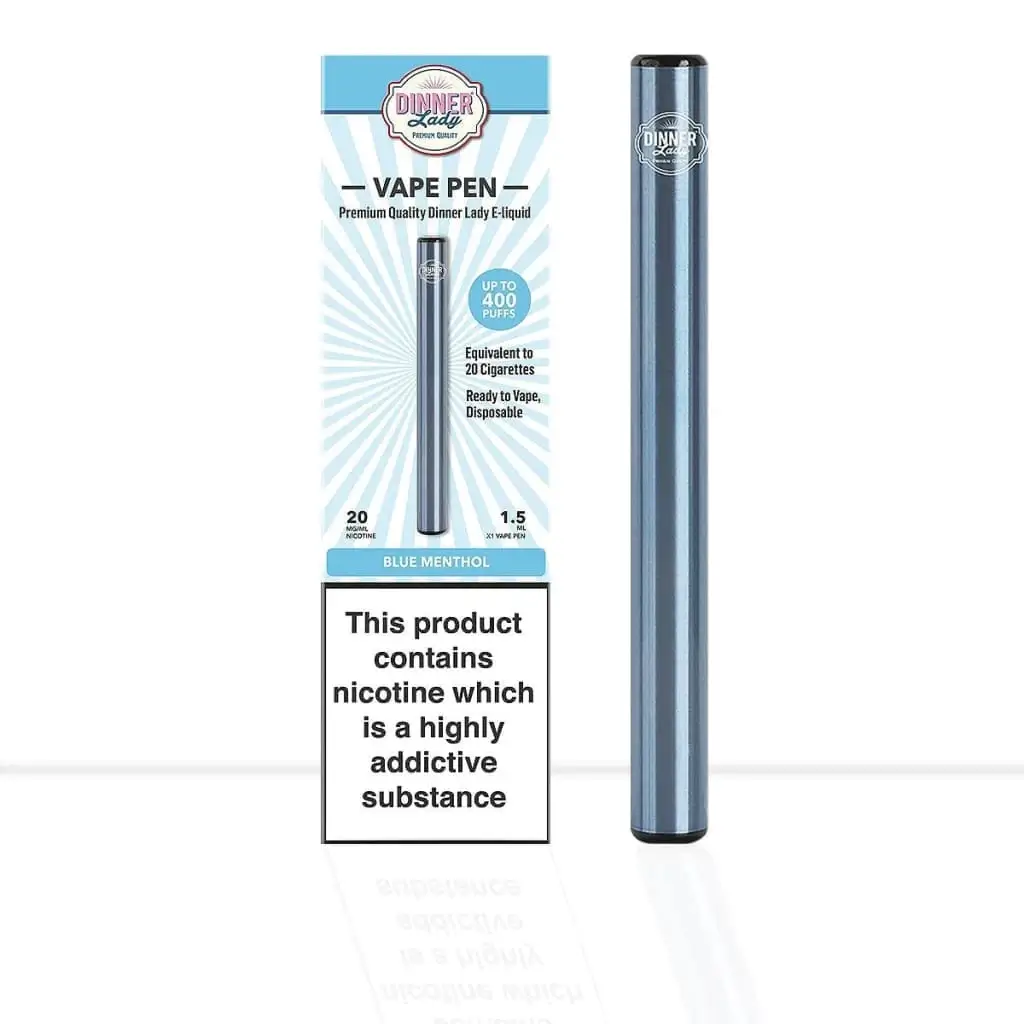 Features
Up to 400 puffs – the equivalent of 20 cigarettes
Prefilled with 1.5ml of Dinner Lady's 20mg Nic Salt e-liquid
No-fuss, no leaks, no refilling
304 food-grade stainless steel body and mouthpiece with an electric paint finish
1.6ohm stainless steel atomiser with bespoke mixed cotton wick
350mAh, Grade A Li-Ion battery
MCU for safety and battery protection
Controlled PCB unit to control voltage output
Sealed for freshness
Slim and discreet design
Premium blue metallic finish
10cm in length
The Dinner Lady Blue Menthol disposable vape offers a compact yet premium vaping experience. With 400 puffs, equivalent to 20 cigarettes, it's a perfect transition from smoking to vaping. Tailored flavors match battery and coil for an unmatched encounter. The 1.5ml e-liquid holds 20mg nicotine salts and a 1.6ohm cotton coil, delivering smooth hits, rich flavor, and discreet clouds. Crafted in stainless steel, its cigarette-like design suits on-the-go vaping. Enhanced safety includes MCU battery protection and PCB voltage control. Pre-charged and maintenance-free, this UK-made disposable exemplifies craftsmanship for all vapers.
FAQs
1.Is it safe to vape menthol?
The addition of menthol to e-cigarettes has a similar impact to menthol added to combustible cigarettes, Sidi noted. "A larger volume of dangerous chemicals are inhaled with the addition of menthol. These chemicals can cause increased damage to the lungs just as they would with the regular cigarette," she said.
2.What is menthol vape?
Menthol helps in tolerating inhaled e-cigarette aerosols and it reduces the breakdown of nicotine contained in e-cigarettes. Flavorings have been cited as the main reason for teenagers to try vaping and menthol flavored e-cigarette products are the second most popular flavor among adults and high schoolers.
3.What does menthol vape feel like?
You probably didn't know this, but menthol is an organic compound found naturally in various other forms. Menthol added to a vape juice will give you a cooling sensation on your lips, in your mouth, throat, and lungs as you inhale and exhale.
4.Can we still buy menthol vape juice?
In lots of countries, although flavor bans have come into effect, menthol and tobacco flavorings just remain legal in e-liquid products. Apart from those countries and regions banning all flavored juice with no exception, menthol vape juice is still available on the market. It would be wise for you to learn about local regulations on vapes before ordering menthol-flavored e-juice.