Epic Vapes is not just another name in the crowded vaping market; it's a cornerstone for quality and customer satisfaction. Founded in 2012 as a brick-and-mortar business, this company has expanded its horizons to offer an extensive range of vaping essentials, from disposables like Epic Bars and Epic X Bars to a variety of flavored and unflavored liquids. While their website might leave a bit to be desired in terms of design and information, there's no denying the quality and variety they offer, especially for those who visit their physical locations in Indiana and Ohio.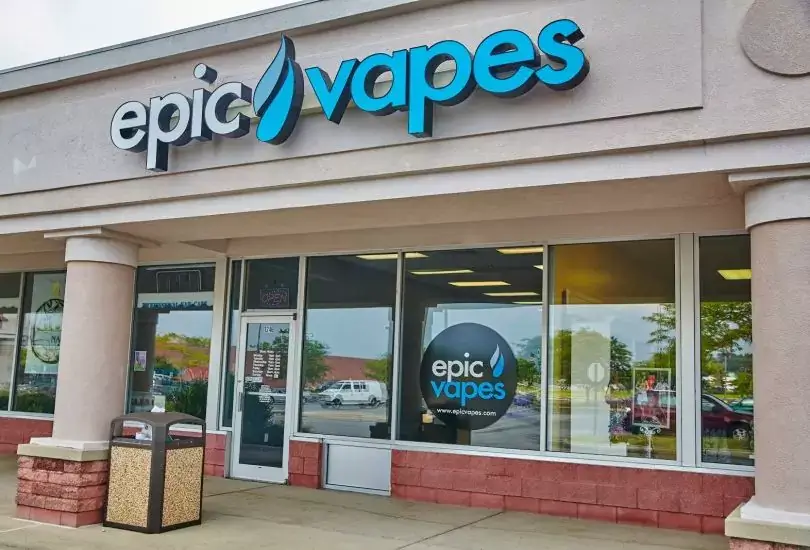 Epic Vapes
While a first glance at Epic Vapes' online inventory may leave you wanting more, let me assure you—their brick-and-mortar stores are where the magic truly happens. Their digital shelf may not be as expansive, but step into any of their physical locations and you'll be greeted with a cornucopia of vaping delights.
The stores are not just places to grab a disposable e-cigarette; they're havens for both the vaping novice and the experienced cloud-chaser. Picture aisles brimming with the latest mods, a rich palette of flavored e-liquids, and an assortment of accessories to elevate your vaping journey. Imagine a place where you can both find a new favorite and rediscover classic flavors. That's what Epic Vapes offers in their physical locations.
So, if you find their online offerings to be a bit on the limited side, consider taking a trip to one of their physical locations, conveniently situated across Indiana and Ohio. There, you can interact with knowledgeable staff who can guide you through their extensive inventory. Bottom line: Epic Vapes offers a bespoke vaping experience in-store that their online presence simply can't capture.
Retail Locations
Van Wert, Ohio – 807 Fox Road
Wapakoneta, Ohio – 1252 Bellefontain Street
St Marys, Ohio – 1246 Indiana Avenue
Lima, Ohio – 1209 Allentown Road
Napoleon, Ohio – Scott Street, Suite #370
Celina, Ohio – 1921 Havemann Rd
Sidney, Ohio – 1588 Michigan Street
Kendallville, Indiana – 850 North Lima Road
Fort Wayne, Indiana – 5103 St Joe Center Road
Fort Wayne, Indiana – 4667 West Washington Boulevard
Fort Wayne, Indiana – 10132 Maysville Road
Logansport, Indiana – 4000 E Market Street, Suite 200
Decatur, Indiana – 837 N 13th St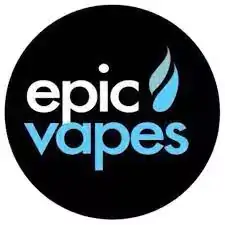 What Can We Expect From Epic Vapes?
Whether you're walking in as an individual vaper in search of that perfect mod or a business representative looking to forge a beneficial B2B partnership, the staff at Epic Vapes knows just how to tailor their services to meet your unique needs.
From the moment you step in or pick up the phone, you're not just a customer; you're a valued member of the Epic Vapes community. The employees take the time to understand what you're looking for, providing detailed and insightful recommendations. They have the knack for making complex vaping terminologies feel simple, turning what could be a complicated buying process into a smooth and enjoyable experience.
So if there's one thing that has me singing praises for Epic Vapes, it's the undeniable focus they put on treating their customers right. Their high level of attentiveness and expertise doesn't just meet the standard for good customer service; it sets a new one. And in today's fast-paced retail environment, where genuine customer care is often a lost art, Epic Vapes is a compelling example of how it should be done.
Pros and Cons
Pros
Multiple physical stores across Indiana and Ohio for an enriched shopping experience
Ideal for novice vapers and businesses looking for a reliable wholesale partner
Shipping available to almost anywhere in the world
Stellar customer service and support
Reasonably fast delivery, even considering Covid-related delays
Cons
Limited online inventory compared to in-store offerings
Website design lacks crucial information and pricing details
Potential shipping delays due to pandemic restrictions
Not all products available are listed on their websites, leading to possible gaps in customer expectations
Products at a Glance
1.Epic Bars Vape Pen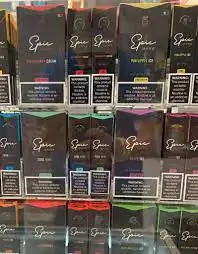 Epic Bars by Elysian Labs cater strongly to menthol aficionados. Each disposable pen offers 1.3 ml of vape liquid and delivers around 300 puffs, backed by a 280 mAh battery. The high-quality salt nicotine content is set at 50 mg, enhancing the vaping experience. Flavor options like strawberry cream and blue razz stand out.
Pros include the pen's longevity and nine diverse flavors. However, the line-up lacks in non-menthol variety, offering only three alternatives and missing out on popular choices like coffee and tobacco. In summary, Epic Bars offer a robust, menthol-focused experience but could improve by diversifying flavors.
2.Epic Apple CBD Vape Pen
For vapers looking for something beyond nicotine, Epic Vapes offers the Epic Apple CBD Vape Pen. This disposable pen melds the tartness of green apple sour belt candy with the calming effects of CBD, giving users a delightful yet therapeutic experience.
Available in 100mg and 300mg options, the potency caters to both newcomers and seasoned CBD users. Manufactured with Avida Core Broad Spectrum CBD, it undergoes stringent third-party tests to guarantee safety, purity, and effectiveness. The Epic Apple CBD Vape Pen adds a new layer to vaping, offering not just flavor but also wellness in every puff.
FAQs
1.What is Epic Vapes?
Epic Vapes is a vaping company that sells a variety of vape devices, e-liquids, and accessories. They are known for their high-quality products and their excellent customer service.
2.Where can I buy Epic Vapes products?
Epic Vapes products are available for purchase online and at select retailers. You can also purchase them directly from Epic Vapes' website.
3.What are the different types of vape devices that Epic Vapes offers?
Epic Vapes offers a variety of vape devices, including pod mods, box mods, and disposable vapes. They also offer a variety of e-liquids, coils, and other accessories.
4.What are some of the best-selling products from Epic Vapes?
Some of the best-selling products from Epic Vapes include the Epic X Pod Mod, the Epic Quest Box Mod, and the Epic Disposable Vape. They also offer a variety of popular e-liquid flavors, including fruit, candy, and menthol.
5.Where are EPIC VAPES's headquarters?
EPIC VAPES headquarters are at Saint Marys, Ohio, United States.
In Conclusion
Epic Vapes may have some shortcomings when it comes to their website design, but where it truly matters—in product quality and customer service—they excel. From their variety of products to their far-reaching shipping services, this Indiana and Ohio-based vape shop chain is carving out its own unique space in the vaping world. Ideal for both individual vapers and companies looking to form B2B relationships, Epic Vapes promises not just products, but a comprehensive vaping experience.