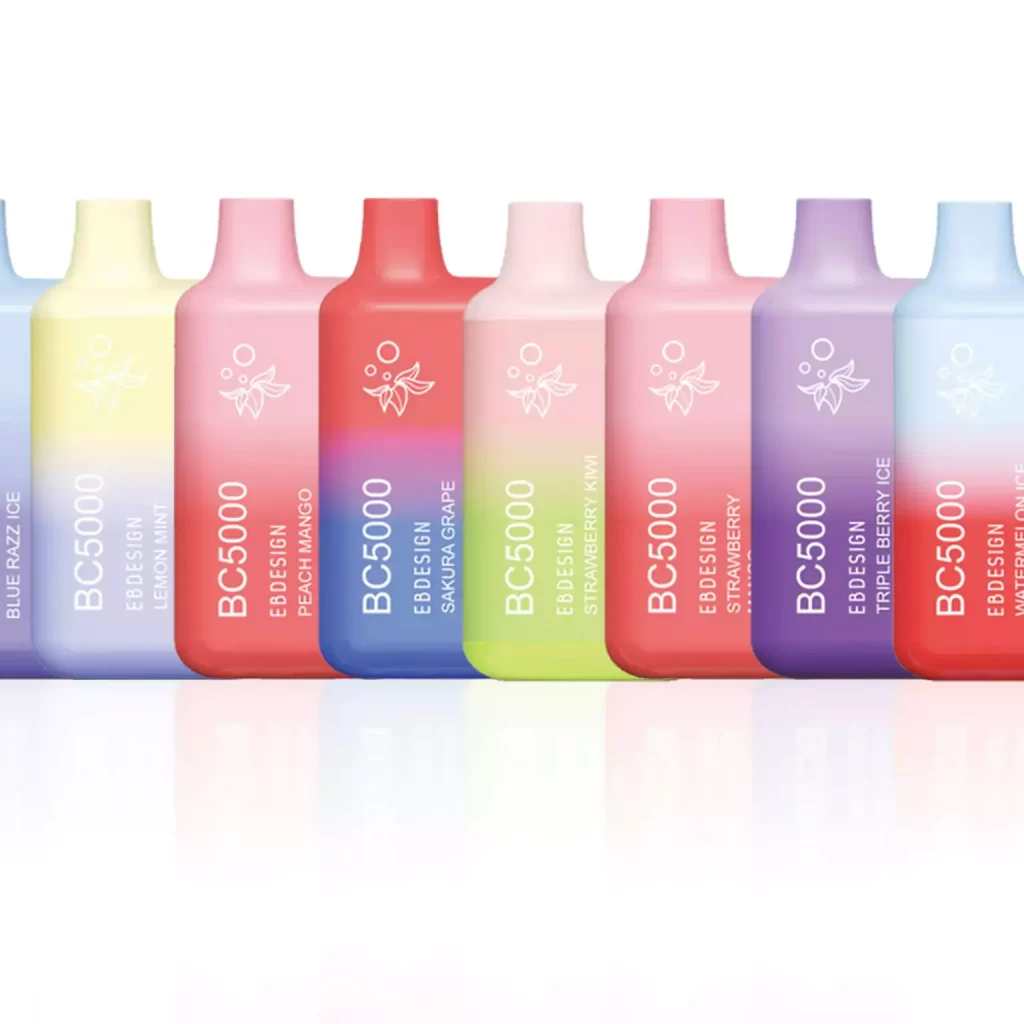 EB Design, formerly known as Elf Bar, emerges as a refreshed contender in the vaping market. In response to a copyright lawsuit, the name transformation is exclusive to the U.S., while global users retain the cherished Elf Bar branding. EB Design inherits the legacy of its predecessor, offering a diverse range of vape devices that promise both value and performance. With ample e-liquid capacity and rechargeable convenience, this rebranding solidifies EB Design as a go-to choice for vape enthusiasts seeking an exceptional vaping experience.
Features
650mAh Built-in Battery ( Rechargeable USB NOT included in Packaging )
Rechargeable
Efficient And Consistent Power Delivery
13ml Pre-filled E-juice
5% Nicotine Level
Satisfy Almost 5000 Puffs
Measure 79mm by 41mm by 19mm
Flavors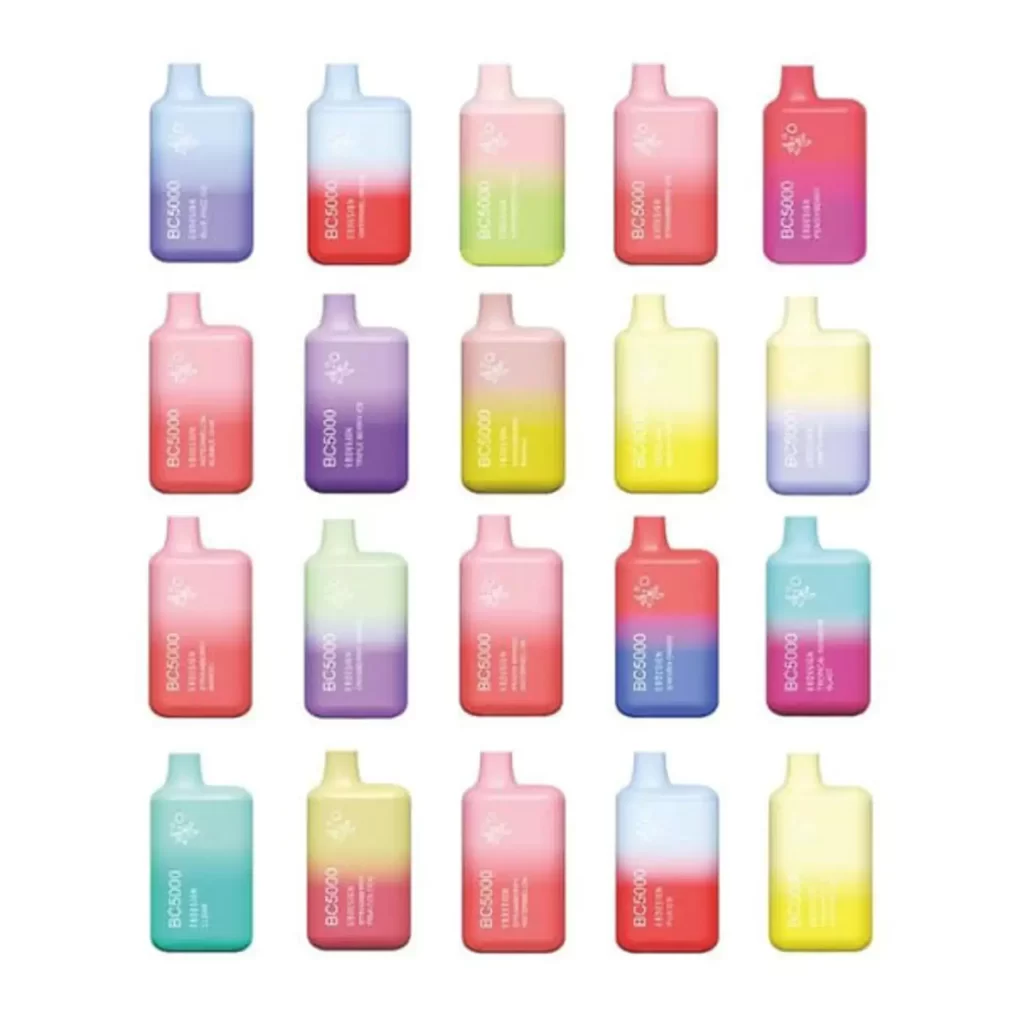 Blue Razz Ice: Blue razz with a cool minty taste on the exhale
Strawberry Kiwi: Tropical kiwi meets ripe strawberry
Watermelon Ice: Smooth watermelon meets a cool mint
Peach Mango Watermelon: Expertly mixes three top selling flavors into one fruity vape
Triple Berry Ice: Blend of mixed berries and icy flavoring
Strawberry Mango: Sweet strawberry and mango
Sakura Grape: Classic Purple Grape
Lemon Mint: Sour lemon with a refreshing mint on exhale
Cranberry Grape: Tart cranberry and fresh grape merged together
Tropical Rainbow Blast: Combines sweet and tropical flavors
Strawberry Banana: Smooth banana and strawberry flavors
Watermelon Bubblegum: Candied watermelon flavor
Peach Berry: Ripe peach with a sweet berry mix
Mango Peach: Georgia peach with a smooth mango
Peach Ice: Ripe peach and cool mint flavor
Strawberry Pina Colada: Fresh strawberries meet tropical fruits
Malibu: Peach, pineapple, and orange
Miami Mint: Fresh citrus mix with a refreshing mint
Pineapple Strawnana: succulent pineapple mixed with a smooth strawberry and banana flavor
Strawberry Ice: Scrumptious strawberry mixed with menthol
Rainbow Candy: Candied fruit vape juice
Strazz: Strawberry with ripe raspberry
Strawberry Watermelon: Twists a summertime watermelon with a ripe strawberry
Blueberry Energize: Sweet and tart blueberry flavor
Pineapple Coconut Ice: Tropical fruit and a hint of ice
Fuji Ice: Perfect mix of sweet apple and icy mint flavor
Cuba Cigar: Rich tobacco flavor
Beach Day: Blend of blackcurrant and ripe orange flavors
Cranberry Punch: Tropical fruit punch with a hint of tart cranberry
Crazi Berry: Mixes raspberry, cranberry and dragon fruit flavors
Mixed Fruity: Blends a plethora of tropical fruit tastes
Watermelon Jolly Ice: Mixes a sweetened watermelon with a cool mint
Sunset: Mix of citrus, mango and berry flavors with a hint of ice on the exhale
Black Winter: Bundle of fresh blackberry with a crisp, wintry mint
Blueberry Pom Ice: Sweet blueberry base, splash of tart pomegranate and cool mint
Orange Pear Nectar: Fresh fruit blended with a tasty orange with a touch of pear
Strawberry Pear Orange Ice: Summertime fruit mix
Strawlemon Ice: Sweet, ripe strawberry mixed with a tangy lemon zest
Design and Build Quality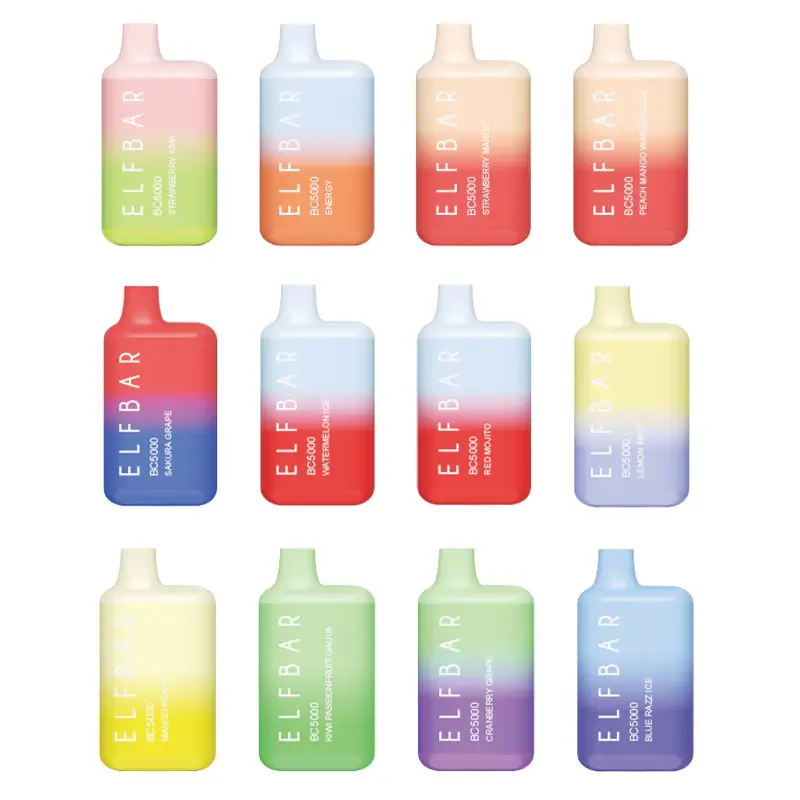 EB Design's commitment to delivering a unique vaping experience is evident in the variety of designs within its collection. The Lost Mary MO5000's sleek design exemplifies how these devices comfortably nestle in your hand, while the compact nature of the EB Design BC5000 makes it ideal for discreet vapers. The design philosophy ensures that your vaping journey is not only enjoyable but also visually appealing.
The EB Design BC5000's flagon container design is an instant attention-grabber. Its sleek and smooth exterior exudes a sense of modernity, while the comfortable grip ensures that the device fits snugly in your hand. The ergonomically designed mouthpiece adds an extra layer of comfort, enabling an effortless vaping experience. Despite its robust build, the device remains lightweight, making it a portable companion for your vaping journey.
The use of high-quality materials in the construction of the EB Design BC5000 is a testament to its durability. This device is built to withstand the test of time, ensuring that you enjoy a long-lasting relationship with your vape. The battery life is a standout feature, promising extended usage without compromising on performance.
Battery Life and Puff
The EB Design BC5000's battery life is optimized to ensure that every drop of e-juice is enjoyed to the fullest. Despite its relatively compact battery size, the rechargeable feature offers extended usage, providing an impressive journey from the device's inception to its last puff. Additionally, the generous puff count of 5,000 puffs ensures that you're getting unparalleled value for your investment.
The EB Design BC5000's rechargeable power source emerges as a cornerstone of its appeal. This feature enables extensive vaping sessions without the constant need for replacements. With a high-capacity battery, the device maintains consistent power output and flavor delivery, allowing vapers to relish their preferred blends without interruptions. The added convenience of rechargeability aligns with the brand's commitment to sustainable vaping practices.
Performance
The EB Design BC5000 delivers a vaping experience that's both smooth and consistent. With a satisfying throat hit and an abundance of rich, flavorful vapor, every puff is a journey into vaping excellence. The device's large e-liquid capacity, coupled with its extended battery life, guarantees uninterrupted sessions that let you savor every moment.
The integration of dual mesh coils further elevates the vaping experience. The coils ensure that each puff is imbued with intense flavor, creating a satisfying sensation with every inhalation. This attention to detail showcases the device's commitment to providing a vaping encounter that leaves no room for compromise.
Pros and Cons
Pros
The unique and comfortable flagon container design sets it apart from the crowd.
The generous e-liquid capacity ensures you can indulge in lengthy vaping sessions.
High nicotine strength guarantees a gratifying throat hit.
Extended battery life eliminates the need for frequent recharges.
Dual mesh coils deliver consistent and delightful vapor.
Cons
The disposable nature means it can't be refilled or reused.
Limited environmental friendliness compared to reusable vapes.
FAQs
1.How long does the eb design bc5000 battery last?
The eb design bc5000 has a 650mAh battery capacity, which can provide up to 5000 puffs.

2.Can the eb design bc5000 be refilled?
No, the eb design bc5000 is a disposable vape that can't be refilled.

3.What is the nicotine strength of the eb design bc5000?
The eb design bc5000 has a nicotine strength of 5%.
4.Is the eb design bc5000 environmentally friendly?
Disposable vapes like the eb design bc5000 aren't as environmentally friendly as reusable vapes, so vapers who are concerned about their carbon footprint may want to consider reusable options.

5.Are EB Design and Elf Bar the same?
EB Design and Elf Bar are the same disposable vape device. You'll get the same performance and quality in your EB Design BC5000 as you got in the Elf Bar BC5000.
The reason for the name change is due to a trademark lawsuit which means in the US, the company behind Elf Bar can no longer use the word 'Elf' for marketing purposes.
In Conclusion
The EB Design BC5000 Zero Nicotine Vape Disposable device is poised to redefine your vaping journey with an astounding 5,000-puff capacity. Each inhalation is a celebration of pure satisfaction, enabling you to explore a plethora of zero-nicotine flavors that cater to diverse palates. Whether you're inclined towards fruity blends, invigorating menthol, or enticing combinations, the EB Design BC5000 invites you to indulge in a sensory adventure like no other.
The EB Design BC5000 transcends traditional disposable vaping, infusing it with sophistication, performance, and sustainability. This device isn't just a vape; it's an embodiment of artistry and functionality, promising an experience that resonates with both aesthetics and practicality. As vaping enthusiasts continue to seek innovation, the EB Design BC5000 stands as a true testament to the harmonious blend of design, technology, and the art of vaping.