Ranging from 5%, 2%, to 3%. This allows you to tailor your vaping experience to your exact nicotine needs, making it suitable for both those looking to transition from traditional cigarettes and experienced vapers.
With an astonishing 8000 puffs per device, the Paradise Vape ensures that you won't run out of vapor anytime soon. The generous 15ml e-liquid capacity guarantees extended use without the need for constant refills.
Equipped with a 600mAh rechargeable battery and a convenient USB Type-C port, recharging is a breeze. The device can be charged quickly, ensuring minimal downtime between vaping sessions.
For those who appreciate customization, the Paradise Vape features bottom airflow control, allowing you to fine-tune your vaping experience to your liking. Whether you prefer a tighter draw or a more open airflow, this device has you covered.
Adding a touch of flair to your vaping experience is the RGB flashlight feature, which not only enhances the device's aesthetics but also provides a visually appealing element to your sessions.
Design & Quality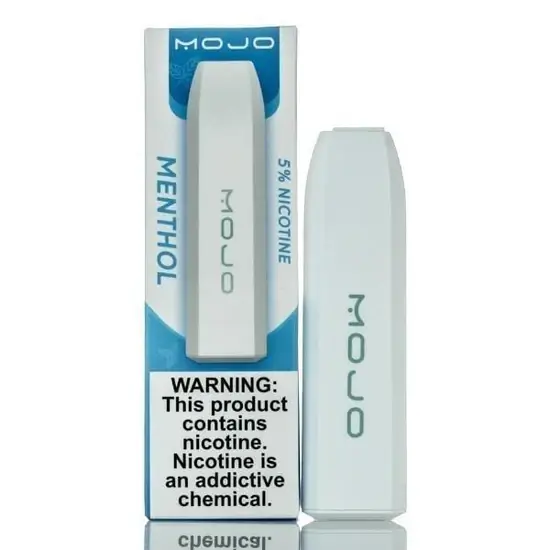 Mojo Disposable Vape Pens are more than just a practical vaping solution; they are a harmonious blend of style and functionality. Their compact size and bullet-like appearance make them the epitome of portability. The flattened octagon form factor, gracefully tapering into a bullet shape, ensures a comfortable grip that is both ergonomic and discreet. But what truly sets Mojo apart is the color-coded design. Each Mojo corresponds to a unique flavor, making it effortless to pick your favorite from the lineup. A plug on the mouthpiece and a tab on the bottom adds an extra layer of protection, ensuring your Mojo is ready when you are.
The built-in indicator light is a thoughtful addition, illuminating from one of two tiny holes when you take a draw. This not only adds a touch of style but also enhances the overall user experience. Mojo Disposable Vapes are more than just functional; they are a statement of sophistication.
Flavors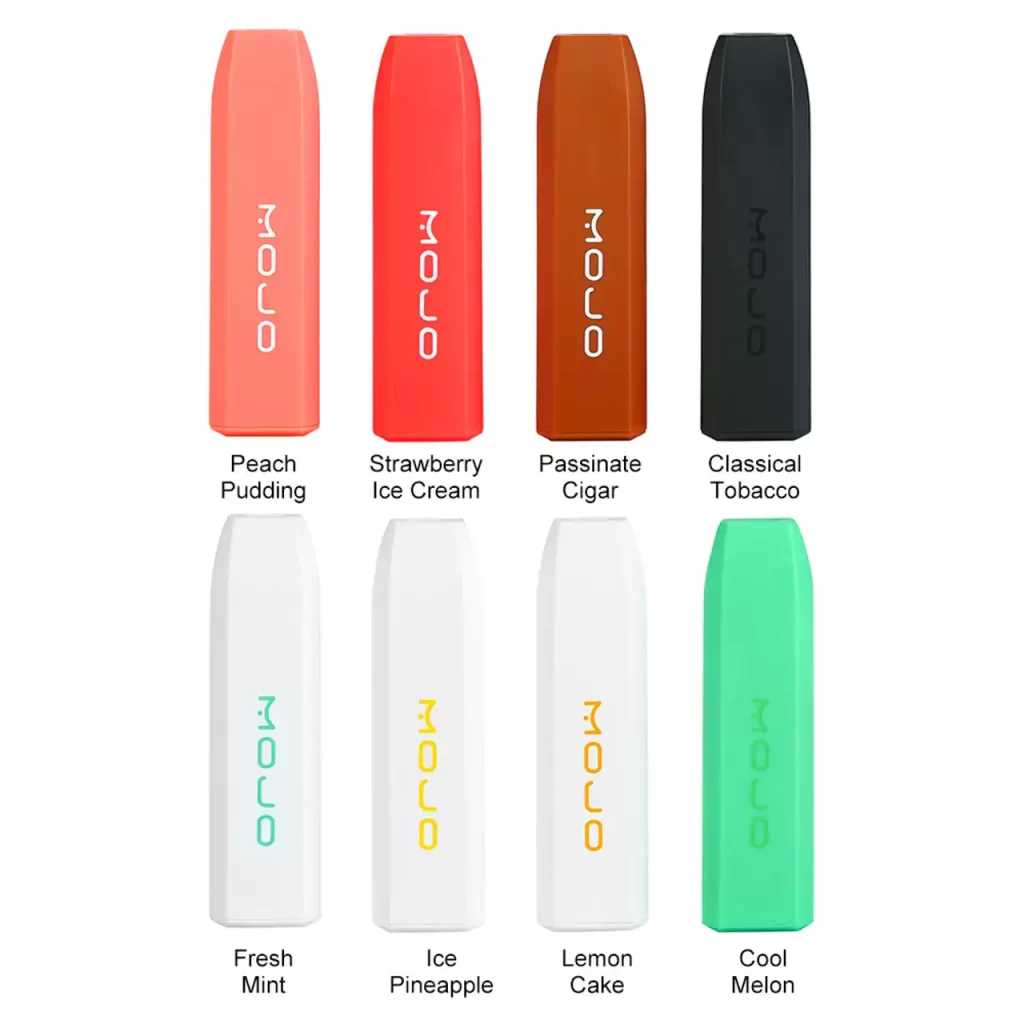 Mojo Disposable Vapes understands this sentiment, and they've crafted an extensive flavor palette that takes you on a remarkable and flavorful odyssey.
For those who appreciate the classic taste of tobacco, Mojo's Classic Tobacco flavor is a true delight. It offers a taste that's reminiscent of Turkish tobacco, delivering an authentic and satisfying tobacco experience without the need for conventional cigarettes. It's the perfect choice for those who crave the robust flavor of tobacco but want to enjoy it in a more modern and convenient way.
Picture yourself on a sun-drenched beach, the gentle sound of waves in the background, and a refreshing breeze in the air. That's the sensation you'll get with Mojo's Pineapple Ice flavor. It's a sweet and tangy tropical paradise encapsulated in every draw. The pineapple citrus flavor is both invigorating and soothing, making it a perfect choice for those seeking a taste of the tropics in every puff.
When it comes to fruit flavors, Mojo's Cool Melon stands out as a symphony of refreshment. Imagine biting into a juicy slice of honeydew melon on a scorching summer day. That's the kind of experience this flavor delivers. It's cool, sweet, and incredibly satisfying. If you're planning for outdoor vaping or just want to savor a delicious fruit flavor, Cool Melon is an excellent choice.
Menthol enthusiasts, rejoice! Mojo's Menthol flavor offers a chilling blast of minty freshness, enhanced with a touch of spearmint. The icy menthol finish is invigorating and will leave you with a rejuvenating sensation. It's the ideal choice for those who appreciate the crisp and cool flavors of menthol. With Mojo's Menthol, you'll experience the perfect balance of minty goodness and icy coolness.
Mojo's Lemon Cake flavor is a delectable blend of sweet and zesty. Imagine biting into a lemon-glazed cake, with the perfect balance of tartness and sweetness. It's a dessert-inspired flavor that's perfect for vapers who have a sweet tooth. With hints of vanilla glaze and lemon, it's like indulging in a delightful treat with every draw. If you're looking for a vaping experience that's akin to enjoying a slice of lemon cake, this flavor is your go-to option.
For those who appreciate the rich and robust flavor of cigars, Mojo's Cubano flavor is an excellent choice. It brings together the deep, earthy notes of wood and leather, combined with the distinctive taste of dry tobacco. It's an uncompromising cigar flavor that's perfect for aficionados seeking an authentic cigar experience. With Cubano, you can savor the essence of a finely crafted cigar in the form of a disposable vape.
Performance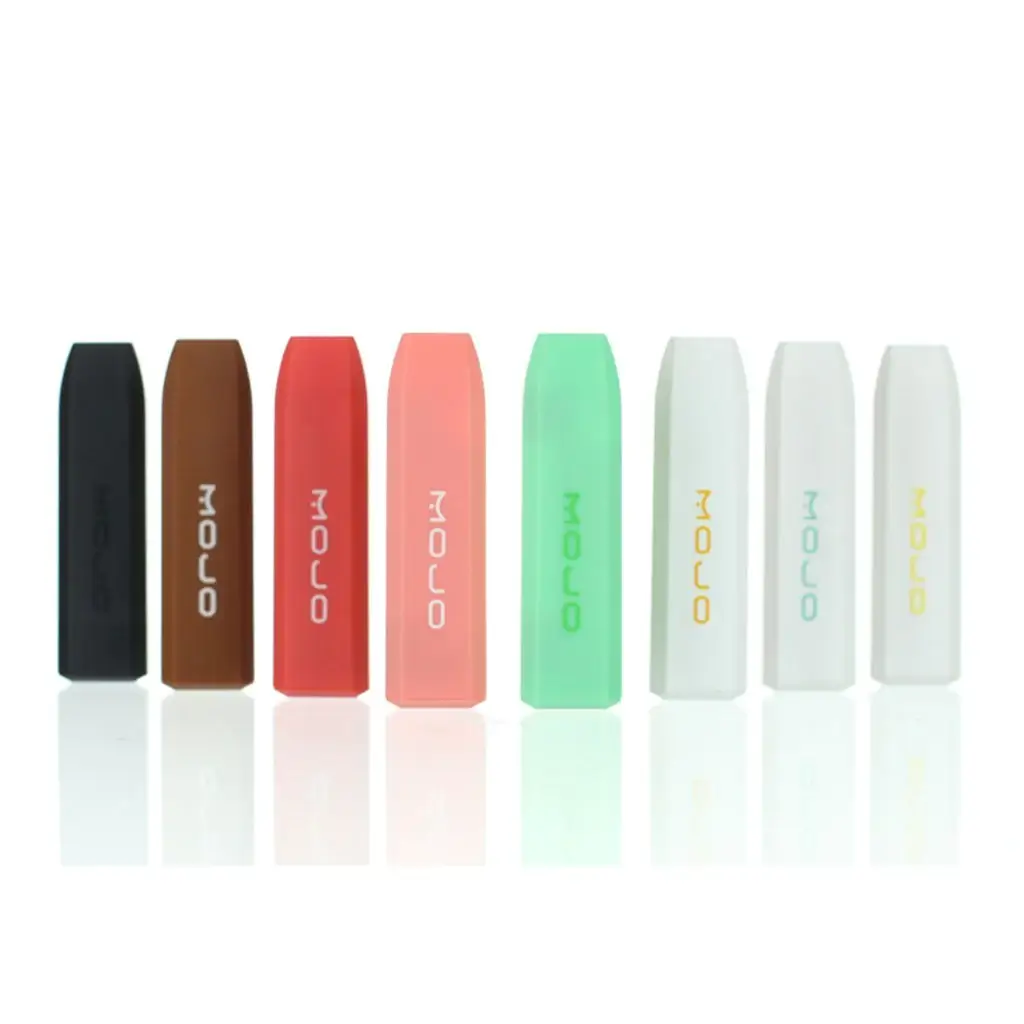 In the world of vapor quality, Mojo Disposable Vapes stand shoulder to shoulder with high-end vape pens. What sets them apart is their ability to maintain consistent flavor throughout your vaping sessions. No whistling sounds, no spit back—just velvety smooth and intensely flavorful vapor.
Mojo Vapes caters to a wide range of preferences by offering nicotine salt levels ranging from 20mg to 50mg. Each Mojo device packs a nicotine punch equivalent to a pack of cigarettes, delivering a satisfying throat hit that's sure to satisfy.
A reliable battery is the lifeblood of any disposable vape, and Mojo certainly delivers in this department. With a robust 240mAh battery, these disposables are designed to outlast your vaping needs. The original battery charge can power you through multiple vaping sessions, and when the charge finally depletes, there's often just a hint of e-juice left, ensuring you get the most out of your Mojo.
Charging your Mojo is a breeze, thanks to the built-in USB Type-C port. Say farewell to those long charging times; Mojo Vapes prioritizes quick recharging so you can spend more time savoring your vape and less time waiting.
Verdict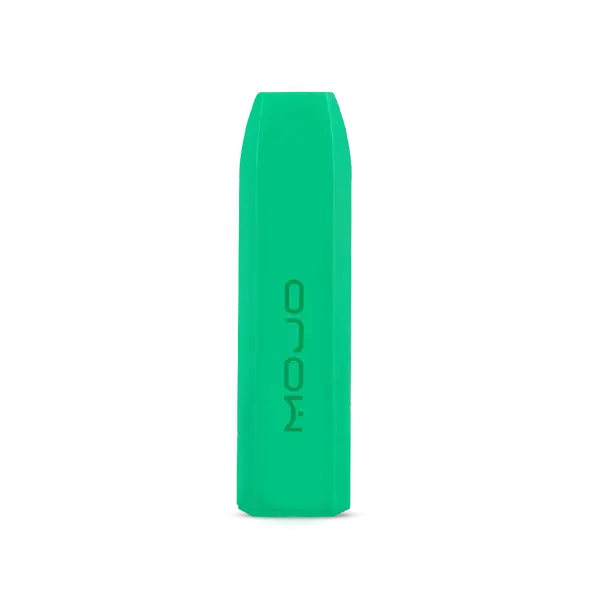 Its compact size, impressive battery life, and diverse flavor offerings make it a go-to choice for vapers on the move. The unwavering vapor quality and variety in flavors ensure that every puff is a delightful experience. While disposables may raise environmental concerns due to their single-use nature, Mojo Vapes excels in providing a convenient and gratifying vaping solution. Whether you're an experienced vaper or new to the world of vaping, Mojo Disposable Vapes offers an exceptional journey that's impossible to resist.