In the ever-evolving world of vaping, convenience and flavor are two key factors that vapers seek in their devices. The Geek Vape Raz CA6000 Disposable Vape perfectly encapsulates these qualities, offering a hassle-free vaping experience without compromising on taste. With its sleek design, powerful battery, and impressive flavor options, the Raz Vape CA6000 stands as a testament to Geek Vape's commitment to excellence.
Features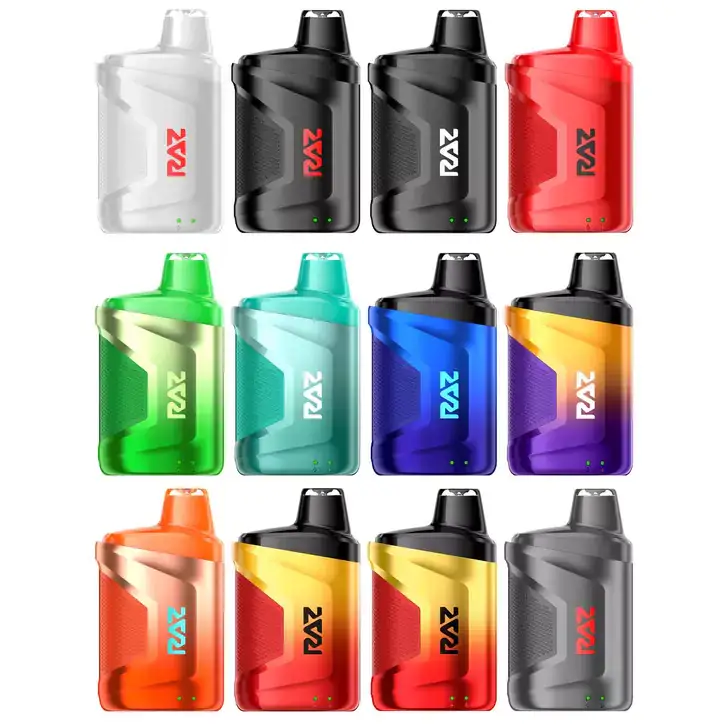 Approx. ~ 6000 Puffs
10mL Pre-Filled Tank
Anti Leak Technology
Type-C Rechargeable
Battery Indicator
E-Liquid Indicator
Adjustable Airflow Control
Mesh Coils
5% / 50mg Salt Nicotine
Box Hand Held Design
Leather Grip
Powered By Geek Vape
Lanyard Hook
Flavors List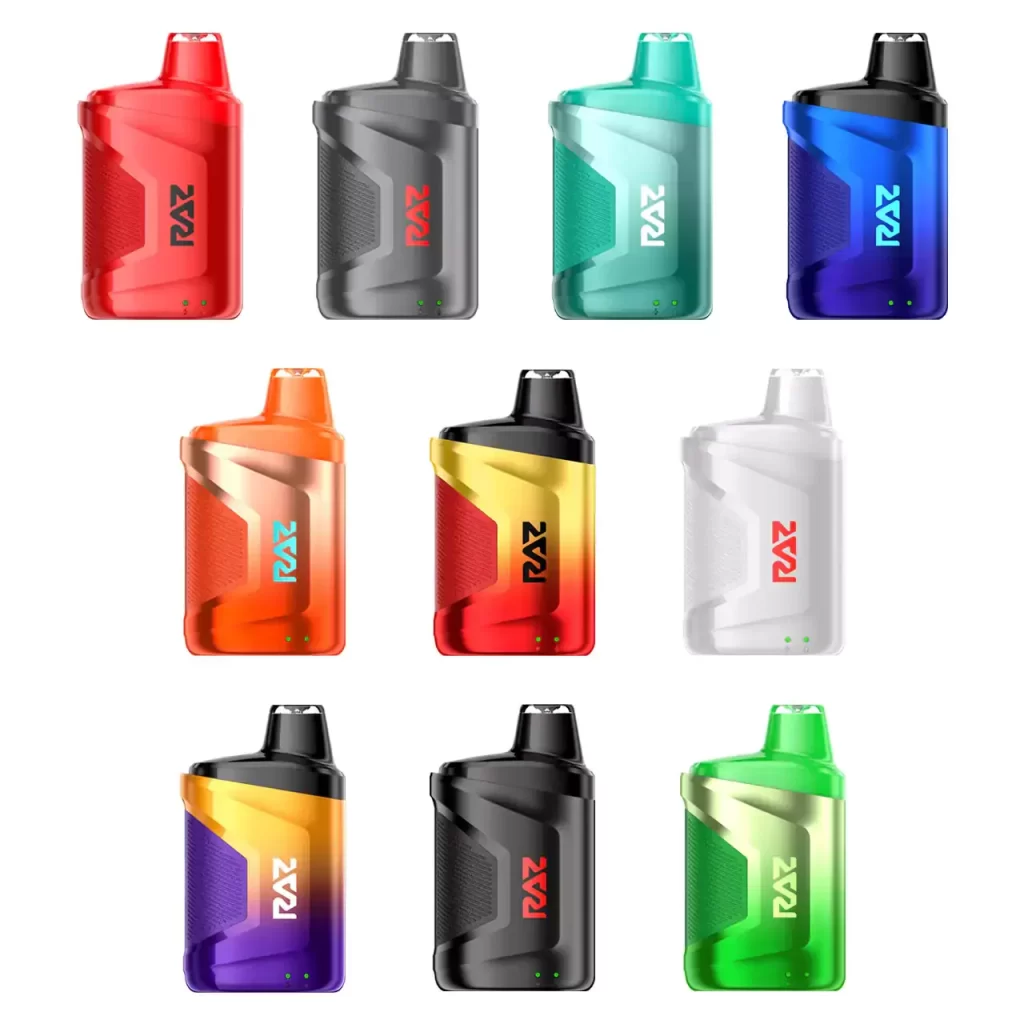 Alaskan Mint
Blue Raz
Cactus Jack
Clear
Crushed Berries
Dragon Fruit Lemonade
Frozen Strawberry
Fuji Blue Raz
Fuji Pear
Georgia Peach
Hawaii Sunset
Lemon Lime
Mango Mania
Miami Mint
Peach Pear
Pom Pom Raz
Spearmint
Strawberry Kiwi
Strazz
Tobacco
Watermelon Ice
Blue Razz Ice (Freedom Edition)
Frozen Strawberry (Freedom Edition)
Watermelon Ice (Freedom Edition)
Geek Vape has proven time and again that they understand the importance of flavor diversity. The Raz CA6000 Disposable Vape is no exception, offering an array of mouthwatering flavors that cater to a wide range of preferences. From the refreshing Alaskan Mint to the exotic Dragon Fruit Lemonade, each flavor profile is carefully crafted to provide an enjoyable and immersive vaping experience. Whether you're in the mood for something fruity, minty, or tangy, the Raz CA6000 has a flavor to satisfy your cravings.
Design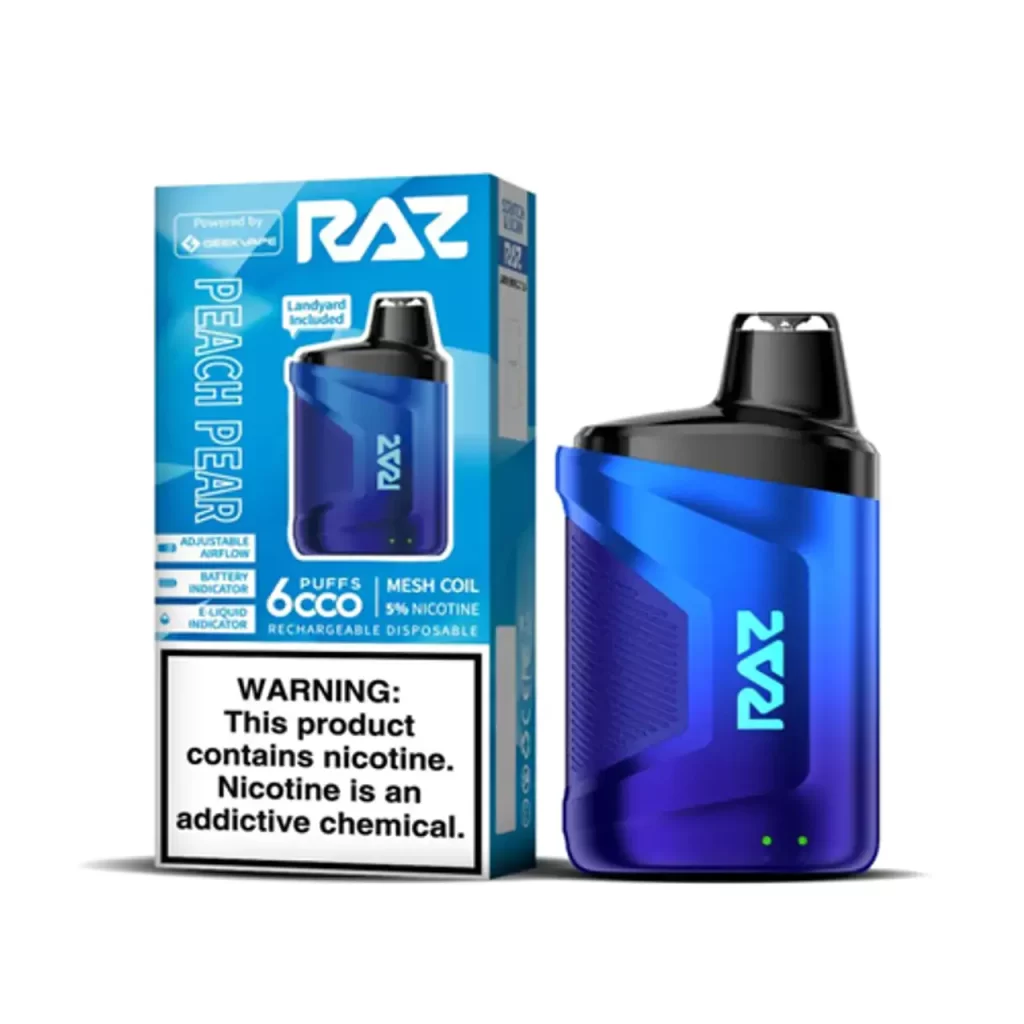 At first glance, the Raz CA6000 Disposable Vape catches the eye with its modern and edgy design. The device's unique shape and vibrant color combinations give it a futuristic appeal that sets it apart from other disposable vapes on the market. The crisp lines and comfortable leather grip ensure that it not only looks good but also feels great in your hand. The tapered mouthpiece and flat bottom add to its ergonomic design, providing an effortless vaping experience.
One of the standout features of the Raz CA6000 is its disposable nature, which eliminates the need for maintenance, charging, or complicated setups. Simply open the package, start vaping, and discard the device when the e-liquid is depleted. This makes it an ideal choice for vapers who want a hassle-free and portable option that doesn't compromise on performance or flavor. Additionally, the device's affordable price point makes it accessible to a wide range of vapers, from beginners to experienced enthusiasts.
Battery and Performance
Geek Vape's expertise shines through in the Raz CA6000's performance. The built-in 650mAh rechargeable battery offers a reliable power source that can be quickly charged via the Type-C charging port. This is a boon for vapers who are always on the go and need a device that can keep up with their lifestyle. The device's battery indicator light keeps you informed about the remaining charge, eliminating any surprises during your vaping sessions.
The integration of a mesh atomizer coil is a stroke of brilliance, delivering consistent and flavorful puffs with every inhale. The coil's resistance and the battery's wattage are finely tuned to provide an optimal vaping experience, resulting in satisfying clouds of vapor and rich flavor notes. With a substantial 10ml e-liquid tank, the Raz CA6000 boasts an impressive 6,000 puffs per unit, ensuring that you can enjoy your vaping sessions without constantly worrying about refills.
Customer Reviews
"Once I found this brand of vapes, I was sold! I had a Geek Vape mod prior to going to disposables, and never had any issues with it. Since they make such an amazing product, I figured I would give the Raz a try. Clearly they met my expectations as I'm now a customer for life. Their flavors are juicy and full of flavor, you can charge the vape and vape at the same time, they don't burn up easily, there's a battery and juice indicator, and you can adjust the air flow. It's a superior product!"
"It tastes so much better than a lost Mary and I love how it has a lantern to keep track of your vape"
"This is my new favorite vape the flavor and the brand is Amazing definitely will be buying more 😁"
"Great watermelon flavor, but with the added hint of that nice ice kick, that actually brings out more of the watermelon flavor!!! There is no terrible aftertaste AT ALL!!! This vape is so smoooooth!"
Conclusion
The Geek Vape Raz Vape CA6000 is a testament to Geek Vape's dedication to innovation and user satisfaction. With its striking design, powerful battery, and an impressive selection of flavors, this device offers a convenient and enjoyable vaping experience for users on the move. Whether you're a flavor connoisseur or simply seeking a reliable device, the Raz CA6000 delivers on all fronts. Geek Vape's foray into the world of disposable vapes has undoubtedly been met with fervor and excitement, and the Raz CA6000 stands as a prime example of their commitment to excellence in vaping technology.