Founded in 2013, Vape Craft Inc. has positioned itself as an industry leader by offering high-quality e-juices at incredibly competitive prices. Their innovative approach to pricing, like the original $15 120mL E-Juice Bottle and the FatPack deal, has allowed them to build a loyal customer base. Over the years, they've evolved—revamping formulas, expanding their team, and diversifying their product range—but their commitment to exceptional customer service remains constant.
Operating from an ISO clean room facility in California, Vape Craft employs kosher grade ingredients and top-tier nicotine to craft their e-juices. Their focus on quality assurance and customer experience is evident in every puff. I had previously tried their 'OMG So Good' flavor, which was truly impressive. Today, we will be diving into an in-depth review of their five best vape juice flavors, which promises to be an exciting journey for any vaper looking for new, exquisite tastes.
The Best Five Flavors
1.OMG So Good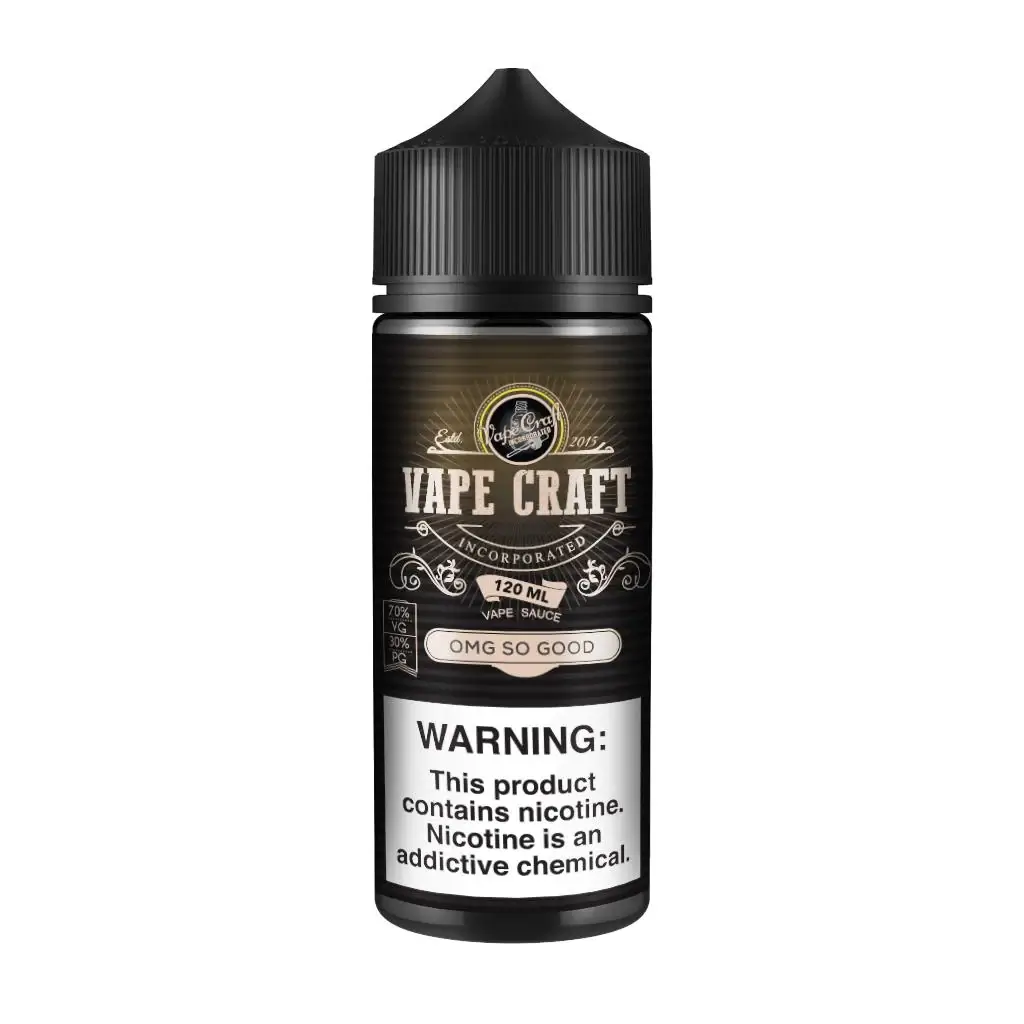 OMG So Good by Vape Craft is a flavor that lives up to its name in every puff. With a complex layering of bourbon, brown sugar, custard, vanilla, and cheesecake, it's a dessert lover's dream. Unlike other dessert e-juices that often lean too heavily on one flavor, OMG So Good finds the perfect balance. The most dominant notes are of brown sugar and vanilla, giving it a rich, indulgent character. The custard and cheesecake elements add depth but are more subtle, making it a well-rounded experience.
While I absolutely enjoy the complexity and richness of this e-juice, it is one that I reserve for special occasions or after-dinner sessions, primarily because it can be a bit too sugary for an all-day vape. But that's just a minor downside in what is otherwise a brilliant mix of flavors that will satisfy any dessert aficionado.
Pros
Ideal for after-dinner or evening vaping sessions
Complex and well-balanced mixture of flavors
Satisfying throat hit
2.Candy Watermelon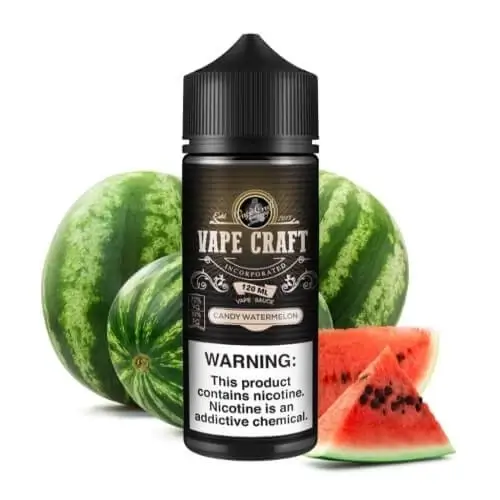 If you're looking for an e-liquid that takes you back to your childhood days of unwrapping watermelon Jolly Ranchers, then look no further than Candy Watermelon by Vape Craft. The title is simple but effectively represents what's inside the bottle. This isn't just any candy flavor; this is a nostalgic trip down memory lane. From the first puff, it's clear that they have captured the essence of that iconic watermelon hard candy we all know and love.
The sweetness level is just right—not overpowering, yet strong enough to make an impact. You could say they've achieved a perfect balance in this e-juice. Though I generally prefer creamier e-juices, Candy Watermelon has won a special place in my rotation for those days when I'm craving something unequivocally sweet and straightforward. It's a no-brainer for anyone who loves watermelon candy or is looking to find an e-juice that is both sweet and unapologetically fruit-forward.
Pros
Nostalgic flavor that perfectly mimics watermelon Jolly Ranchers
Just the right amount of sweetness
Simple but impactful taste profile
Cons
May not be suitable for those looking for more complex flavors
3.French Vanilla Cheesecake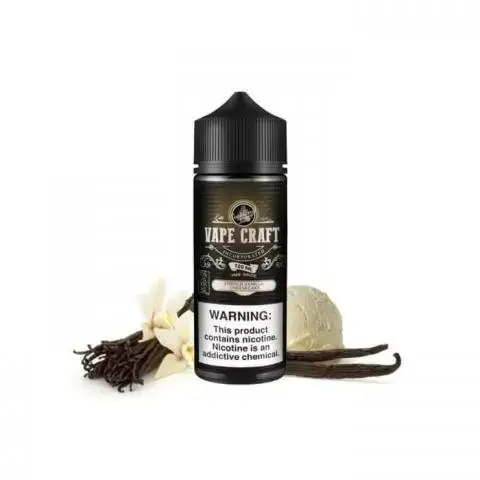 Ah, French Vanilla Cheesecake from Vape Craft—this e-juice is a showstopper. Unlike the other dessert-flavored e-juices in their line, this one genuinely captures the essence of a well-baked cheesecake, with the velvety vanilla acting as the proverbial cherry on top. The inhale is a robust, creamy cheesecake flavor that fills your mouth, with accompanying notes of vanilla to make it more nuanced. Then comes the exhale, where the French vanilla really steps into the spotlight, adding a rich, creamy complexity to the mix.
I adore how this flavor is not overly sweet or heavy. It's like having your cheesecake and vaping it too. The subtle vanilla notes make it light and delicious, without being overpowering. This e-juice isn't just an occasional treat; it's something you could easily make part of your regular rotation.
Pros
Perfectly captures the essence of French vanilla and cheesecake
Well-balanced with multiple layers of flavors
Ideal for those who enjoy vaping on sub-ohm devices for more intense flavor
Cons
Might be a bit too dessert-centric for some palates
4.Strawberry Custard
Strawberry Custard from Vape Craft is one of those flavors that redefines what an e-juice can be. As someone who has tried numerous strawberry custard variations, I can say that this juice stands out for all the right reasons. It strikes a delightful balance between the juicy, natural flavor of strawberries and the creamy richness of vanilla custard. The moment you take a puff, it's as if you're indulging in a gourmet strawberry custard dessert. The fruitiness of the strawberry isn't just an afterthought—it's the star of the show, perfectly complementing the smooth custard undertones.
Pros
True-to-life strawberry flavor that doesn't taste artificial
Creamy vanilla custard that adds depth without overshadowing the strawberry
Excellent as an after-dinner vape or even as an all-day vape for dessert lovers
As someone who loves both fruit and dessert flavors, I was thrilled to find that Strawberry Custard successfully merges the best of both worlds. It's neither overwhelmingly sweet nor bland; it's just perfectly layered. You can tell that Vape Craft has invested a great deal of time perfecting this blend, and it shows in every puff. It's easily one of the most satisfying strawberry custard e-juices I've tried, and at its price point, it's a steal. If you're a fan of fruity desserts and you haven't tried this yet, you're truly missing out. Since its introduction in 2013, it has been a crowd-pleaser, and it's easy to see why.
5.Rich Tobacco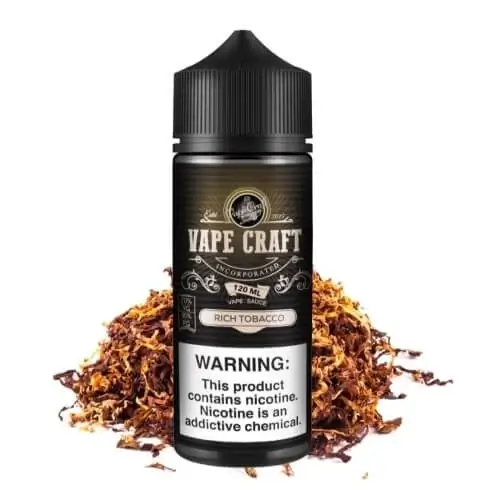 Rich Tobacco from Vape Craft is an e-juice that transcends the typical tobacco flavor profile by adding a sophisticated twist. This isn't your run-of-the-mill tobacco e-juice; it's a refined blend that appeals to both traditionalists and those looking for something a bit different. As a fan of tobacco flavors, I was intrigued by the added notes of caramel, which I find truly elevate the experience. It's a robust tobacco blend at its core, but the infusion of caramel adds a layer of sweetness, making it a delectable vape.
Pros
Authentic, full-bodied tobacco flavor with nuanced complexity
Caramel undertones provide a slightly sweet finish, adding depth to the vape
Satisfying throat hit, perfect for those who crave that tobacco kick
Well-suited for sub-ohm devices, offering rich and thick vapor production
When I vaped this flavor, I immediately noticed its bold tobacco taste, complemented by the subtle hints of caramel. This isn't your granddad's tobacco e-juice; it's a modern rendition that takes you on a flavorful journey. The slight caramel touch adds a welcome sweetness to the robust tobacco base, resulting in a vape that's both complex and comforting. If you're in the market for a tobacco e-juice that offers something extra, Rich Tobacco by Vape Craft is a top contender. It's not merely a tribute to traditional tobacco flavors but a delicious reimagining of what a tobacco e-juice can be.
In Conclusion
Vape Craft has solidified its reputation as a go-to brand for diverse and high-quality e-juices. Whether you're a fan of dessert flavors like OMG So Good and French Vanilla Cheesecake or you lean more towards classic profiles like Rich Tobacco, there's something for everyone. Each flavor delivers a unique and satisfying vaping experience, thanks to Vape Craft's meticulous blend of high-quality ingredients. Don't miss out on these fantastic flavors; make Vape Craft your next stop on your vaping journey.