Vape Wild certainly sets a high bar when it comes to customer choice and customization. With a vast array of over 150 flavor options, this Dallas-based manufacturer aims to cater to every palate, from fruit enthusiasts to dessert aficionados. The real magic happens when you dive into the customization options for nicotine level and PG/VG ratio. Ranging from 0 to 24 mg/ml, Vape Wild offers nicotine levels that can satisfy both recent converts from traditional smoking to veteran vapers. The variety doesn't stop there; you can also pick your preferred PG/VG ratio, whether it be a throaty 80/20 or a smoother max VG blend.
Packaging is another area where Vape Wild stands out. The company employs child-proof caps and dripper spouts, focusing not just on aesthetics but also on safety. While the brand may have some flavors that feel lackluster, that's a minor quibble when considering the overall package.
Vape Wild Most Popular Flavors
1.Murica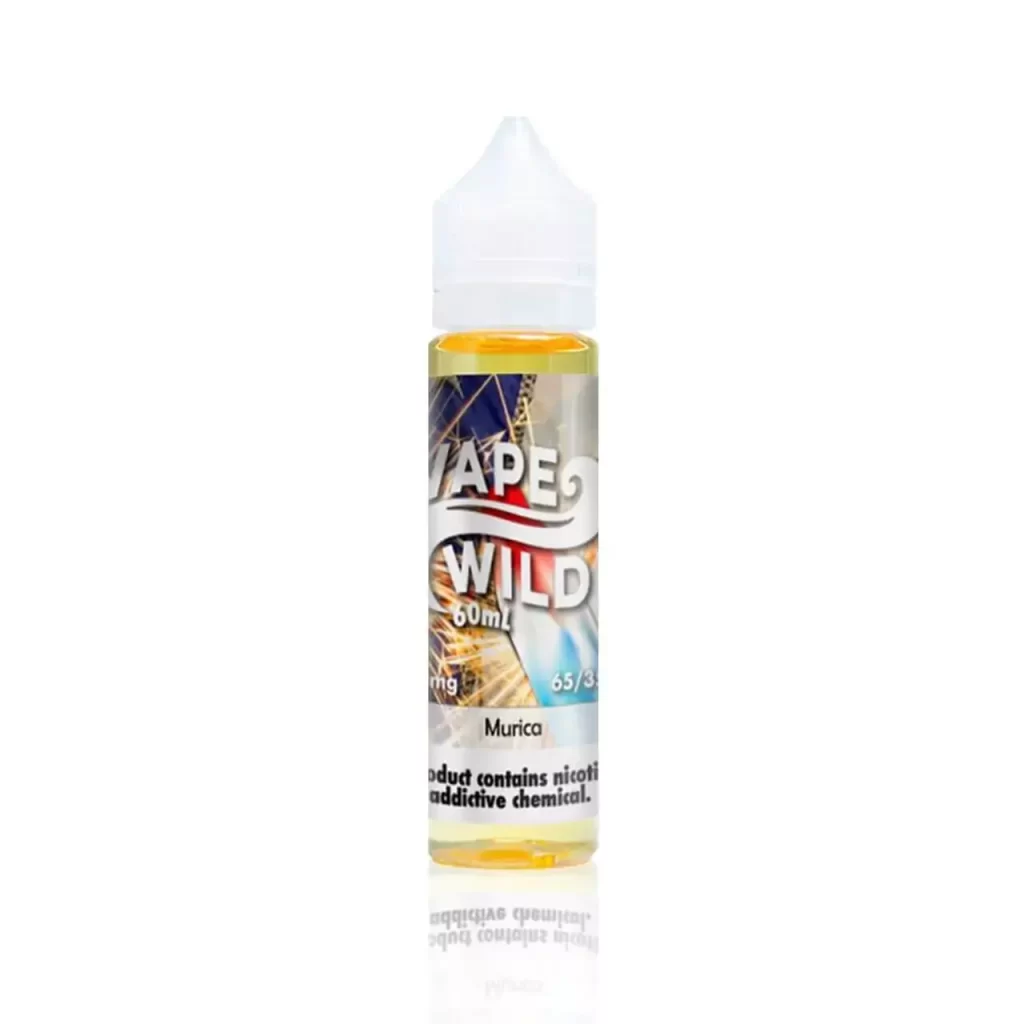 The fan-favorite Murica e-juice by Vape Wild delivers nostalgia in every puff, replicating the iconic red, white, and blue Bomb Pop ice-lollies many of us relished in childhood. What makes Murica so compelling is its seamless blend of cherry, lemon-lime, and raspberry flavors, each contributing to a perfectly balanced vape experience. When you inhale, cherries take the forefront, smoothly followed by a lemon-lime kick and finally a delightful raspberry finish. This all culminates in a mild yet satisfying throat hit, particularly at 3mg.
While the flavors are vivid and memorable, they do tend to lose their punch over time, occasionally tilting towards a bitter or sour note. And if you're not a fan of overly sweet flavors, Murica can sometimes border on cloying. Despite these minor drawbacks, its balanced and refreshing taste profile makes it incredibly easy to enjoy in short bursts. Murica's layered complexity is the epitome of what a well-crafted e-juice should offer: a consistent, delicious, and nostalgia-inducing experience that's hard to put down.
2.Peanut Butter Cup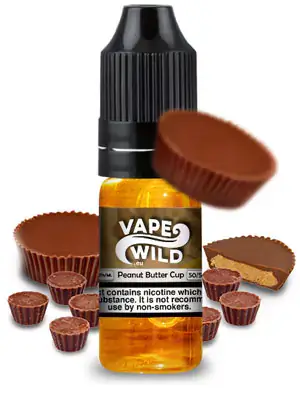 The Peanut Butter Cup e-juice from Vape Wild is like a confectionery dream come true, especially for vapers who appreciate the rich, indulgent blend of peanut butter and milk chocolate. Remarkably, it captures the essence of a Reese's Peanut Butter Cup, making each puff feel like a bite into the real thing. The peanut butter isn't overwhelming; instead, it complements the milk chocolate perfectly, creating a Snickers-like quality that I found extremely enjoyable.
The flavor profile is natural, without any synthetic aftertaste, and it's accompanied by a satisfying vapor production. In terms of throat hit, I would categorize it as medium when vaped at a 3mg nicotine level. While the Peanut Butter Cup e-juice is a flavor-packed experience, its richness might make it a bit too intense for an all-day vape. Nonetheless, it's perfect for those moments when you're craving something sweet and fulfilling.
3.(S+C)2 e-Juice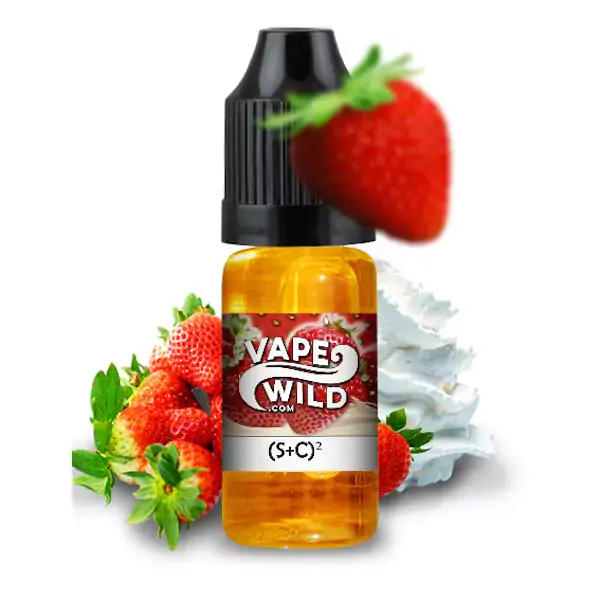 (S+C)2 e-Juice by Vape Wild comes with high expectations, given its status as one of the company's bestsellers and a five-star rating. It promises a delectable mix of strawberries and cream, a classic combination in the vaping world. However, for me, this e-liquid was a bit of a mixed bag. On one hand, it's true that the vape is smooth, and the throat hit is notably mild at 3mg of nicotine—making it an easy all-day vape for those who prefer milder sensations.
On the other hand, I found the flavor execution to be lacking in some respects. While the strawberry notes are there, they're somewhat muted, perhaps due to the high level of sucralose. The creamy element, too, feels rather one-dimensional, lacking the nuanced richness that can make or break a strawberries and cream blend. This was disappointing, especially when I know how sublime this flavor combination can be when executed well. Nonetheless, the e-juice performs admirably in terms of vapor production, even on a simple 1.25-ohm coil, and it does manage to strike a fine balance that avoids becoming overly sweet.
4.On Cloud Custard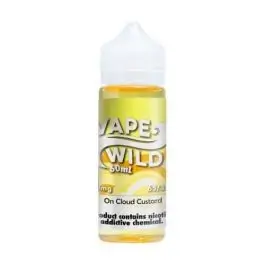 On Cloud Custard e-Juice by Vape Wild is a divisive experience, landing it squarely in the love-it-or-hate-it category. This e-juice takes the conventional vanilla custard flavor and amplifies it, offering a richer and creamier vaping experience. If you're tired of run-of-the-mill vanilla flavors and are seeking something with a deeper character, On Cloud Custard might just be the answer to your cravings. For me, this was a delectable treat—the vanilla was rich yet subtle, lending an extra dimension to the custard base. The sweetness was balanced, enhancing rather than overpowering the other flavors.
The vapor production was satisfying, and the throat hit was mild in 3mg, making it an ideal candidate for an all-day vape, particularly for those who enjoy dessert flavors. In fact, I enjoyed this e-juice so much that the bottle emptied out much quicker than I had anticipated. Whether you're a custard aficionado or just dipping your toes in, On Cloud Custard offers a robust and gratifying vape experience.
5.Hannibal Nectar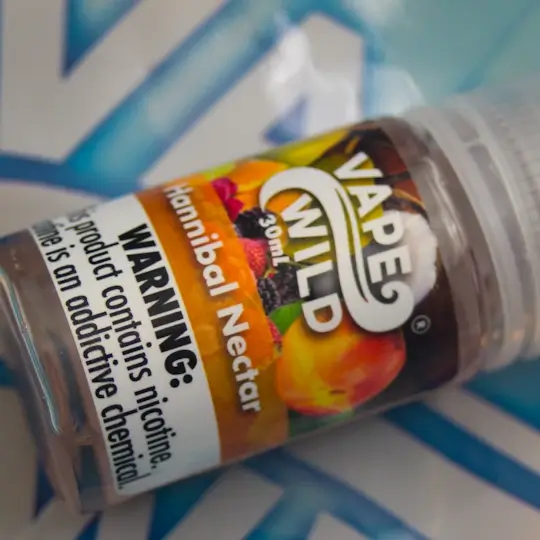 Hannibal Nectar by Vape Wild is a complex e-juice that brings a whole new level of enjoyment to fruit-flavored vaping. Initially, I was skeptical about the juice due to its overpowering blend of sweet fruits. However, after some steeping, the different elements in this juice harmonized beautifully. What once tasted like a chaotic fruit salad transformed into a well-crafted, multi-layered experience, featuring peaches, berries, and a hint of coconut.
The throat hit was just right at 3mg, not too strong but still noticeable. Hannibal Nectar particularly shines in its citrus notes; they're zesty but not piercing, creating a well-rounded profile that reminds me of a tropical cocktail. The peach is juicy and sweet, while the hints of orange, melon, and berries add complexity to the flavor.
On the exhale, the melon comes through with a creamy undertone, providing a rounded finish to this exotic fruit medley. In short, Hannibal Nectar turns out to be an absolute fruity delight. If you're looking to escape to a tropical paradise with every puff, this e-juice is your ticket.
In Conclusion
Whether you're a fan of rich, creamy flavors like On Cloud Custard or seeking a more exotic, fruit-filled experience with Hannibal Nectar, Vape Wild has something for every palate. The brand's extensive options for customization, from nicotine strength to PG/VG ratios, further elevate the vaping experience. With its wide flavor range and impeccable attention to detail, Vape Wild stands as a pillar in the vaping community, offering something unforgettable for both newcomers and veteran vapers alike.