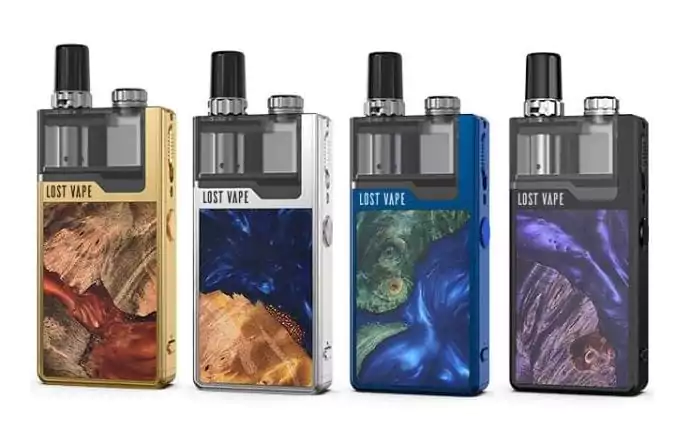 Lost Vape, renowned for their elegant and high-performance mods, steps into uncharted territory with the Orion DNA Go kit. Breaking new ground, this pod system marks Lost Vape's inaugural entry into this categoryTrue to their innovative spirit, Lost Vape has incorporated the cutting-edge DNA Go board, complemented by the immensely acclaimed Replay feature. Some might argue that Lost Vape has pushed the boundaries with their pod kit offering, and the outcome promises to be a game-changer. Stay tuned for an experience that could redefine your perception of pod systems.
Lost Vape Orion DNA Plus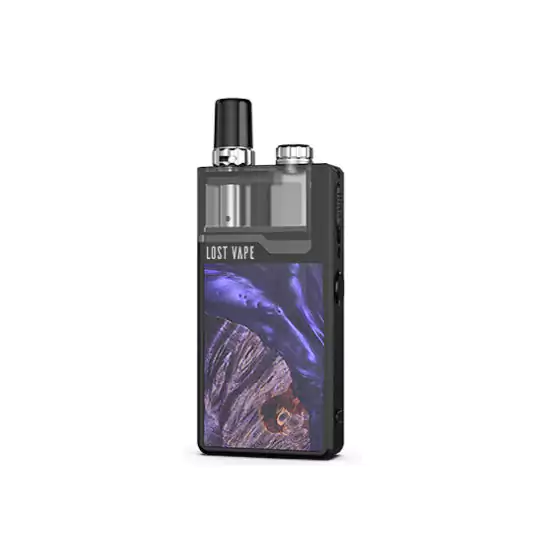 The device's compatibility with both 0.25Ω and 0.5Ω mesh coils enhances flavor production, while the innovative backward compatibility with GO pods provides flexibility to users who may have existing pods. Delivering up to 18W, the compact Orion Mini boasts an 800mAh battery, ensuring prolonged vaping sessions without frequent recharges. With a 3ml juice capacity, you can savor your favorite e-liquids throughout the day.
Refilling the pods is a breeze, thanks to the convenient side-filling design, and the slide airflow control on the pod's side guarantees a tailored draw experience. The introduction of UB Mini coils opens the doors to both RDL and MTL vaping, expanding the kit's appeal to a wider range of preferences.
Quick charging capabilities restore the kit's battery life in approximately an hour, promising minimal downtime between satisfying sessions. In summation, the LOST VAPE ORION PLUS DNA POD KIT effortlessly melds aesthetics, innovation, and performance into a pocket-sized companion that's ideal for vapers on the move.
What Can We Expect From Lost Vape Orion DNA Plus?
Orion DNA Plus: A Flavorful Triumph
After two weeks of usage, the Orion DNA Plus outshines its predecessor, the Orion DNA GO, in terms of flavor delivery and intensity.
Coils exhibit superior performance, enhancing e-liquid taste by revealing intricate, subtle notes often overlooked by other pod vapes.
0.50ohm Coil: The Flavor Maestro
Preferred choice among the two coils, offering an exceptional MTL draw with nearly closed airflow.
Red and yellow wattage levels deliver optimal warmth and a satisfying throat hit when coupled with a 50/50, 35mg nicotine salt blend.
0.25ohm Coil: A Solid Performer
Despite mesh construction, falls slightly short in flavor compared to 0.50ohm coil.
Flourishes with open airflow, sacrificing some flavor intensity for versatility.
Reliable and Leak-Free
Orion Plus boasts impeccable build quality and stringent quality control, resulting in a dependable device free from leaking or technical glitches.
Two Replaceable Coils Included
Package includes two coils, each showcasing distinct performance characteristics and catering to diverse preferences.
Wicking Performance
Put to the test with Contra e-liquid from Wick Liquor, featuring an 80/20 PG/VG blend, the Orion Plus excels in wicking efficiency.
Versatile Nicotine Compatibility
Supports both freebase nicotine and nic salts, accommodating a wide range of user preferences.
Convenient and Compact Design
The Orion Plus maintains a compact form factor, measuring 93mm tall, 37mm wide, and 13.5mm thick.
Includes a lanyard for easy portability, allowing users to carry it around comfortably.
Diverse Color and Panel Options
Offers 15 unique color and panel combinations, including stabwood, abalone, and carbon fiber designs.
Stabwood panels provide durability, a high-end touch, and resistance to wear.
Feature
Internal 950mAh Rechargeable Battery | ~450 Puffs Per Charge
Advanced Evolv DNA Go Board
Max Wattage Output: 15W
Replay Functionality – Green Light
Three Power Outputs: Low (White), Medium (Blue), High (Red)
Intuitive LED Lights – Proper Mode Assessment
Highly Responsive Firing & Adjustment Button
Each Pod Lasts About 400 Puffs Per Pod
Proprietary Pod Cartridge Installation
0.25ohm SS316L Orion Pod – Vapor-Focused
0.5ohm SS316L Coil Pod – Flavor-Focused
MTL Delrin Drip Tip
Dual Adjustable Airflow – Located Below Drip Tip
MicroUSB Port – Charge & Firmware Upgrade via Escribe
Short-Circuit Protection
Weak Battery Protection
Temperature Protection
Low/High Resistance Protection
Frame Colors – Stainless, Black, Blue, Gold Frame, Blue, Red
Panel Colors – Carbon Fiber, Gold Abalone, Ocean Scallop
Now Available in Purple Edition – Phoenix, Ocean Scallop, Carbon Fiber
What Inside The Box?
1 x Lost Vape Orion Plus DNA Pod Kit (0.25ohm mesh coil pre-installed)
1 x Lost Vape Orion Plus 0.5ohm Coil
1 x Orion Plus Lanyard
1 x Micro USB Cable
1 x User Manual
Design And Build Quality
The Lost Vape Orion DNA Plus brings a refreshed perspective to the realm of pod systems, promising both resilience and style. Having been a dedicated user of the original Orion DNA GO, I can affirm that the new Orion Plus exudes a sense of robustness that's notably impressive. Although the sturdiness is apparent, I must admit that during my initial days of use, I managed to inadvertently scratch its sides, indicating a potential susceptibility of the paint finish.
Inserting and removing pods is a breeze, albeit a minor precaution – ensuring a snug fit is crucial to avoid separation incidents. On occasion, the pods parted ways in my pocket, albeit without leaks, just the inconvenience of pocket fluff. The mouthpiece's adjustable airflow starts off a tad tight, but after a few adjustments, it strikes a balance between security and easy handling.
While the pod removal can be a tad demanding due to the snug fit, it's a testament to the coils' firm placement. Swapping coils led to a minor discomfort for my dainty fingers, but that's a small price for the tight connection.
Now, onto the design – it's simply breathtaking. I received the black stabwood/resin variant, and let me tell you, online photos do it no justice. In person, it's a sight to behold. With a plethora of color and panel choices, including the captivating stabwood series, carbon fiber collection, and the enchanting abalone set, there's something irresistibly seductive about each design.
Despite its familiar rectangular form, the Orion Plus is a compact powerhouse, measuring 93mm in height, 37mm in width, and 13.5mm in thickness. The size is slightly smaller than the average pod device, and its portability is accentuated by the inclusion of a lanyard, making it comfortably wearable throughout the day.
Craftsmanship is impeccable, with flawless panels and enduring paint. The tactile circular fire button and responsive wattage adjustment button are delightful to interact with. The 15 available color and panel combinations, particularly the Blue-Stabwood Orion Plus, showcase the allure of stabwood, not only for its durability but also for its premium touch.
In Conclusion
Lost Vape continues to make its mark with the exceptional Lost Vape Orion DNA Plus. This pod system doesn't just deliver; it exceeds expectations. As a renowned name in the realm of elegant and high-performance mods, Lost Vape has ventured into new territory with the Orion DNA Plus, showcasing their innovative spirit once again. Building upon the advanced Evolv DNA Go board and the acclaimed Replay feature, Lost Vape pushes the boundaries of pod kits, presenting a potential game-changer in the industry. As you embark on this vaping journey, keep an eye out for an experience that has the potential to redefine your perception of pod systems.