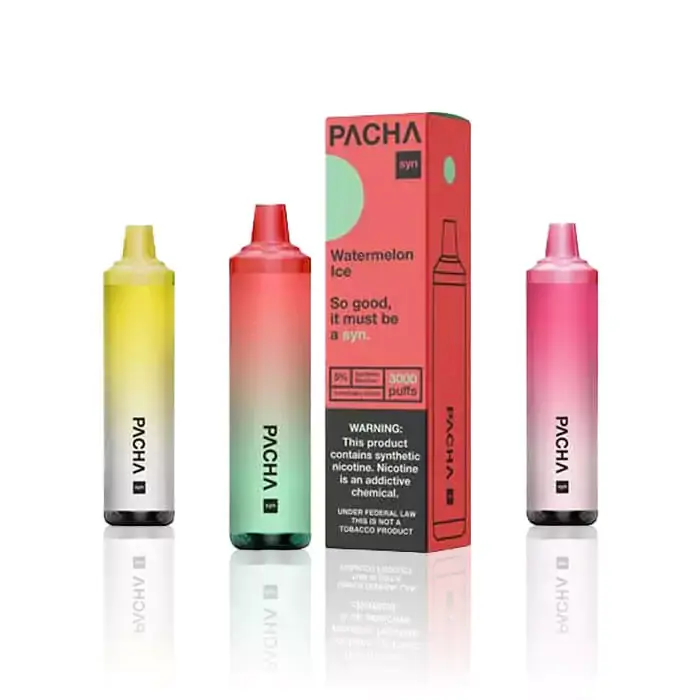 Pacha stands as a prominent name in the realm of e-liquid crafting, boasting a remarkable track record of awards and recognition. Their expertise translates seamlessly into their disposable vape pens, which unquestionably rank among the finest in the market. A gateway from traditional cigarettes to vaping, Pachamama Disposable Vapes offer unmatched ease of use. The sleek, lightweight, and compact design ensures they seamlessly accompany you in your bag, purse, or pocket. What's even more enticing is the array of delectable flavors available.
Pros
Convenience: No setup or maintenance required; open and start vaping.
Portability: Lightweight and compact design enables easy carrying on the go.
Flavor Variety: A wide range of flavors and nicotine strengths are available.
Long-lasting Battery: Larger models like Pacha Syn offer substantial battery life for extended use.
No Refill or Charging: Pre-filled e-liquid and pre-charged battery eliminate the need for refills or recharging.
Cons
Environmental Impact: Disposable vapes contribute to waste and environmental concerns.
Limited Customization: Lack of customization options compared to traditional vape mods.
Lack of Control: Pre-filled and pre-charged design limits control over nicotine and e-liquid intake.
Cost Accumulation: While initial cost may be low, ongoing disposable vape use can become expensive.
Battery Life: Smaller models may require frequent battery replacements.
Preview
Pacha Vape go beyond mere aesthetics. Equipped with robust batteries, premium atomizer coils, and choice vape juice, these pens are a vaping delight. The meticulous engineering guarantees harmonious internal workings, eliminating the need for any adjustments. Inhale from the mouthpiece, and your Pacha Disposable Vape Pen rewards you with a flawless puff every time.
With a substantial 8ml capacity and a synthetic nicotine level of 5% (50mg), Pacha Disposable Vapes are powerhouses. The impressive battery ensures each pen delivers around 3,000 puffs, providing extended enjoyment.
Diversity defines Pacha Disposable Vape Pens, available in an array of seven mouthwatering flavors. From Blue Razz Ice to Strawberry Kiwi, each offers a unique experience.
Pacha Disposable Vape offers an enticing proposition for those seeking simplicity. These electronic cigarettes are pre-filled with e-liquid and come with a built-in battery. With various flavors and nicotine strengths available, they cater to individual preferences. These disposables are a boon for on-the-go use, fitting snugly in your pocket without any worry about e-liquid or chargers.
Flavors
Fuji Apple Strawberry Ice
Crisp Fuji apples blended with fresh strawberries, with an icy cool menthol finish.

Le Creme
Rich and creamy vanilla custard.

Lemon Meringue
Delicious lemon meringue pie, hot out of the oven.

Mango Ice
Juicy tropical mangoes with a cool menthol finish.

Pink Lemonade
Classic pink lemonade for a truly refreshing experience.

Strawberry Kiwi
A delicious blend of fresh strawberries and juicy kiwis, for an explosion of fruity deliciousness.

White Grape
Sweet, vine-ripened grapes.
Specifications
Manufactured by: Pacha
E-Juice Quantity: 8ml
Nicotine Content: 5.0% / 50mg (synthetic)
VG: 50%
PG: 50%
Operation: Automatic
Available Flavors: Blue Razz Ice, Clear, Fuji Apple Strawberry Ice, Le Creme, Lemon Meringue, Mango Ice, Pink Lemonade, Strawberry Kiwi, Watermelon Ice, White Grape
Length: 4 Inches (101 mm)
Diameter: 0.65 Inches (16 mm)
Pacha Vape Pens Includes:
1 x Pacha Disposable Vape Pen
Features
Smooth and Satisfying Hit
Provides Ideal Throat Hit
50mg Synthetic Nicotine Concentration
All-in-One Configuration
Automatic Operation
Operates Straight Out of the Box
No Skill or Knowledge Required
Deliver the Sensation of Traditional Cigarettes
Long-Lasting – Approximately 3,000 Puffs
Seven Delicious Flavors to Choose From
FAQs
1.What is a Pacha Disposable Vape?
Pacha Disposable Vape is a small, pre-filled vaping device designed to be used and disposed of once the e-liquid and battery have been depleted.
2.How long does a Pacha Disposable Vape last?
The lifespan of a Pacha Disposable Vape depends on the specific model and how often it is used. The larger models, like Pacha Syn 2500 and Pacha Syn 4500, can provide up to 2500 and 4500 puffs, respectively.
3.What flavors are available for Pacha Disposable Vape?
Pacha Disposable Vape is available in a wide range of flavors, including Mango, Blue Razz, Strawberry, Grape, Lush Ice, Peach Ice, Lychee Ice, and Guava Ice, among others.
4.Is Pacha a good vape?
Long-lasting battery: The larger Pacha Syn models have batteries that can provide up to 2500 or 4500 puffs, making them ideal for extended use. No refill or charging: Since the Pacha Disposable Vape is pre-filled with e-liquid and comes with a pre-charged battery, there is no need for any refill or charging process.
In Conclusion
Pacha Vape stands at the forefront of the vaping industry, offering a remarkable range of disposable vape pens that combine convenience, flavor diversity, and satisfaction. With their sleek and compact design, these pens effortlessly integrate into your lifestyle. The expert craftsmanship ensures a seamless vaping experience, where every inhale delivers a flawless puff. From the luscious Fuji Apple Strawberry Ice to the creamy Le Creme, Pacha's array of flavors caters to every palate. While the disposable nature raises environmental concerns, Pacha's commitment to quality and innovation remains undeniable. For those seeking an accessible and flavorful entry into the world of vaping, Pacha Disposable Vapes present an enticing option.