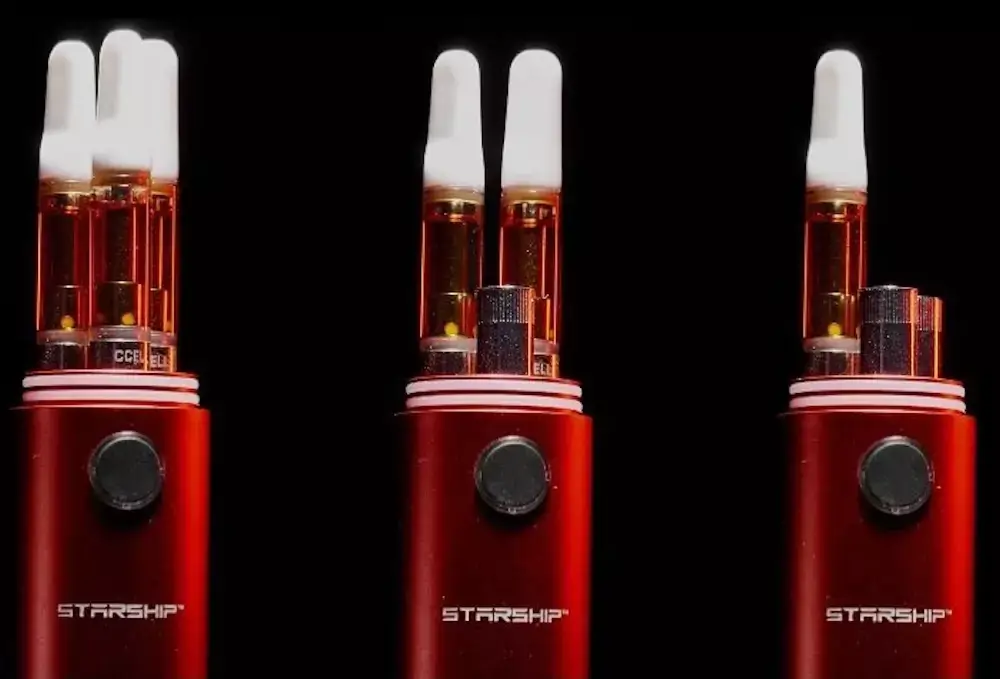 In the ever-evolving vaping landscape, innovation is often the name of the game. And that's precisely what sets the Hamilton Devices Starship vaporizer apart from the crowd. Forget what you thought you knew about vaporizers—this is a game-changer. The Starship stands alone as the world's first vaporizer to offer not one, not two, but three 510 Thread connections. That means you can connect up to three 510 Thread wax cartridges or concentrate coils all at once. The implications? Endless customization. Whether you're a flavor chaser or a potency purist, this device offers an unprecedented level of flexibility. Mix and match your cartridges and concentrates to find your perfect blend, all courtesy of this groundbreaking vaporizer.
Features
Dimensions: 195mm by 34mm
Battery: Integrated 1450mAh
Power Output: 3.2-4.2V
3 Tiered Power Levels – Low, Medium, High
7s Autofire Session – Waterpipe Compatible
Chassis Material: Zinc-Alloy
Intuitive Firing Button
LED Battery Indicator Light
Carb Hole
Airflow Control Switch
Charging: Type-C Port
Colors: Black, Red
Inside The Box
1 Starship Battery
1 Glass Mouthpiece
1 Water Pipe Attachment
3 Wax Coils
1 Type-C Cable
1 Dab Tool
2 O-Rings
2 Dummy Plugs
1 QR Card
Design and Build Quality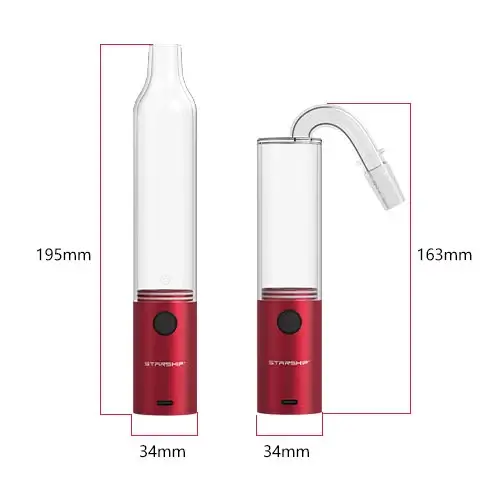 When you first lay eyes on the Starship, you'll immediately notice its California-inspired aesthetics. Designed in the land of innovation, this device effortlessly marries form and function. It sports a sleek glass top, which not only adds a touch of elegance but also provides a pure pathway for the vapor. The adjustable intake at the bottom of the unit is a subtle yet effective feature, giving you greater control over your draws.
The carb function is another thoughtful touch. By holding the carb closed while you draw and releasing it to clear the chamber, you can fine-tune the density and flavor of your vapor. This may seem like a small detail, but it's these nuances that elevate the Starship from a mere vaporizer to an elegant vaping experience. Whether you're a seasoned vaper or new to the scene, the Starship's design ensures every session is a journey worth taking.
You might assume that a device as feature-rich as the Starship would have a steep learning curve, but you'd be mistaken. Hamilton Devices has made sure that user-friendliness wasn't sacrificed for functionality. Adjusting the power level, for example, is remarkably straightforward: just tap the fire button three times quickly, and the LED ring will light up to indicate your setting. It's intuitive and quick, reflecting a design sensibility that keeps the user in mind.
For those who like to take extended pulls, the Starship has another trick up its sleeve: a 7-second auto-fire mode. A rapid double-click of the fire button sets this in motion, letting you enjoy a longer, uninterrupted session without having to hold down the button.
These user-centric features make it clear that the Starship was designed to be as easy to use as it is versatile. Whether you're a vaping newbie or a seasoned pro, operating the Starship is a breeze.
Battery and Voltage Settings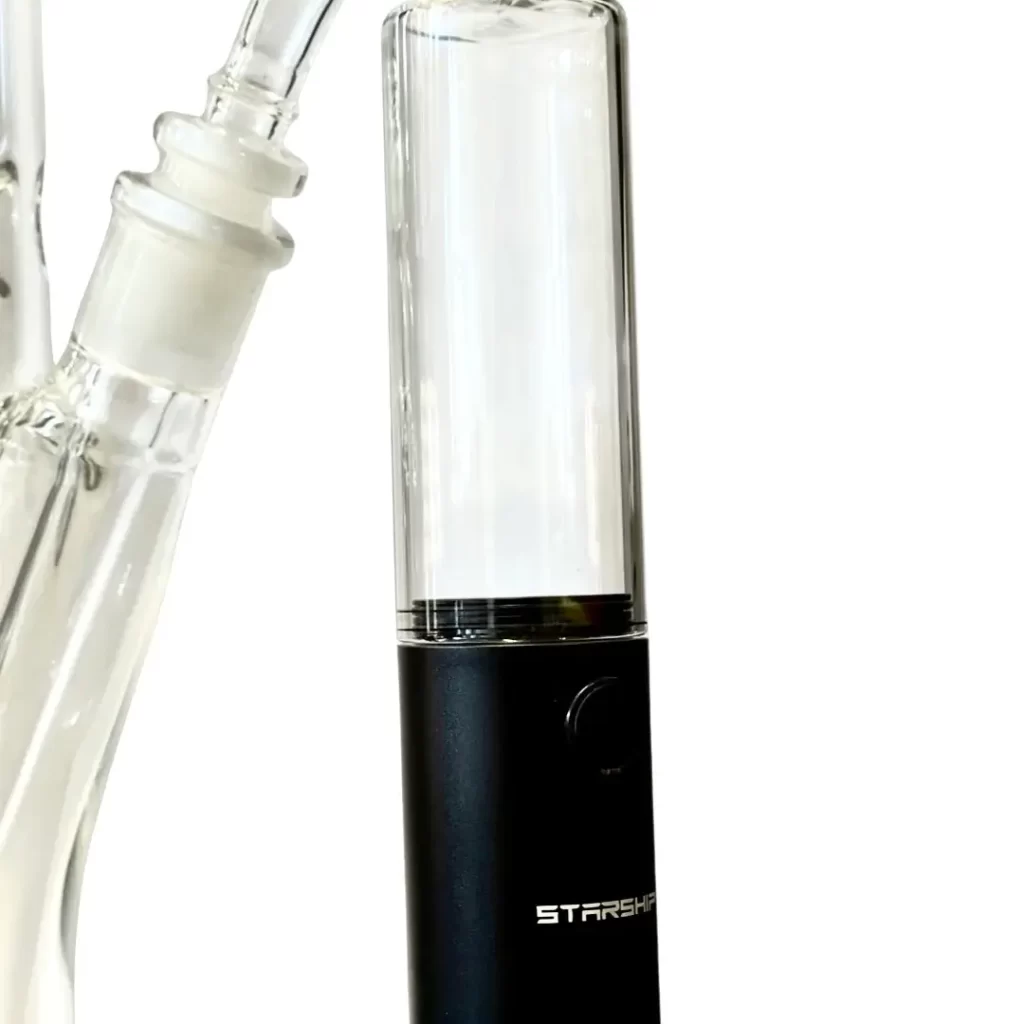 One might think that with the ability to connect multiple cartridges and coils, battery life would take a hit. Not with the Starship. This beast is packed with an internal 1450mAh battery that not only lasts but also recharges quickly. A mere 1.5 hours is all it takes to go from zero to full, ensuring you're never out of action for long.
And let's talk about control. The Starship features three distinct voltage settings to fine-tune your vaping experience. Whether you prefer lighter, flavorful hits or dense, powerful clouds, there's a setting for you.
Low (Blue light indicator, 3.2V) for those seeking a milder experience
Medium (White light indicator, 3.7V) for a balanced session
High (Red light indicator, 4.2V) for those who want the most potent hits
With these options, you hold the power to customize not just what you vape, but how you vape it. It's this attention to detail that makes the Starship a top-tier device for any serious vaper.
Performance
Don't let its sleek design fool you; the Hamilton Devices Starship is as feature-packed as they come. At the heart of its innovation is the option to attach up to three cartridges or wax coils, offering an unparalleled level of customization in your vaping experience. But the possibilities don't end there. The device allows for various combinations to suit your specific needs or moods. Want to go all out with flavor? Use three vape cartridges. Looking for a balanced session? Try two vape cartridges and one wax coil. The options are as follows.
Three vape cartridges for the flavor enthusiasts
Two vape cartridges and one wax coil for a balanced experience
One vape cartridge and two wax coils for those who want to tip the scales toward concentrates
Three wax coils for a potent, concentrated session
One vape cartridge and two dummy plug adapters for focused flavor and effect
This feature richness makes the Starship not just another vaporizer but a versatile tool for any vaper, whether you're a casual user or a connoisseur.
Accessories
Now, let's talk about what truly sets the Starship apart in terms of accessories: the water pipe attachment. For those who enjoy the cooler, smoother hits that come from water filtration, this attachment is a game-changer. It effortlessly transforms your Starship vaporizer into an e-nail, compatible with any water pipe that has a 14mm female bong joint.
Not only does this give you the best of both worlds—concentrate vaping and water filtration—but it also elevates the Starship to a whole new level of versatility. Whether you're into solo sessions or you're the life of the vaping party, this feature ensures that your experience is as customized as you want it to be. With the Starship, Hamilton Devices proves once again that when it comes to vaping, the sky—or perhaps in this case, outer space—is the limit.
In Conclusion
The Hamilton Devices Starship vaporizer is nothing short of a revolution in vaping technology. It takes the concept of a personal vaping device and transforms it into a versatile, high-powered unit that can adapt to your ever-changing needs. Whether you're a solo vaper or enjoy sharing the experience with friends, the Starship has something for everyone. So, should you get onboard the Starship? If you're looking for a device that challenges the norms and takes your vaping sessions to new heights, the answer is a resounding yes.