When it comes to the realm of cannabis products, Looper has carved a niche for itself by introducing a lineup that celebrates lesser-known cannabinoids. With a stunning array of offerings, including gummies, disposables, and cartridges, Looper invites cannabis enthusiasts to embark on a journey of exploration and indulgence. Join me as we delve into the distinctive world of Looper vapes and uncover the allure of their products, packaging, effects, and more.
The Melted Series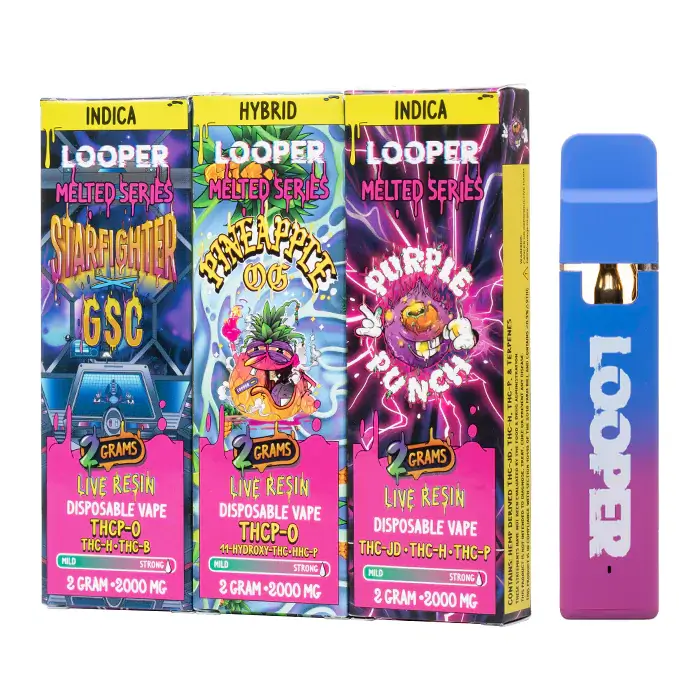 Looper is not your ordinary cannabis brand – it's a haven for those seeking novel and lesser-explored cannabinoids. From THC-O to THC-P, HHC, and beyond, Looper's selection is a treasure trove of enticing options. The brand's commitment to introducing users to these less-common cannabinoids is both commendable and intriguing. As a seasoned reviewer, I find myself captivated by the promise of experiencing new flavors and effects that these cannabinoids bring to the table.
Discover the Melted Series by Looper, a remarkable line of disposable vape pens that brings together three potent cannabinoids: THC-O, HHC, and THC-P. Crafted for convenience, these pens sport a compact and discreet design, ideal for vapers on the move. Each 2-gram cartridge boasts a robust 2,000 mg concentration, ensuring an intense and flavorful vaping journey with every puff. Elevate your vaping experience with the Melted Series and unlock the potential of this impressive cannabinoid blend.
Features
C Cell Technology
2 Gram Live Resin cannabinoid blends
Third Party Lab Tested
USA Grown Hemp Derived
Natural Terpenes
Strain & Flavors
Banana Sherbet – Indica blend of THC-A, Delta 8 & HHC
Girl Scout Cookies – Sativa blend of THC-P, Delta 8 & HHC
Limoncello – Sativa blend of THC-A, THC-JD & THCP-O
Pineapple OG – Hybrid Blend of 11-Hydroxy & HHC-P
Purple Punch – Indica blend of THC-JD, THC-H & THC-P
Runtz x Wedding Cake – Hybrid blend of THC-B, THC-H & THC-JD
Rainbowz – Hybrid blend of THC-P, HHC & HHCO
Starfighter x GSC – Indica blend of THCP-O, THC-H & THC-B
Skywalker – Indica blend of THC-A, HHC & THC-P
Sour Kush – Sativa blend of 11-Xdroxy, THC-H & THC-P
Wedding Cake – Hybrid blend of THC-JD, THC-H & THC-P
Looper Lifted Series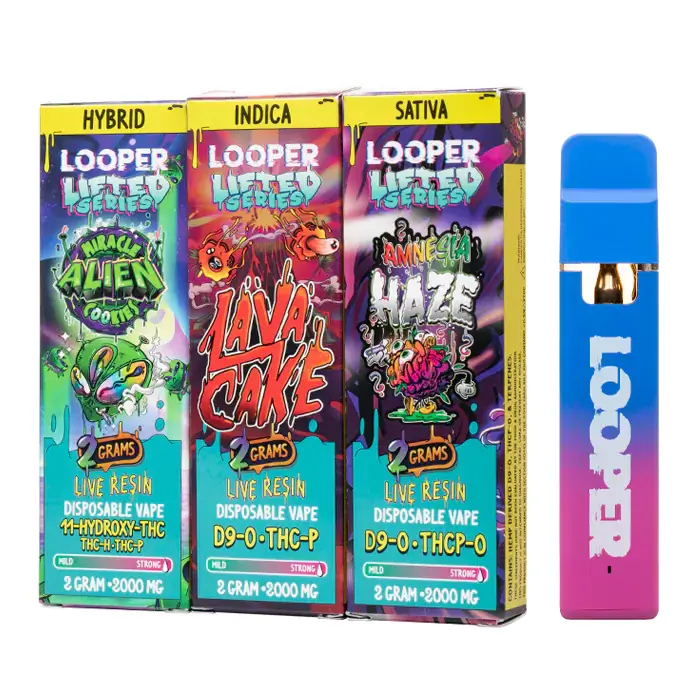 Step into a world of tailored experiences with the Dimo Looper Lifted Series Disposable vapes. Embrace a diverse range of effects with each unique cannabinoid blend, complemented by a palette of 10 tantalizing flavors. Notably, all Dimo Disposables and Cartridges now boast Live Resin, preserving the essence of terpenes and full spectrum cannabinoids through flash freezing. With USB-C rechargeability and a sleek design, the Dimo Looper Lifted Series Disposable promises both customization and innovation in a slim package.
Features
Made Using USA Grown Hemp
Rechargeable Disposable
Natural and Organic Terpenes
Choice of 10 delicious Strain Specific Terpene Profiles
Contains 2 grams per disposable
Strain & Flavors
Blue Gusherz – Hybrid blend of THC-P, THC-A and HHC
Cereal Milk – Hybrid blend of HHC-P, Delta 8 and THC-P
Forbidden Fruit – Indica blend of 11-Xydroxy, THC-H and THC-P
Grape Ape – Indica blend of THC-P, THC-B and THC-H
Ice Cream Cake – Indica blend of THC-P, Delta 8 and THC-A
Jet Fuel – Sativa blend of THC-A, 11-Hydroxy and THC-P
Lava Cake – Indica blend of THC-A and THC-P
Miracle Alien Cookies – Hybrid blend of 11 Hydroxy, THC-H and THC-P
Sour Lemon – Sativa blend of THC-A, 11-Hydroxy and THC-P
Looper XL Live Resin Disposable 3g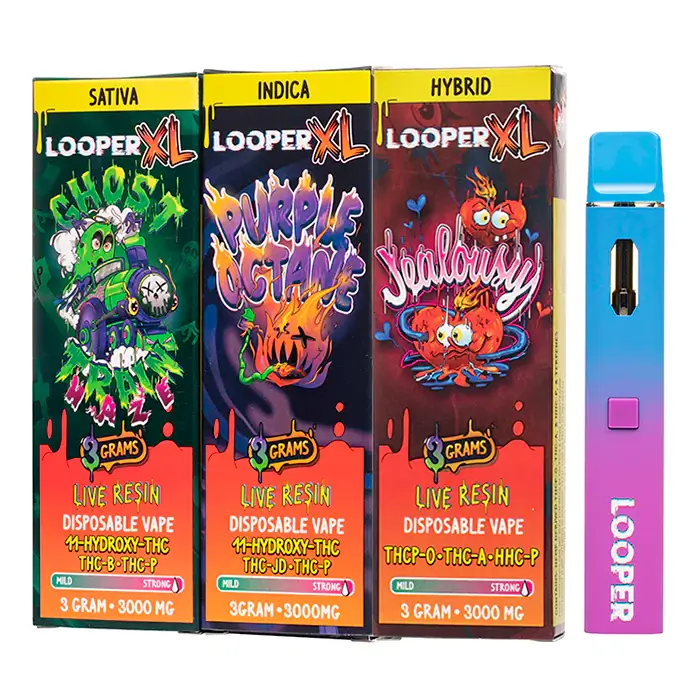 Step into tomorrow with Looper's inaugural 3g disposable – the Live Resin XL. Merging potent cannabinoids, this device promises a unique hemp-derived adventure. With three strains – Sativa, Indica, and Hybrid – each delivers a distinct blend. Ghost Train Haze combines Delta 11 THC, THCB, and THCP. Purple Octane fuses Delta 11, THCJD, and THCP, while Hybrid Jealousy features THCPO, THCa, and HHCP. Infused with natural live resin, it's flavor at its peak. USBC charging and button-activation with pre-heat enhance control.
Features
3000 mg (3g) Capacity
Ghost Train Cannabinoids: 11- + THC-B +HYDROXY-THC + THC-P
Purple Octane Cannabinoids: 11-HYDROXY-THC + THC-JD + THC-P
Jealousy Cannabinoids: THCP-O + D9-O + HHC-P
Live Resin
Draw-Activatied
USB Type-C Charging Port
< 0.3% Delta-9 THC
3rd Party Lab Tested
Flavors
Jealousy (Hybrid)
Ghost Train (Sativa)
Purple Octane (Indica)
FAQs
1.How Reliable Are Looper Disposable Vapes?
This particular vape is effective in inducing a euphoric and joyful state, as well as providing relief from stress and anxiety. The Looper hybrid strain used is enjoyable and well-balanced, but it's advisable that only experienced individuals use it, not beginners to the world of cannabis.
2.How Long Is The Lifespan Of A Looper Disposable?
The Looper THCO Disposable Vape typically takes around 10 to 20 minutes to take effect initially, with some individuals experiencing a gradual increase in its effects for up to an hour after inhalation. It comes in three distinct strain profiles, one of which is the Indica GMO Cookies.
3.How Long Does It Take For A Looper Vape To Charge?
When the Timeless Vapes battery begins to blink, it is advised to charge it as soon as possible. It is advised to fully charge the battery throughout the less than two-hour charging period.
Final Thoughts
In the dynamic landscape of cannabis consumption, Looper vapes offer a gateway to uncharted territories. With their focus on minor and rare cannabinoids, accompanied by a visually stunning packaging aesthetic, Looper invites enthusiasts to embrace novelty. However, the brand's journey towards comprehensive transparency and providing more insight into their identity remains a work in progress. For the adventurous cannabis connoisseur seeking new heights, Looper presents a palette of flavors and effects waiting to be explored.