Urb Vape-THC Infinity Disposable 3G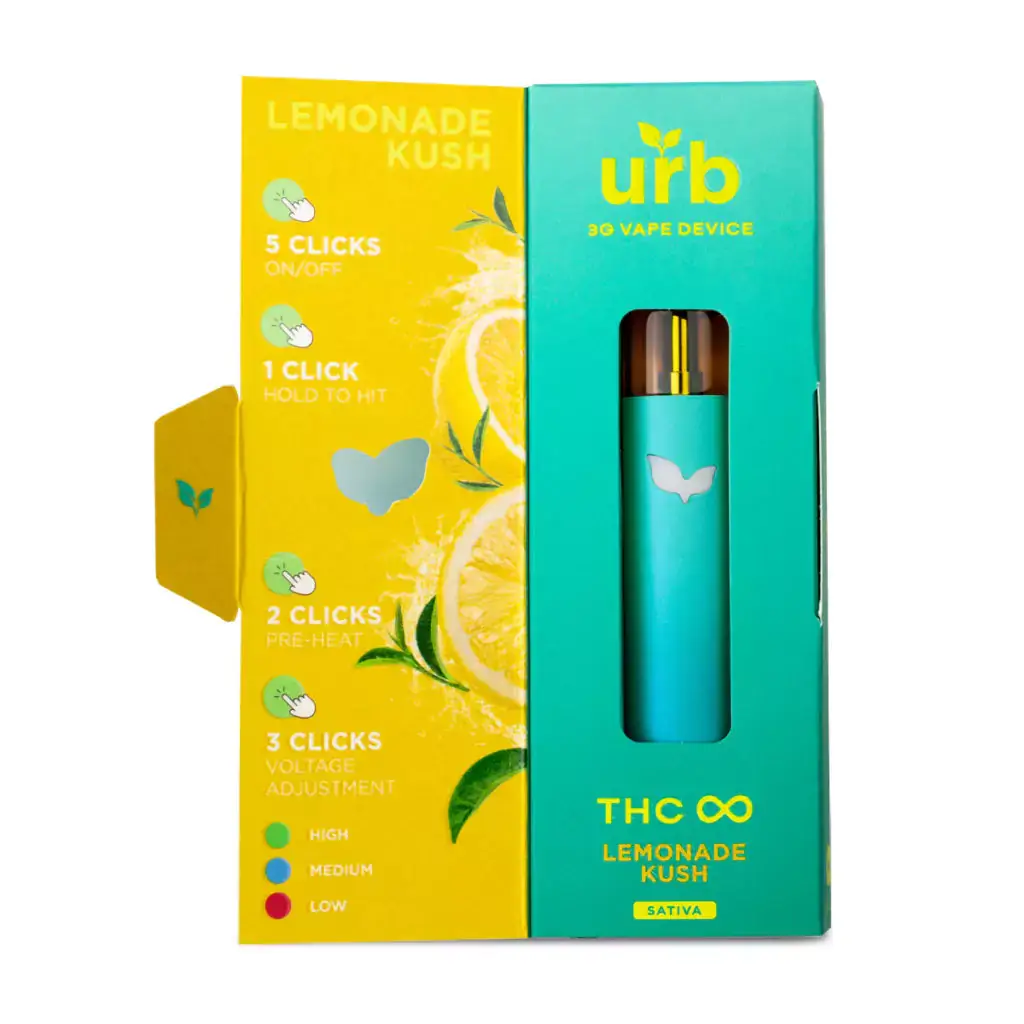 The Urb THC Infinity Disposable vape offers an extraordinary vaping experience for enthusiasts seeking a diverse and potent THC blend. This cutting-edge disposable is a powerhouse, featuring Delta 8 THC, THC-H, THC-JD, THC-P, and organic strain-specific terpenes. Crafted from flash-frozen live cultivar, each cannabinoid is extracted using Live Resin technology, ensuring a full-spectrum entourage effect and unparalleled flavor.
Urb's commitment to excellence shines through with the Infinity Disposable. Boasting a sizable 3-gram capacity, this rechargeable vape showcases 6 delectable terpene profiles, allowing users to explore a range of flavorful options. The device is enhanced with an updated ceramic coil that ensures even heat distribution without any burning, promising flavorful, smooth hits.
Urb's ingenious design adjustments enhance the overall experience. The inclusion of pre-heat and variable voltage settings empowers users to customize their sessions. Notably, the device's internal engineering features a reduced oil intake hole and an enlarged internal post, resulting in optimal oil regulation and improved airflow. This innovative approach significantly reduces the risk of clogging, ensuring uninterrupted enjoyment.
Pros
Stylish and modern design that catches the eye.
Compact size makes it highly portable for on-the-go vaping.
Long-lasting battery life ensures extended usage.
Adjustable airflow available on select models for a customizable experience.
User-friendly and easy to use, suitable for beginners.
Wide range of color options to suit individual preferences.
Cons
Limited pod capacity might require frequent refills.
Lack of temperature control options may affect vaping experience.
Potential limited availability of replacement parts could impact device longevity.
Design and Build Quality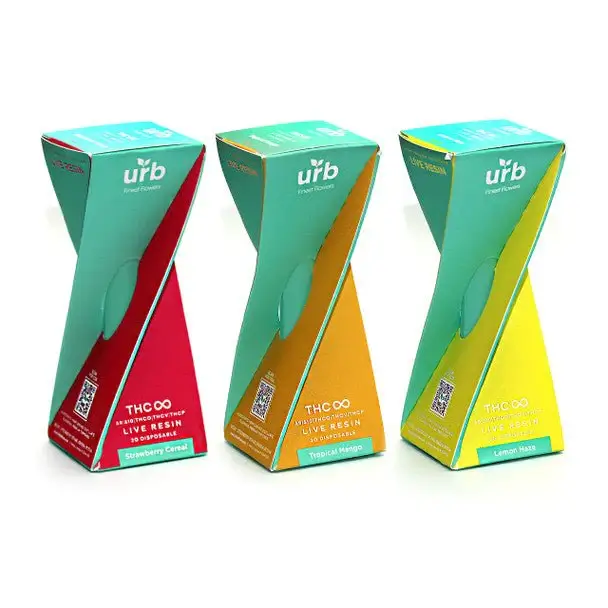 The Urb Vape stands out in design and style, appealing to vapers who value aesthetics.
Sleek and modern exterior sets it apart from other vaping devices.
Available in various colors, allowing users to choose according to their personal style.
Compact size enhances portability, fitting easily into pockets or small bags.
Ergonomic design with smooth curves ensures a comfortable grip.
Features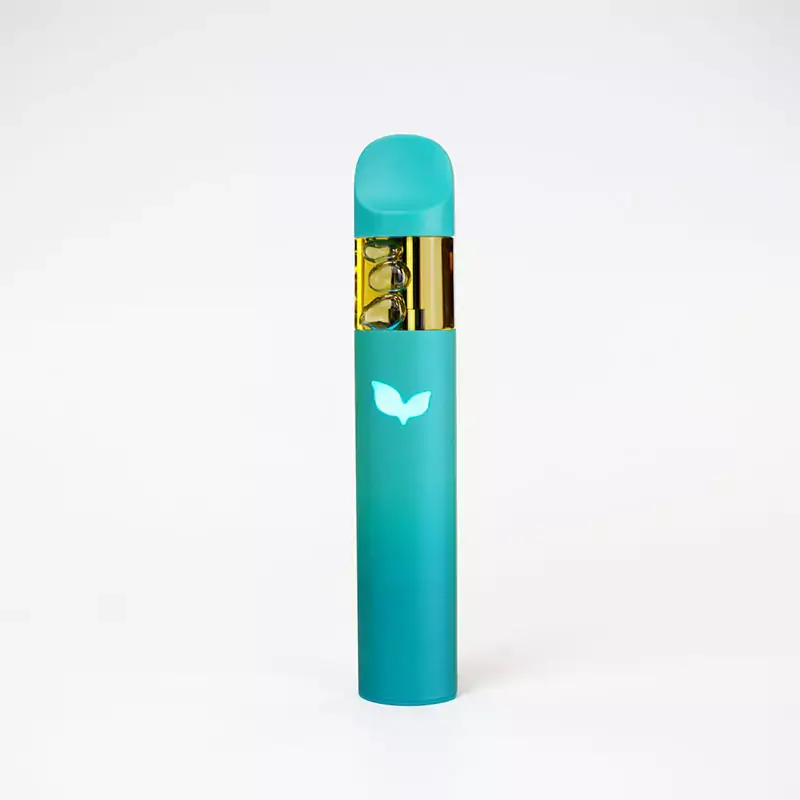 Capacity: 3G (3000mg)
Battery Capacity: Integrated Rechargeable
Cannabinoid: THC-H, THC-jD, THC-P
Concentrate: Live Resin
Heating Element: Ceramic Coil
Firing: Draw-Activated
LED Battery Life Indicator Light LED Battery Life Indicator Light
Chassis Construction: Polycarbonate
< 0.3% Delta-9 THC < 0.3% Delta-9 THC
No Fillers No Fillers
3rd Party Lab Tested 3rd Party Lab Tested
Charging: Type-C
Flavors
Gas Berry THC Infinity Disposable Vape – Hybrid
This is a Hybrid strain that tastes like Lemon, blueberry, pine, with hints of diesel and musky notes.
Glue Berry THC Infinity Disposable Vape – Sativa
This Sativa strain combines blue raspberry, floral, tart and citrus into a delightful blend of sweet and citrus.
Lemonade Kush THC Infinity Disposable Vape – Sativa
This Sativa strain delivers tart lemon, sweet and citrus, with woody and earthy notes.
Orangeade THC Infinity Disposable Vape – Sativa
This Sativa strain is very orange citrusy, candy-like and sweet with a bit of pineapple.
Strawberry Cereal THC Infinity Disposable Vape – Indica
This Indica strain boasts ripe strawberry and cream.  Dense, sweet, starchy, like a bit of toasted bread and caramelized fruit.
Watermelon Mojito THC Infinity Disposable Vape – Indica
This Indica strain is reminiscent of ripe watermelon, lime, simple syrup, and sweet mint that's cool and refreshing.
FAQs
1.What Is THC-H?
The THCh cannabinoid stands for Tetrahydrocannabihexol and is said to be 10 times more potent than Delta-9 THC. This is a natural, but rare occurring cannabinoid found in the Hemp plant. However, one important thing to note is that your body might not have a tolerance to THCh; therefore, it might present itself to you as a brand new type of high. This cannabinoid is very potent and has a unique entourage effect when combined with other cannabinoids.
2.What Is THC-P?
THCP first begins as a substance initially formed as Cannabigerolic acid (CBGA), known as the "mother cannabinoid" from which cannabinoids derive from. By the same token, TCHPA (Tetrahydrocannabiphorol Acid) becomes THCP and on its own it's 33 times stronger than regular Delta-9 THC, which means its effects on the body are amplified. People report experiencing a very euphoric high that includes powerful mood enhancing/uplifting properties.
3.What Is THCjd?
Another rare but natural occurring cannabinoid is Tetrahydrocannabioctyl (THCjd). The 3 "major" cannabinoids are CBD, CBG, and Delta-9 THC which have 5-carbon sidechains. However, THCjd has 8-carbon sidechains which makes it up to 19 times more potent than Delta-9 THC. Also, THCjd is considered to be a "minor" cannabinoid just like THCh; more "minor" cannabinoids are starting to emerge with longer carbon sidechains which creates more potent products.
4.What is Delta 8 THC?
Delta-8 THC is an isomer of CBD derived from hemp and CBD and is a psychoactive cannabinoid that packs several benefits. The unique cannabinoid is chemically different from its close relative, Delta-9 THC. It only differs from a few atomic bonds. However, it occurs in small concentrations and is Hemp-derived making it Hemp compliant because it contains less than 0.3% of Delta 9 THC as required under the 2018 Farm Bill.
Conclusion
The Urb Vape excels in both form and function, offering an attractive design with its sleek exterior and various color options. Its compact size enhances portability, while the long-lasting battery and adjustable airflow (on some models) contribute to a positive vaping experience. Although the limited pod capacity and absence of temperature control options are drawbacks, the Urb Vape remains a stylish and user-friendly choice for vapers who prioritize aesthetics and ease of use.