The Packspod Disposable Vape is a game-changer for vaping enthusiasts. Boasting an impressive 5000 puffs, this device offers an extraordinary and hassle-free experience. With its substantial 12mL nicotine salt liquid reservoir containing 50mg of nicotine, each hit is a flavorful delight. The convenience factor is unparalleled – no refills or complexities to deal with, just consistent enjoyment.
The sleek design adds to its appeal, and the array of mouthwatering flavors available ensures a personalized vaping journey. Whether you're a novice or a seasoned vaper, the Packspod Disposable Vape guarantees satisfaction. It transcends ordinary vapes, elevating your nicotine experience to new heights. Bid farewell to the mundane and embrace the remarkable convenience, performance, and pure pleasure this vaping companion brings.
What Can We Expect From Packspod Vape?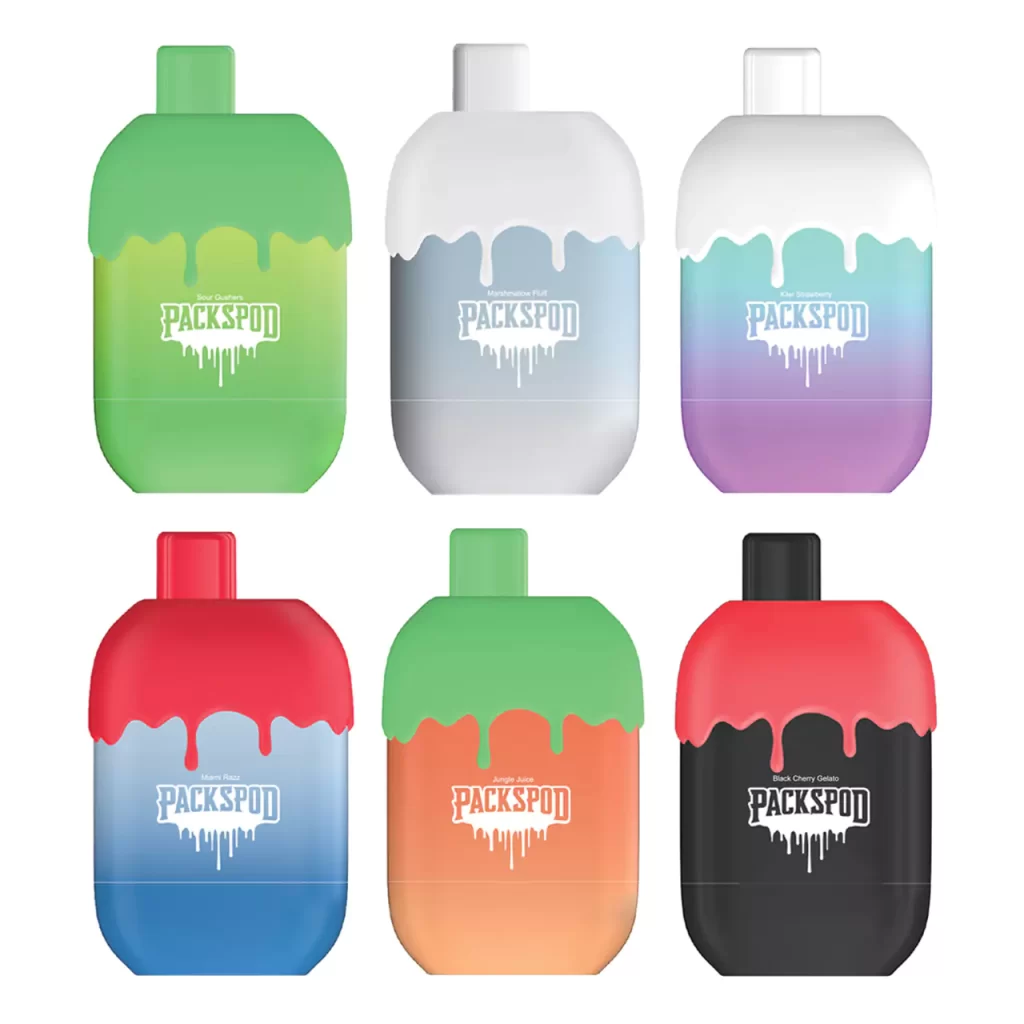 Longevity:Prepare to be amazed by the Packspod's extraordinary 5000-puff capacity. This exceptional longevity ensures extended vaping sessions without the hassle of constant pod changes or battery recharges. Whether you're a light vaper or enjoy prolonged sessions, the Packspod delivers a consistent and satisfying experience.
E-Liquid Capacity:With a generous 12ml e-liquid reservoir, the Packspod Disposable Vape offers an extended journey into the world of flavors. Say goodbye to frequent refills as you savor the richness of various e-liquid blends, from fruity concoctions to indulgent desserts. This capacity ensures a convenient and uninterrupted vaping experience.
Battery Performance:Driven by a potent integrated 1400mAh battery, the Packspod guarantees reliable and unwavering performance throughout its lifespan. The gradual battery drain ensures you enjoy every last drop of your e-liquid, preventing unexpected power outages. However, it's important to note that the device is non-rechargeable, so prudent usage is required.
Synthetic Salt Formulation:Elevate your flavor experience with the Packspod's synthetic salt formulation. By blending nicotine salts with synthetic compounds, this vape delivers a more refined and enjoyable flavor profile. The added benefit of a milder throat hit compared to traditional freebase nicotine ensures smoother and more gratifying inhales.
Optimal Nicotine Strength:Catering to both newcomers and experienced vapers, the Packspod boasts an ideal nicotine strength of 50mg (5%). This concentration guarantees a satisfying nicotine hit without the harshness associated with higher concentrations, making it suitable for a diverse range of users.
Design and Packaging:Crafted by Packwoods LA, the Packspod's design exudes West Coast flair. Its vibrant colors and two-color gradient create an eye-catching appeal reminiscent of classic book covers. The packaging reinforces this premium feel, adding to the overall product experience.
Pros & Cons
Pros
5000 Puffs: Enjoy an extended vaping experience with approximately 5000 puffs, eliminating the need for constant recharging or pod changes.
Generous E-Liquid Capacity: The 12ml e-liquid reservoir allows for prolonged enjoyment of a wide range of flavors without frequent refills.
Powerful 1400mAh Battery: The integrated battery offers consistent performance throughout the device's lifespan, with USB Type-C fast charging for convenience.
Synthetic Salt Formulation: A refined flavor experience is delivered through a combination of nicotine salts and synthetic compounds, resulting in smoother inhales.
Optimal Nicotine Strength: With 50mg (5%) nicotine concentration, the device caters to both novice and experienced vapers.
Cons
Non-Rechargeable Design: The device is not rechargeable, requiring careful use to avoid running out of power.
Bright design, not suitable for those seeking invisible
Flavors
Banana Flambe (Arctic Banana)
Black Cherry Gelato (Cherry Pop)
Blue Slurpee (Miami Razz)
Gelato Freeze (Cool Mint)
Guava Bubblegum (Sweet Guava)
Jelly Dulce (Grape)
Marshmallow Fluff (Sweet Cloud)
Miami Haze (Watermelon Freeze)
Orange Creamsicle (Orange Burst)
Rainbow Sorbet (Berry Blasted Mango)
Sour Gushers (Jungle Juice)
Unicorn Sherbert (Kiwi Strawberry)
Features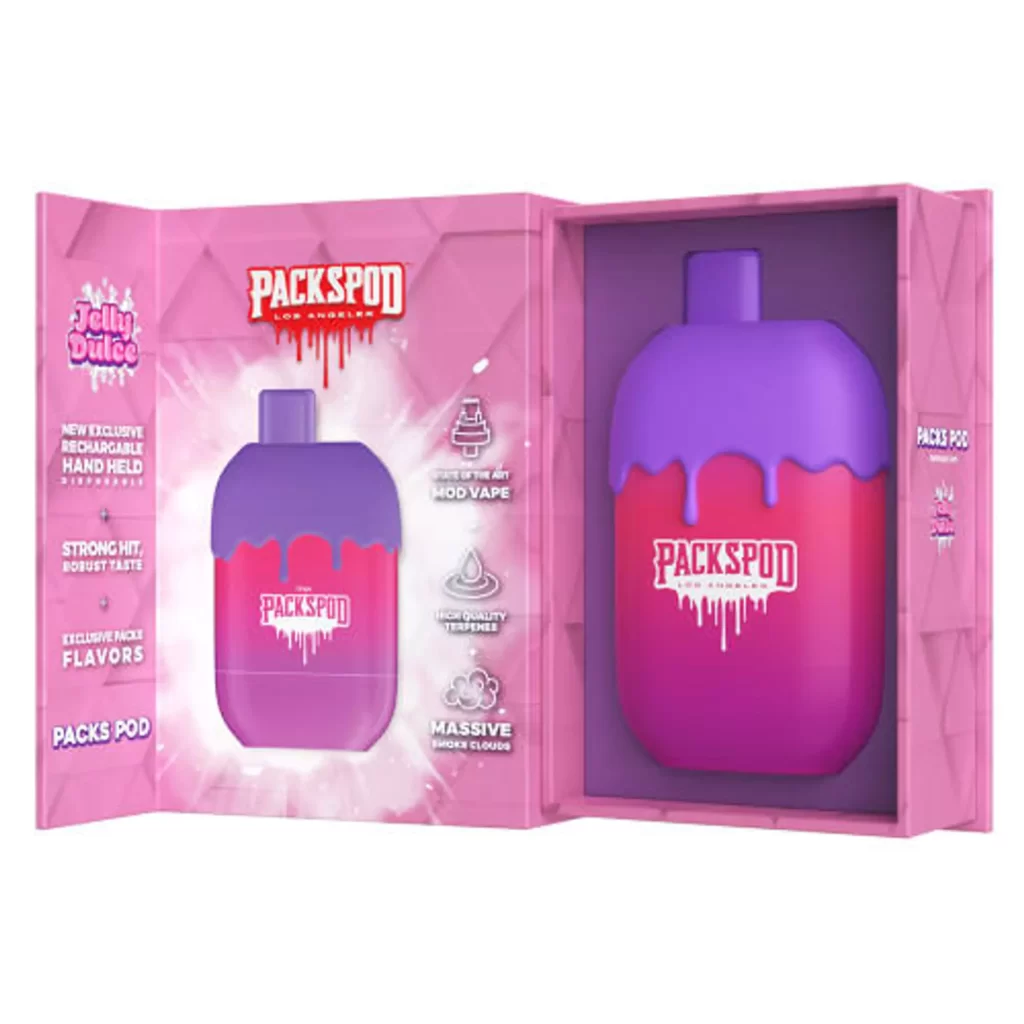 Disposable Pod Device
5000 puffs per Device
Integrated 1400mAh Rechargeable Battery
USB-C Charging Port (no charger included)
Mesh Coil Design
Salt Nicotine: 5%
Pre-Charged – Simply Puff on the Device to Activate
Compact, Lightweight, and Portable
Ingredients
Propylene Glycol (PG)
Vegetable Glycerin (VG)
Benzoic Acid
Flavors
Nicotine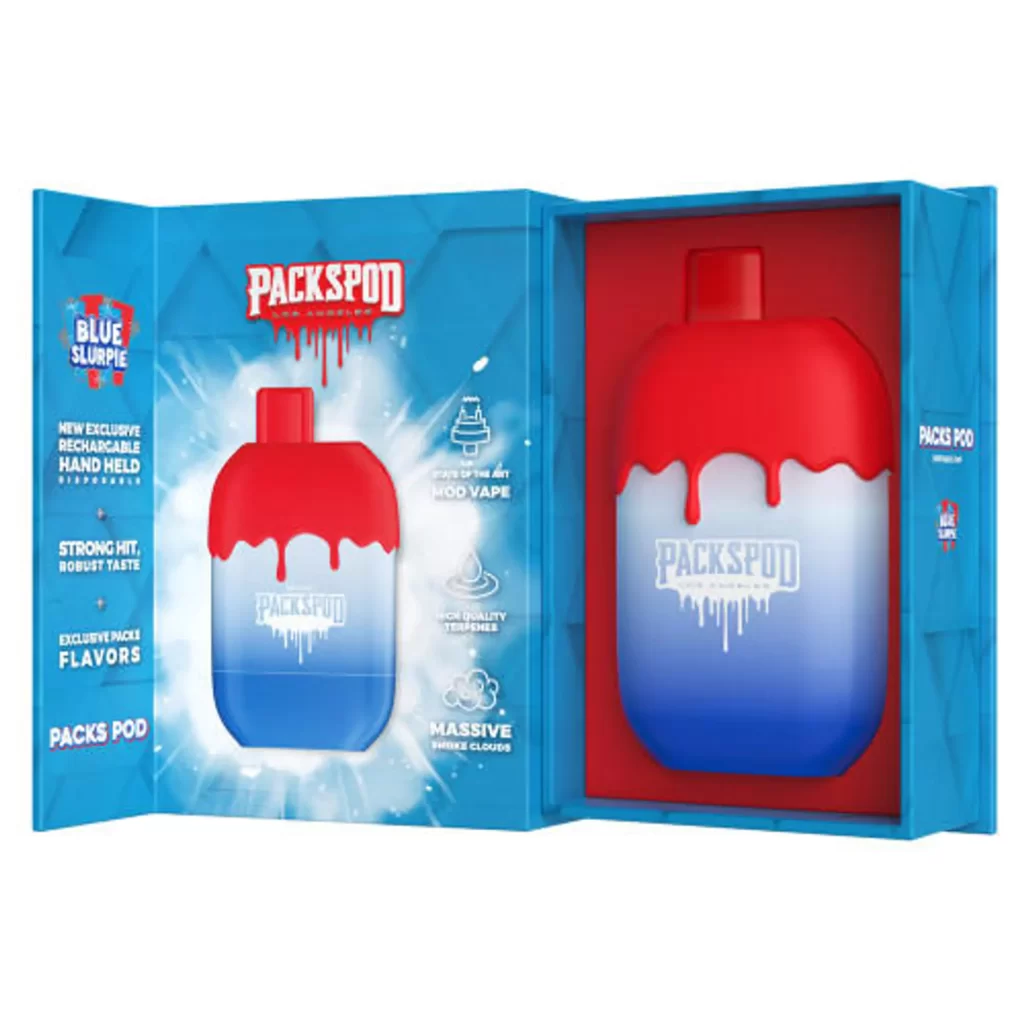 FAQs
1.What is PacksPod?
Packs Packpods Disposable | 5000 Puffs
Packpods Disposables offer 8 delicious flavors. No buttons required and one draw activating the firing system, this easy-to-use product will make sure you're puffing away in style without doing any extra work. Whether iced or fruity, there is something for everyone.
2.Is the Packspod Disposable Vape suitable for beginners?
Yes, the Packspod Disposable Vape is perfect for beginners as it offers a hassle-free vaping experience without refilling or recharging. Open the package and start enjoying your vape.
3.How long does the Packspod Disposable Vape last?
The Packspod Disposable Vape provides approximately 5000 puffs, making it a durable option that can keep you satisfied for an extended period.
4.Can I recycle the Packspod Disposable Vape after use?
While the Packspod Disposable Vape is not designed for recycling, it's essential to dispose of it properly following local regulations. Look for designated e-waste recycling programs or disposal methods in your area.
Conclusion
The Packspod Disposable Vape is a remarkable addition to the disposable vaping landscape. Its extensive puff count, abundant e-liquid capacity, and powerful battery ensure convenience and satisfaction. The synthetic salt formulation enhances flavor, while the optimal nicotine strength caters to a broad user base. The device's aesthetics and packaging reflect a commitment to quality. While the non-rechargeable nature and distinct design might not suit everyone, the Packspod Disposable Vape stands as a testament to innovation and performance. If you seek a convenient and flavor-rich vaping companion, the Packspod is a standout choice.