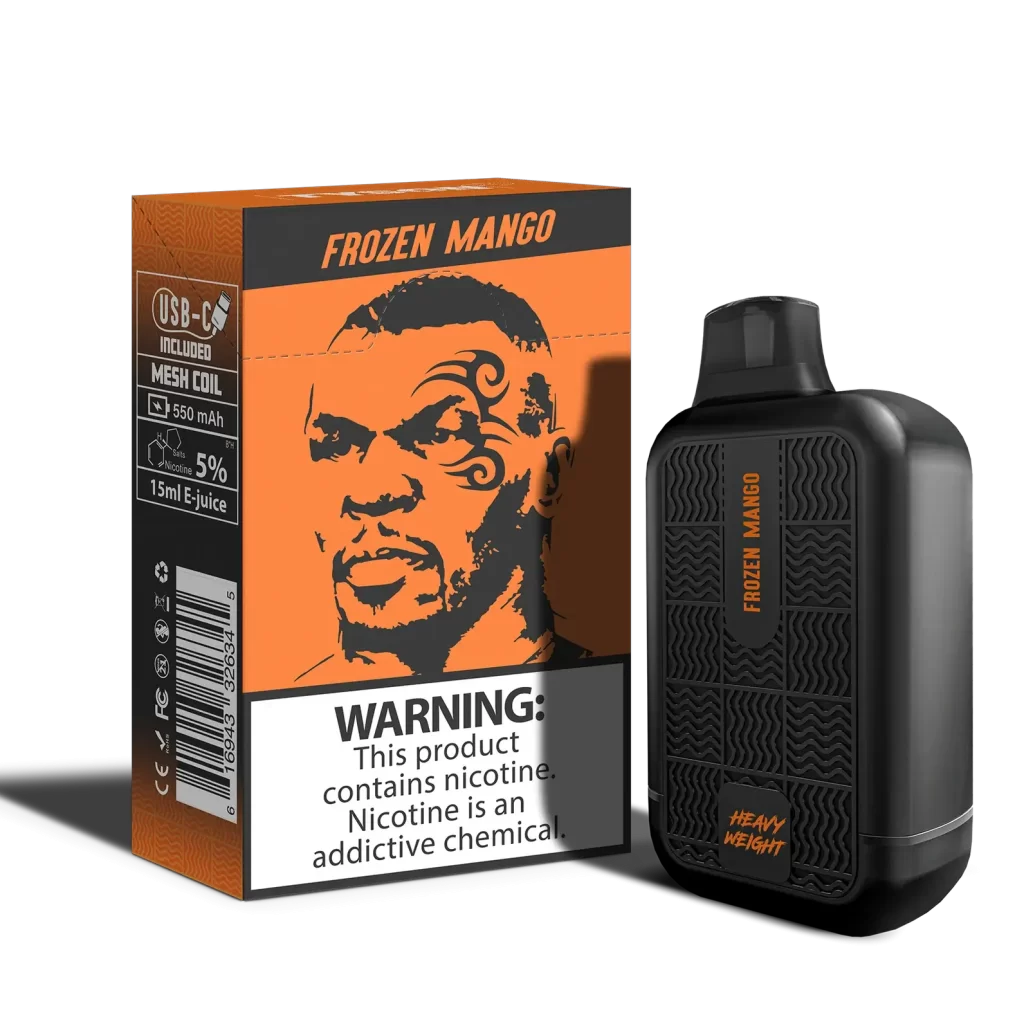 Get ready to experience the knockout power of the Mike Tyson Vape with their latest creation, the Tyson 2.0 Heavy Weight 7000 Puff disposable vape pod system. This device is designed for the heavy hitters, bringing a staggering 7000 puffs of vaping pleasure. With its fully rechargeable nature, this vape pod system offers convenience and power like never before.
With 12 incredible flavors available, the Tyson disposable invites you to puff like a champ. Whether you're a seasoned vaper or a newcomer, the Tyson 2.0 Heavy Weight 7000 Puff disposable vape is an experience that packs a punch in every puff. Get ready to enjoy the champion's touch in the world of vaping.
Flavors
Apple Gummies
Cool Mint
Frozen Banana
Frozen Blueberry
Frozen Grape
Frozen Mango
Frozen Peach
Passion Pom
Pineapple Mango
Raspberry Watermelon
Strawberry Watermelon
Watermelon
Frozen Strawberry
Blue Razz
Melon Head
Strawberry Banana
Specifications
Puff Count:Up to 7000 puffs
Dimensions:44mm x 22mm x 83mm
Battery Size:550 mAh
Charging Port:USB type-C
E-liquid Capacity:15.0 mL
Adjustable Airflow:No
Ingredients
• Vegetable Glycerin
• Propylene Glycol
• Nicotine
• Natural & Artificial Flavors
Features
Each disposable Tyson Vape has 7000 puffs ⎯ 10 times the average vape!
Tyson Vapes gives you more E-juice in every disposable device than any other with 15ml of E-juice.
Tyson's vape formula is 5% Nicotine Salt, making it more potent and powerful in every puff.
Mesh coils reign supreme by working faster with a stronger, more flavorful hit than regular coils.
Powerful 550mAh battery lasts for hours between charges.
A USB-C cable comes with every Tyson Vape for convenient charging at home or on the go.
Inside The Box
1 X Tyson 2.0 Heavy Weight Disposable E-Cig
1 X USB Type-C Cable
What Can We Expect From Mike Tyson Vape?
Design and Build Quality
Sleek and compact design.
Sturdy build quality for durability.
Ergonomic mouthpiece for comfortable puffs.
Discreet and lightweight, ideal for portability.
Performance and Flavor
Offers an impressive 7000 puffs.
Powerful battery and high-quality atomizer for consistent vapor production.
Automatic draw activation for hassle-free use.
Wide range of available flavors, catering to various preferences.
Each puff delivers rich and satisfying flavors.
Longevity and Convenience
Provides an extended battery life with 7000 puffs.
Disposable nature eliminates the need for refilling or recharging.
Convenient for both seasoned vapers and newcomers.
Safety and Quality
Made with premium-grade materials.
Rigorous testing to meet industry standards.
Equipped with safety features like overheat, short circuit, and low voltage protection.
Battery and E-Liquid Capacity
Comes with a powerful 900mAh battery.
Offers 6ml of e-liquid capacity, providing continuous vaping.
Compact Design
Sleek and lightweight, measuring 105mm x 20mm and weighing 68g.
Fits comfortably in pockets or purses.
Technical Specifications
Battery Capacity: 900mAh, providing 7000 puffs.
E-Liquid Capacity: 6ml for extended vaping.
Size and Weight: Compact dimensions for easy carrying.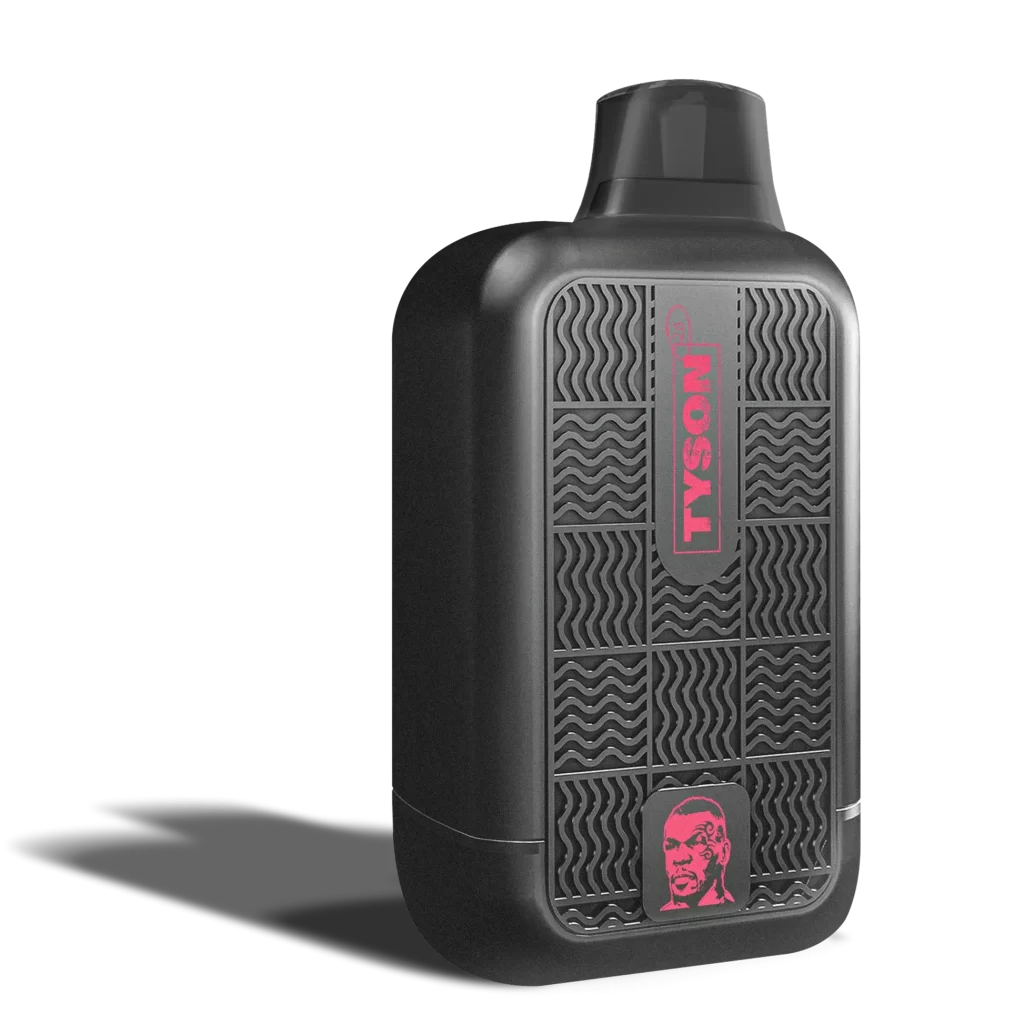 Featuring a mesh coil technology, the Mike Tyson Vape ensures that every hit is packed with true-to-taste flavors. The device includes a USB-C rechargeable cable and houses a 550mAh built-in battery, guaranteeing long-lasting performance. The 15mL e-liquid capacity is a testament to the dedication Mike Tyson Vape has towards flavor excellence. This is a device that delivers both in terms of taste and longevity.
The Tyson 2.0 Disposable Vape is a game-changing innovation, pre-filled with e-liquid and designed for hassle-free usage. Its advanced auto-draw system eliminates the need for buttons, making it perfect for those on the move. With the backing of former heavyweight champion Mike Tyson and the flavor expertise of Juucy disposables, this vape promises pure and vibrant flavors.
Delivering an astonishing 7000 puffs per device, the Tyson 2.0 Heavy Weight disposable sets a new standard for longevity in disposable vapes. Its 550mAh battery capacity and quick USB Type-C recharging make it a reliable companion for your vaping needs.
FAQs
1.What is the Tyson 2.0 Disposable Vape?
The Tyson 2.0 Disposable Vape stands as a groundbreaking device that arrives pre-filled with e-liquid and demands no upkeep or refills. Engineered for ultimate simplicity, this all-in-one unit features a sleek and compact design, catering seamlessly to individuals with busy lifestyles. Thanks to its advanced auto-draw mechanism, button pressing is unnecessary for activation, ensuring effortless usability. Once the e-liquid and battery have been utilized, the device can be easily discarded. It's a user-friendly solution, particularly suited for those who are always on the move.
2.How many puffs does a Tyson 2.0 have?
The Mike Tyson 2.0 Disposable Vape is advertised as having 7000 puffs.
3.How much nicotine is in Mike Tyson vape?
Size: 15ml
Nicotine Strength: 5.0%
4.How do I charge a Tyson Vape? How do I know it is Charging?
Knowing how to charge your Tyson vape correctly is essential for ensuring you get the most out of it. Fortunately, charging your Tyson vape is incredibly easy, as all you have to do is plug in the USB-C cable that comes with every
In Conclusion
The Mike Tyson Vape 2.0 is a remarkable device that delivers on its promises. With its sleek design, impressive battery life, and a wide range of delectable flavors, it offers a knockout experience for vaping enthusiasts. Whether you're new to vaping or an experienced vaper, this device provides a convenient, flavorful, and hassle-free experience that will leave you wanting more. The Tyson 2.0 HeavyWeight 7000 showcases the evolving world of disposable vapes, combining convenience, performance, and durability seamlessly. With its high e-liquid capacity, potent salt nicotine, and extended battery life, it offers an impressive vaping experience that's hard to match. Despite its disposable nature, its longevity ensures economical satisfaction. The Tyson 2.0 HeavyWeight excels in simplicity and reliability, making it an excellent choice for those seeking an uncomplicated yet gratifying vaping journey.