Gummy bears, those beloved chewy candies that have been a favorite for generations, have now found a new form in the world of vaping. Gummy bear-flavored disposable vapes are taking the vaping community by storm, offering a delightful and nostalgic vaping experience. In this article, we'll explore the top five gummy bear disposable vapes that bring the sweet and tangy taste of these iconic candies to your vaping sessions.
Top 5 Gummy Bear Vapes
1. SKE Crystal Bar Gummy Bear Disposable Vape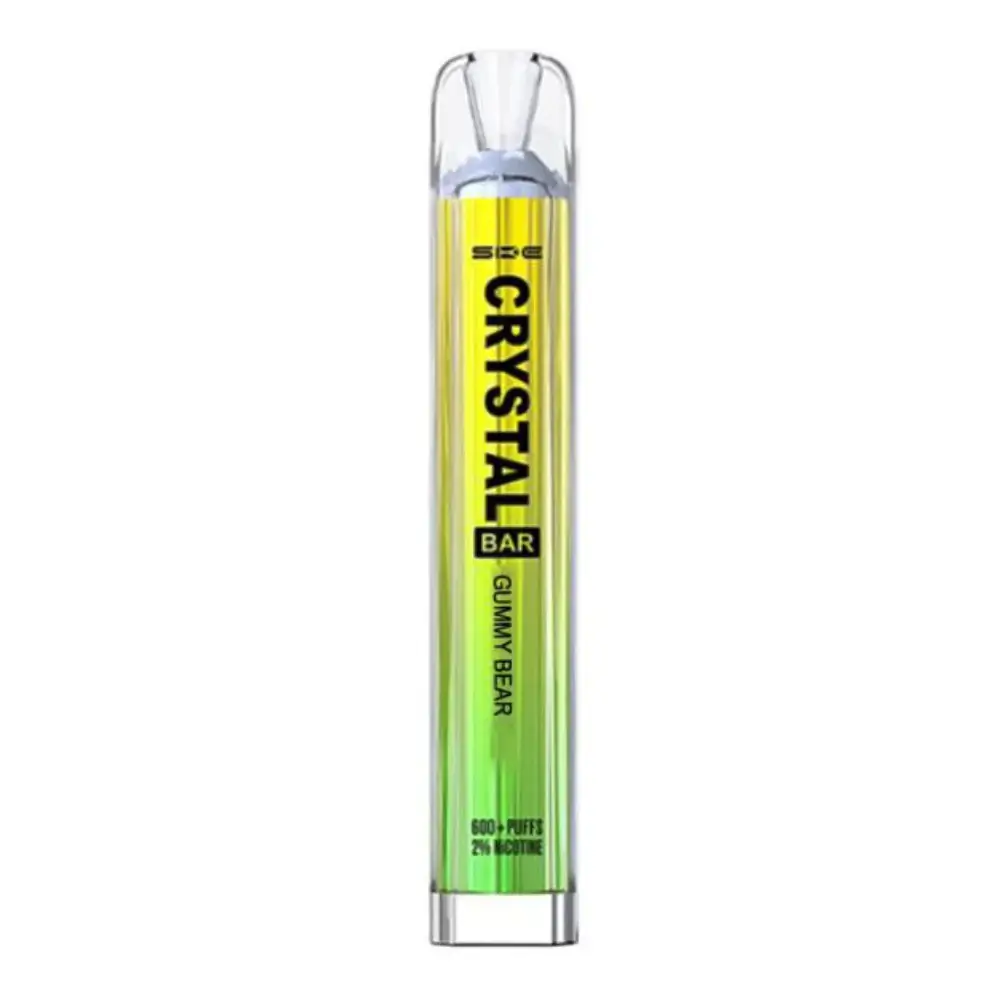 Features
Disposable Vape
Ready to vape out of the box
Approximately 600 puffs per bar
Mesh coil for denser flavor production
LED Battery life indicator
20mg Nicotine Salt strength
2ml of E-Juice
Small and pocket-friendly
If you're looking for a playful and fruity vaping experience reminiscent of sweet gummy candy, the SKE Crystal Bar Gummy Bear Disposable Vape is your perfect companion. Available in a 20mg nicotine strength, these Crystal Bars are prefilled with 2ml of Nic Salt e-liquid, delivering up to 600 puffs each. The lightweight build and small size make it incredibly portable, fitting easily into your pocket.
What sets the SKE Crystal Bar apart is its beginner-friendly design. With inhale activation technology, you won't find any awkward buttons or complicated menu systems here. Simply inhale on the mouthpiece, and you'll experience a discreet amount of vapor that mimics the sensation of smoking a traditional cigarette. Plus, the nic salt e-liquid ensures a smoother throat hit and faster nicotine absorption.
2. Elf Bar 600 Disposable Vape – Green Gummy Bear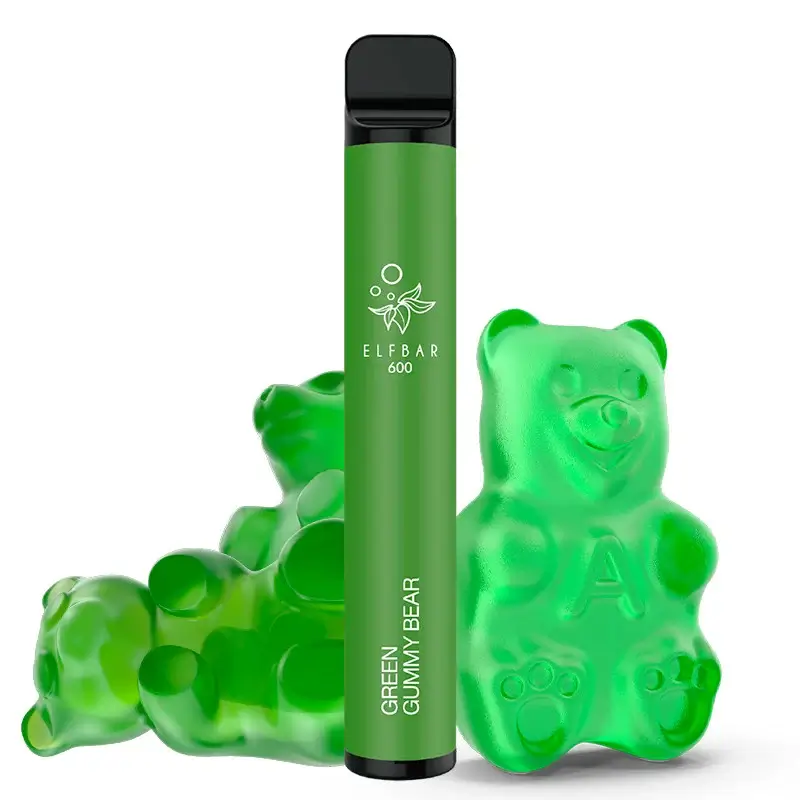 Features
Specialized heating system
Prefilled with 2ml E-liquid
Nicotine Salt Formulation 20mg
550mAh battery
LED Puff Indicator 
The Elf Bar 600 Green Gummy Bear Disposable Vape Pod captures the sweet and delicious flavors of green gummy bears, offering a tantalizing vape experience with a candy aftertaste. With 2ml of e-liquid per puff bar and a powerful battery that outlasts 20 cigarettes, the Elf Bar 600 is designed for convenience and satisfaction.
What makes this disposable vape stand out is its sleek and easy-to-use design. There's no need to worry about refilling e-liquid or changing pods or coils. The Elf Bar 600 is ready to use straight out of the box. Whether you're a fan of sweet and sugary Gummy Bears or prefer a cool burst of ice, this disposable vape has a flavor to satisfy your sweet tooth.
3. Ivg Bar Crystal Gummy Bear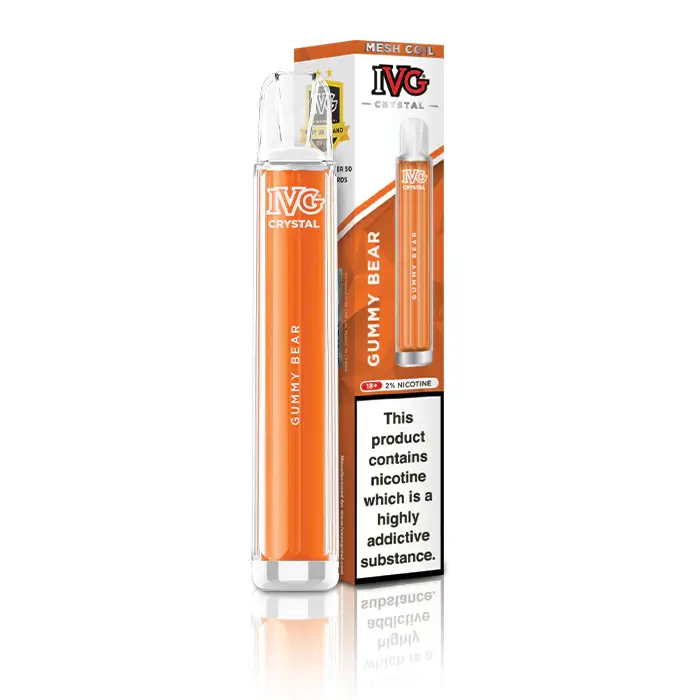 Features
IVG Crystal Bar Disposable Vape Kit
Beginner-Friendly Disposable Device
2ml of 20mg Nic Salt
Draw Activation
Up to 600 Puffs
550mAh Internal Battery
Ready To Use
TPD Compliant
Step into the flavorful realm of the Gummy Bear IVG Crystal Bar! This disposable vape captures the classic gummy bear flavor and offers an unbelievably smooth inhale. With 2 ml of 20mg nicotine salt e-liquid per device, you can enjoy up to 600 puffs of pure gummy bear goodness.
The IVG Crystal Bar features a slim and sleek pen-style design that's perfect for on-the-go vaping. It's draw-activated, so there are no buttons to fuss with. Just inhale, and you'll experience the nostalgic taste of gummy bears. Whether you're a mouth-to-lung vaper or seeking convenience on the go, this disposable vape has you covered.
4. Gummy Bears Fume Extra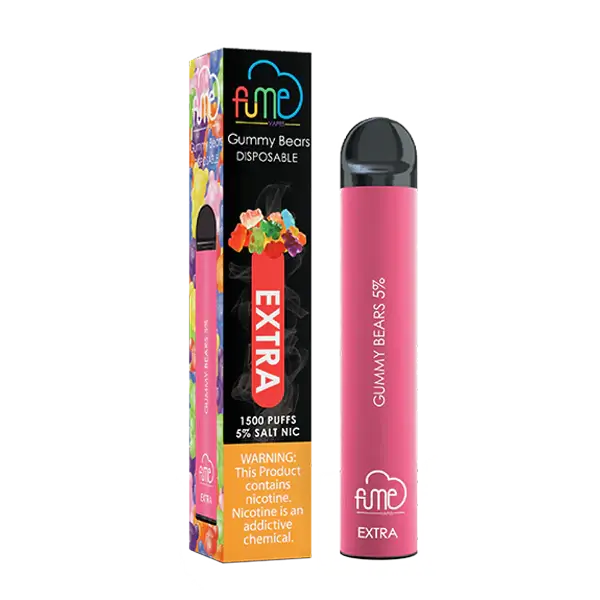 Features
Flavor: The Gummy Bear Fume Extra vape flavor uses a mix of candied tropical fruits to provide an incredibly sweet and tangy taste.
E-liquid contents: 6ml
Nicotine Level: 50mg
Puffs per Device: +1500
Fume Extra takes disposable vaping to the next level with its dependable battery performance and rich flavors. With an 850mAh battery, it offers more than 1500 puffs, making it a cost-effective choice for vapers who want a longer-lasting disposable. Each Fume Extra device comes pre-filled with 5% nicotine salt e-liquid, providing satisfying vape sessions all day long.
Compact and convenient, the Fume EXTRA is designed to fit in your pocket like a pen. It delivers a delightful and nostalgic vaping experience with its gummy bear flavor, a mix of candied tropical fruits that provides a sweet and tangy taste. If you're looking for the perfect gummy bear flavor without the ice, Fume Extra has got you covered.
5. Gummy Bear Elux Legend 3500 Puffs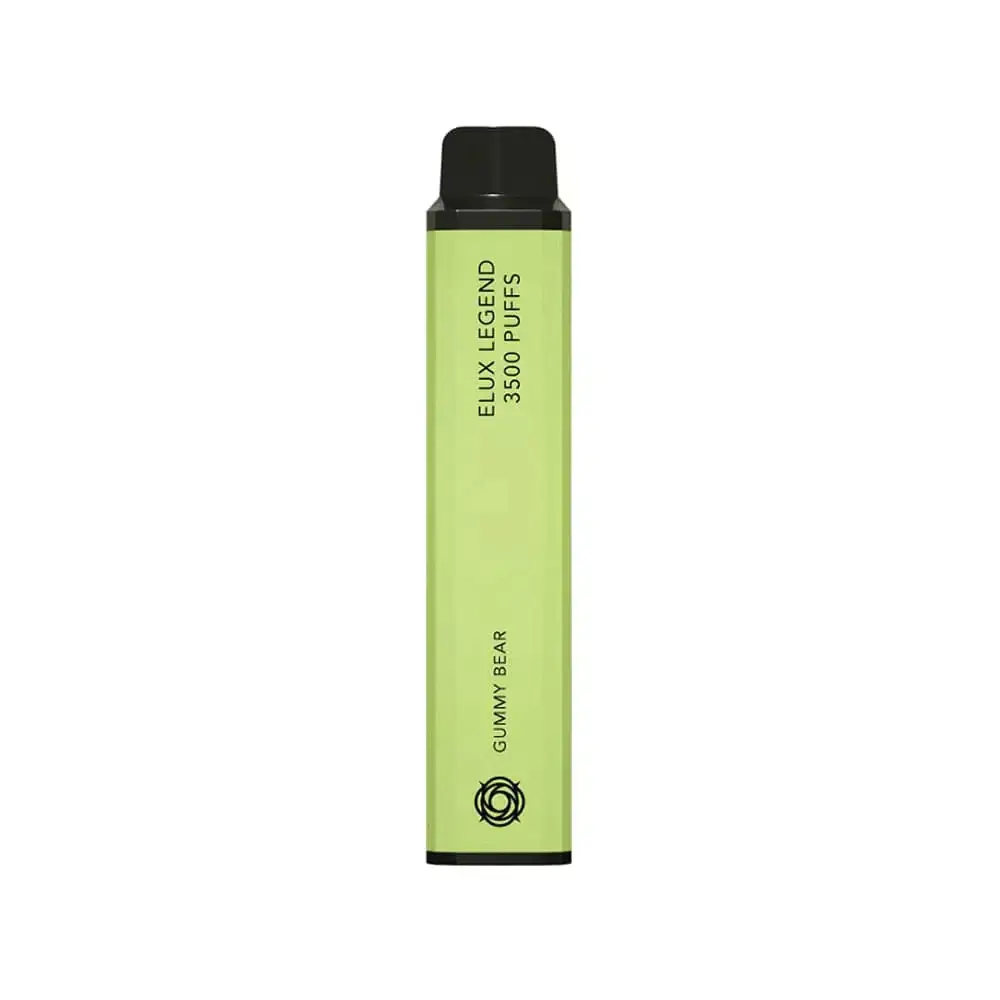 Features
MTL Disposable Vape Pen
Rechargeable
Adjustable Airflow
1500mAh Built-In Battery
10ml Pod Capacity
Organic Cotton Wick
2% nicotine salt e-liquid
Recyclable
Puffs: Up to 3500
Auto Draw Activation
The Elux Legend 3500 Puff Gummy Bear Bar offers a scrumptious mix of delicious fruity candies, delivering the nostalgic taste of red raspberries, strawberries, sweet pineapple, and a hint of lemon. With an impressive 3500 puffs and a rechargeable 1500mAh battery, this premium disposable device combines savings and reduced waste.
The Elux Legend Pro is designed with adjustable airflow, allowing you to customize your vaping experience. Its 10ml pod capacity ensures you won't run out of e-liquid quickly. Plus, it's draw-activated, making it easy to use. If you're ready to enjoy a sweet blast of nostalgia with a variety of fruit flavors, the Gummy Bear Elux Legend 3500 Puffs is an excellent choice.
In Conclusion
Gummy bear disposable vapes offer a delightful and sweet vaping experience that's perfect for vapers of all levels. Whether you prefer the fruity notes of SKE Crystal Bar, the convenience of Elf Bar 600, the smoothness of IVG Crystal Bar, the longevity of Fume Extra, or the flavor variety of Elux Legend 3500 Puffs, there's a gummy bear disposable vape to satisfy your cravings. Try them out and relive the joy of enjoying gummy bears in a whole new way.