Measuring 23mm x 47mm x 85mm, the iJoy Vape boasts a portable and pocket-friendly design, ensuring you can take it anywhere with ease. Its 650mAh built-in rechargeable battery provides reliable power for an uninterrupted vaping experience.
The device operates at 11W (3.5V), delivering the perfect balance between vapor production and flavor. The inclusion of a Type-C charging port ensures fast and efficient recharging, reducing downtime.
What sets the iJoy Vape apart is its 1.1Ω Mesh Coil, which guarantees the purest flavor and a satisfying throat hit. With a prefilled e-liquid capacity of 18ml, equivalent to approximately 8000 puffs, you won't have to worry about running out of your favorite flavors anytime soon.
The digital screen displays both battery life and juice life percentage, providing real-time information about your vaping session. This feature adds a layer of convenience, allowing you to plan your next charge or refill accordingly.
Specifications
Size:23mm * 47mm * 85mm
Battery Capacity:650mAh
Output Mode:11W (3.5V)
Charging Type: Type-C
Material: PC, PCTG
Resistance:1.1Ω Mesh Coil
Prefilled E-liquid Capacity:18ml(8000puffs)
Nicotine:5%
Features
18 ML prefilled e-liquid
Type-C charging port
650 mAh built-in rechargeable battery
New 1.1Ω Mesh coil with the purest flavor
Battery Life & Juice Life Percentage Digital Screen
Approximately 8000 Puffs
Design & Quality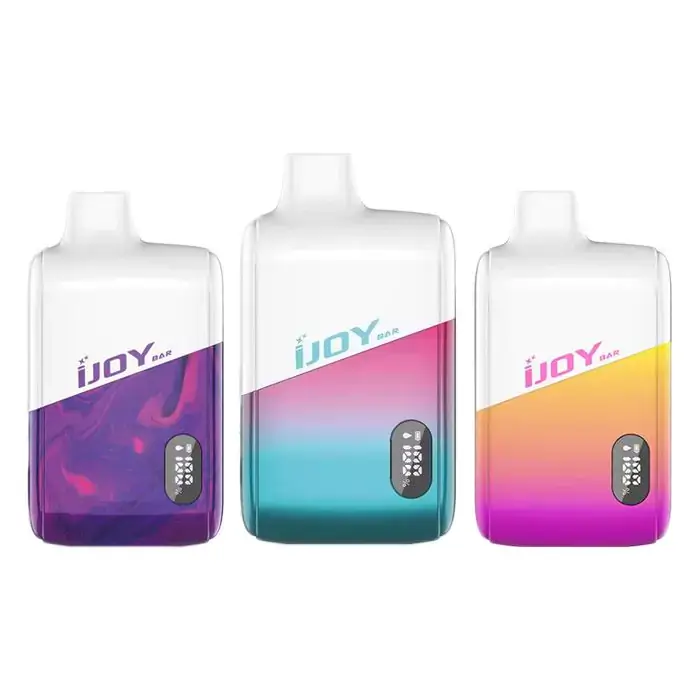 The iJoy Bar IC8000 boasts a sleek and modern design that sets it apart from the crowd. Its box-shaped form factor measures 85mm in height, 47mm in width, and 23mm in depth. While some may perceive it as boxy, it's surprisingly comfortable to hold, thanks to its smooth edges and palm-friendly size. The device's casing features a dual-tone plastic finish, with the top section in pristine white and the bottom portion showcasing a single color or a captivating design, depending on the flavor variant.
What truly makes the iJoy Bar IC8000 a standout in terms of design is the incorporation of a small black-and-white screen on the front. This screen provides real-time information, displaying crucial data such as e-juice levels and battery status. The attention to detail in the design is evident, with a minimalist approach to logos and labeling that adds to its overall charm.
Battery and Charging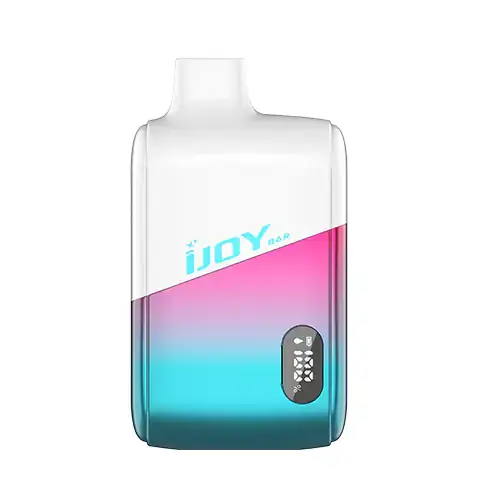 In the realm of disposable vapes, the iJoy Bar IC8000 offers a battery capacity of 650mAh. While it may not boast the largest battery size on the market, this capacity has become the standard for disposable devices. Complementing the battery is an impressive 18ml e-juice capacity, ensuring an estimated 8000 puffs per device. Charging the IC8000 is a straightforward process, thanks to its Type-C charging port. However, it's essential to note that the device does not support pass-thru charging, meaning it cannot be used while it's charging.
Flavors
With an impressive selection of 16 distinct and enticing flavor options, this disposable vape caters to a wide range of flavor preferences, ensuring that every vaper can embark on a flavorful vaping journey.
Apple Juice: The name might suggest simplicity, but this flavor is anything but ordinary. It delivers the crisp and tart notes of a sour green apple, providing a delightful balance of sweetness and acidity. If you're a fan of fruity and refreshing profiles, Apple Juice is a must-try.
Black Dragon Ice: Prepare for a flavor explosion with Black Dragon Ice. This flavor combines the rich and sweet essence of blackberries with the vibrant allure of strawberries, with dragon fruit adding a subtle exotic twist. The result is a fruit cocktail that tantalizes the taste buds from inhale to exhale, leaving a lingering sweetness that's simply irresistible.
Blue Razz Ice: Blue Razz Ice is a berry lover's dream. It marries the sweet and tangy flavor of blueberries with the refreshingly cool sensation of menthol. This combination creates a crisp and invigorating vape experience that's perfect for those who enjoy a berry-centric profile with a chilly twist.
Cherry Cola: For those seeking a nostalgic treat, Cherry Cola captures the classic taste of cherry cola in vapor form. It's a harmonious blend of sweet cherry goodness and the fizzy, cola-infused undertones, reminiscent of sipping on a cold soda. This flavor offers a unique and satisfying vaping experience that harks back to simpler times.
Guava Kiwi Passion Fruit: Brace yourself for a tropical escape with Guava Kiwi Passion Fruit. This flavor melds the lusciousness of guava with the tangy zest of kiwi and the exotic allure of passion fruit. The result is a symphony of tropical flavors that transport your taste buds to a sun-soaked paradise. It's an ideal choice for vapers seeking a vibrant and refreshing profile.
These are just a handful of the flavor options available with the iJoy Bar IC8000. Each flavor in the lineup boasts its own unique personality and character, ensuring that there's a perfect match for every vaper's palate. From fruity delights that burst with freshness to beverage-inspired profiles that evoke fond memories, the IC8000's diverse assortment promises an exciting and flavorful vaping journey.
Performance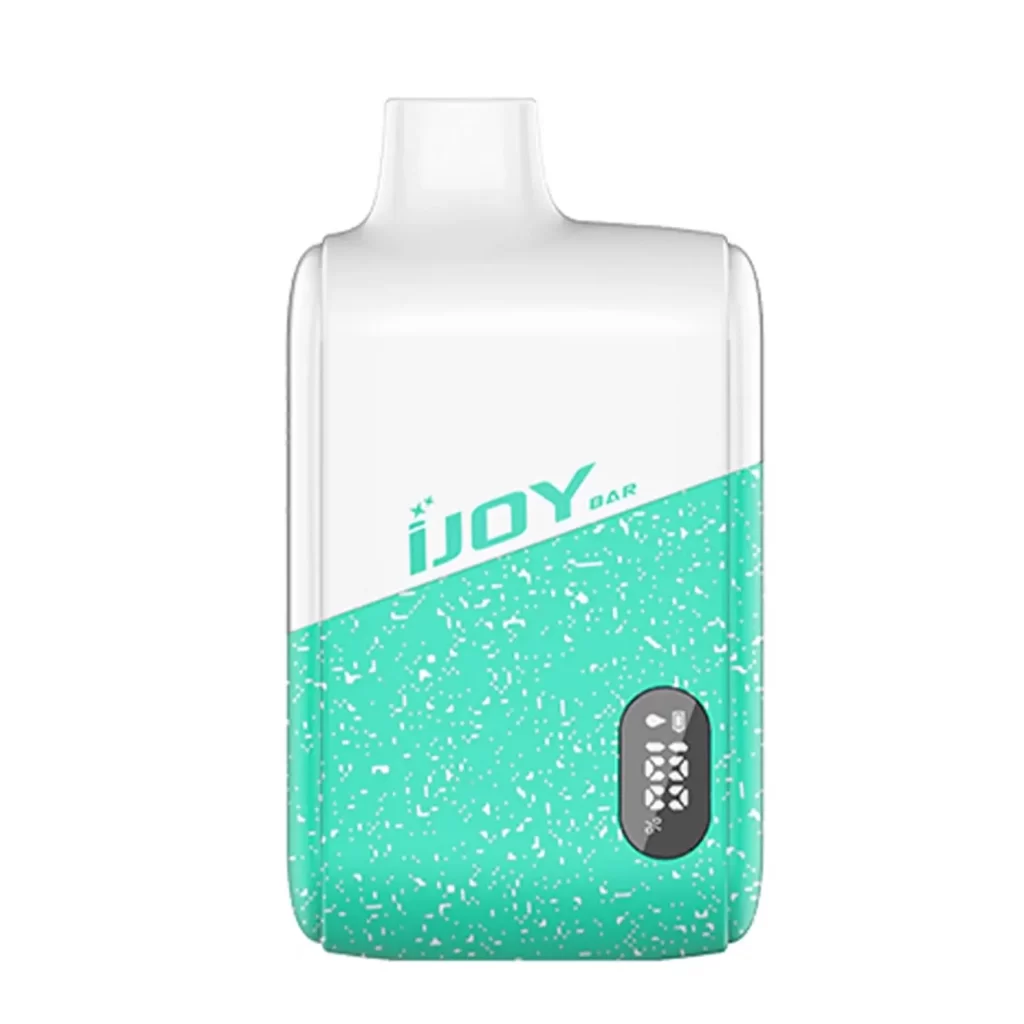 The true hallmark of the iJoy Bar IC8000 lies in its exceptional performance. Equipped with a 1.1Ω mesh coil, this disposable vape device consistently delivers outstanding flavor with each draw. Its draw is tailored for a satisfying mouth-to-lung experience, characterized by warm and flavorful vapor. Despite its 50mg/ml nicotine strength, the IC8000 offers a surprisingly smooth and enjoyable vaping experience, steering clear of excessive harshness. While it lacks adjustable airflow, the draw strikes a perfect balance, ensuring satisfaction for vapers of all preferences.
One noteworthy aspect of the device's performance is the gradual reduction in draw strength as the battery depletes. Typically, recharging becomes necessary when the battery level reaches around 50% to maintain an enjoyable vaping experience. Being mindful of your recharging intervals is essential, given the device's lack of pass-thru charging.
In Conclusion
The iJoy Bar IC8000 seamlessly integrates innovation and ease of use. Its intelligent screen offers real-time insights, enhancing the overall vaping experience. With an expansive flavor selection and exceptional performance, the IC8000 caters to vapers of all tastes and preferences.
While the 650mAh battery may necessitate more frequent recharges, the iJoy Bar IC8000 presents a compelling overall package. Its user-friendly design positions it as an excellent choice for both newcomers and seasoned vaping enthusiasts. If you're seeking a disposable vape device that pushes the boundaries of innovation, the iJoy Bar IC8000 is undoubtedly a device worth exploring and savoring.
With its intelligent screen, diverse flavor options, impressive performance, and user-friendly design, it stands at the forefront of disposable vape technology. Whether you're a seasoned vaper looking for convenience or a newcomer eager to explore the world of vaping, the IC8000 offers an experience that transcends expectations.
The design seamlessly combines aesthetics and comfort, making it a pleasure to hold and use. The addition of the real-time screen elevates the user experience by providing vital information at a glance.